In the study, Wageningen University & Research PhD candidate Lotte Stokvis, under the supervision of professor of animal nutrition and dean of research Wouter Hendriks, and Drs Rene Kwakkel and Jeroen Kals evaluated the use of enzymes to improve the digestibility of seaweed co-products. Seaweed is a promising novel protein source for poultry and livestock as it does not compete with food for humans. But it is also known to be a difficult source of protein as it has relatively low digestibility. If it is to be used in broiler diets, digestibility must be improved. Hendriks explains the study's aims and results.
Difficult-to-digest protein
In recent years, Wageningen researchers have put a great deal of effort into the development of alternative protein sources specifically for livestock and poultry production. Seaweed has been used in ruminant diets with some success, but not in poultry, and especially not in broilers, which have specific dietary needs in order to reach peak performance.
Impact on broiler health
In her thesis, Stokvis described different studies that assessed the nutritional value of several seaweed species with a particular focus on nutritional composition, digestibility and health in broiler chickens. Using intact seaweed is, unfortunately, challenged by its high mineral content, which cannot be reduced even when washed. But Stokvis wanted to know if digestibility – and, therefore, broiler performance – could be improved through the use of enzymes. Broilers were chosen over layers as the latter are more robust and less likely to show the effects of enzymatic treatments. In broilers, however, even minor dietary changes can have a great impact on performance.
2 algae species
Co-products of 2 algae species were used in the study following a biorefinery process. Seaweed species were selected based on the results of an earlier study which examined a variety of red, brown and green seaweed species. The first was a green seaweed species called Ulva laetevirens, and the second a red seaweed species called Solieria chordalis.
The selected species were then treated with enzymes – broad spectrum endo-proteases developed by Novozymes – and included as a part of the protein source in three broiler diets.
Broilers were fed diets that included U. laetevirens or S. chordalis co-products, with or without proteolytic enzyme pre-treatment of the seaweed.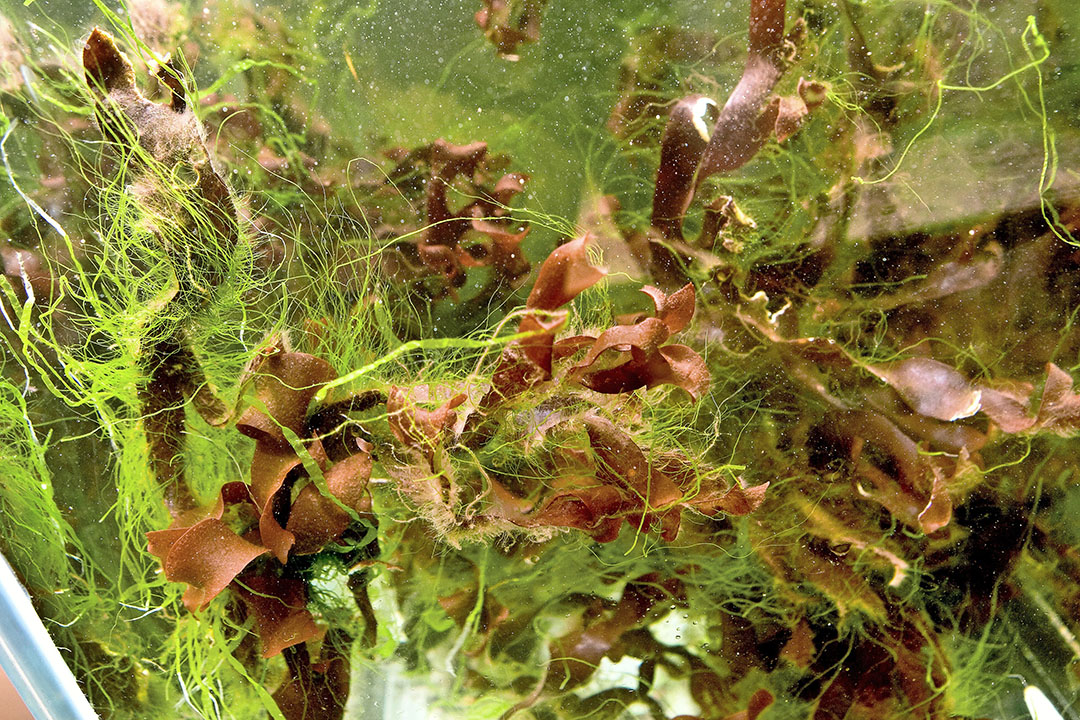 2 starter diets were included in the study:
based on corn and soy,

the other based on European protein sources that included rapeseed, sunflower meal and peas.
The diets were compared to a control diet and studied for digestibility and performance.
In terms of timing, a starter diet was provided for the broilers at day 1 until day 13. This was followed by a diet formulated specifically for the grow-out phase. In the starter diet, seaweed co-products made up 25g/kg of the overall protein source. The diet used for the remaining grow-out phase included 50g/kg of seaweed co-products.
The results
Overall, the enzymes had little impact on digestibility and performance.
"Unfortunately, it's not a really promising story," said Hendriks.
In terms of performance, feed conversion ratio was not improved by the inclusion of seaweed co-products. In fact, performance decreased. The enzymes had no impact on the digestibility of the seaweed co-products. Furthermore, the soy-based diet led to better performance than the European-sourced protein diet.
"That was as expected, but then when including them [the seaweed co-products] into the soy-based feed, we saw a decrease in performance, and also a decrease in performance with the European protein sources," Hendriks said.
Hendriks also noted that water intake increased in the broilers that were given the diets that included seaweed co-products.
"It's probably because of the salt content in the seaweeds," he said.
In small amounts, salt is not a problem in broiler diets. But too much salt can lead to excess water consumption, which, in turn, leads to wet litter. Wet litter can cause footpad lesions and other issues, Hendriks explained.
"Basically, we saw that the enzyme treatment did not have an effect in terms of performance, and only had an effect on water consumption," Hendriks summarised. "The enzymes didn't improve the digestibility and performance of the seaweeds."
Looking forward
Hendriks is not disappointed with the results.
"We gained a lot of knowledge on what doesn't work," he said. "And I think it's only fair to say that you also need to publish approaches that don't work so that others can learn from it and maybe use a different approach."
Hendriks remains positive on the use of seaweed as a novel source of protein in poultry diets. But he believes researchers are going to have to look further afield for enzymes that can help improve the digestibility of diets that include seaweed co-products.
"I think we're looking at it the wrong way," he said. "We're using terrestrial enzymes, and I think we need to go to blue enzymes."
Going forward, Hendriks suggested that researchers should study the impact of aquatic enzymes, such as those that reside within animals that eat particular seaweeds.
"Many have probably developed unique enzymatic systems that are far better suited to digesting these protein sources," he said in conclusion.
There are no plans as of yet to conduct these studies.
This project was funded by the Dutch Top Sector Agri & Food, the Dutch Ministry of Agriculture, Nature and Food Quality, and Olmix, the company that developed the seaweed co-products.