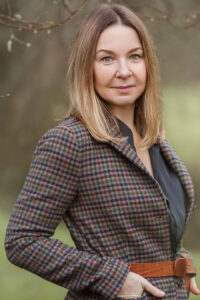 The Enzym Group, which makes yeast-based feed and food industry products, is located in the western part of Ukraine (in Lviv, 80 km from the Polish border) and is one of the largest yeast manufacturers in Eastern Europe. Since it opened in 1994, it has grown 12 times its size. It now has 400 employees and annually produces about 50,000 tonnes of yeast products.
While Enzym Group still mainly makes yeast (as well as making other yeast-related products and offering consulting support) for the baking sector, it also produces yeast for makers of wine, beer and other alcoholic beverages, and yeast-based ingredients such as flavourings for makers of food and nutritional products.
Of course, Enzym Group also makes feed additives for many types of farmed animals, including farmed fish. Its EnzActive feed additive product line includes active live yeasts Saccharomyces cerevisiae and Saccharomyces boulardii, glutathione yeast, mannan oligosaccharides, beta-glucans, yeast cell wall and protein yeast.
A look back
"Our original factory was a state-owned yeast factory that was in a state of decline before our father, Orest Vovk, purchased it in 1989," says Olena Vovk, co-owner and chair of Enzym's supervisory board. "My father had worked there before the fall of the Soviet Union. Through his hard work, by the early 2000s, we had started to export to bakery companies in different European countries. Now, we export to more than 23 countries in Europe and beyond."
All the while, the company was building up expertise in fermentation, yeast cell biology and best practices for processing/drying.
"In the early 2000s, our father noticed that the European yeast market had stopped growing, and he thought about diversifying the business," says Vovk. "The future of the company was decided by a strategic council, which included him and several top managers. They started looking for promising industries, including pet food production. We diversified into pet food, food products and then worked with the veterinary community to expand into feed additives – extracts of various types. Our yeast has probiotic properties and it's a good product to support the reduced use of antibiotics, or production without them, in poultry, pigs and dairy."
That's how Kormotech Company, which is focused on pet food, was founded in 2003. Olena's brother Rostyslav Vovk is its CEO.
In 2014,Enzym truly transformed from yeast factory into a global biotechnology company, when Orest died suddenly. "At that time, we sought leading biotechnologists and scientists and created our R&D team, which now has 25 scientists," says Vovk. "Enzym Group is currently developing functional additives for Kormotech to improve the immune status of animals and we are also working on developments to improve the taste of feed."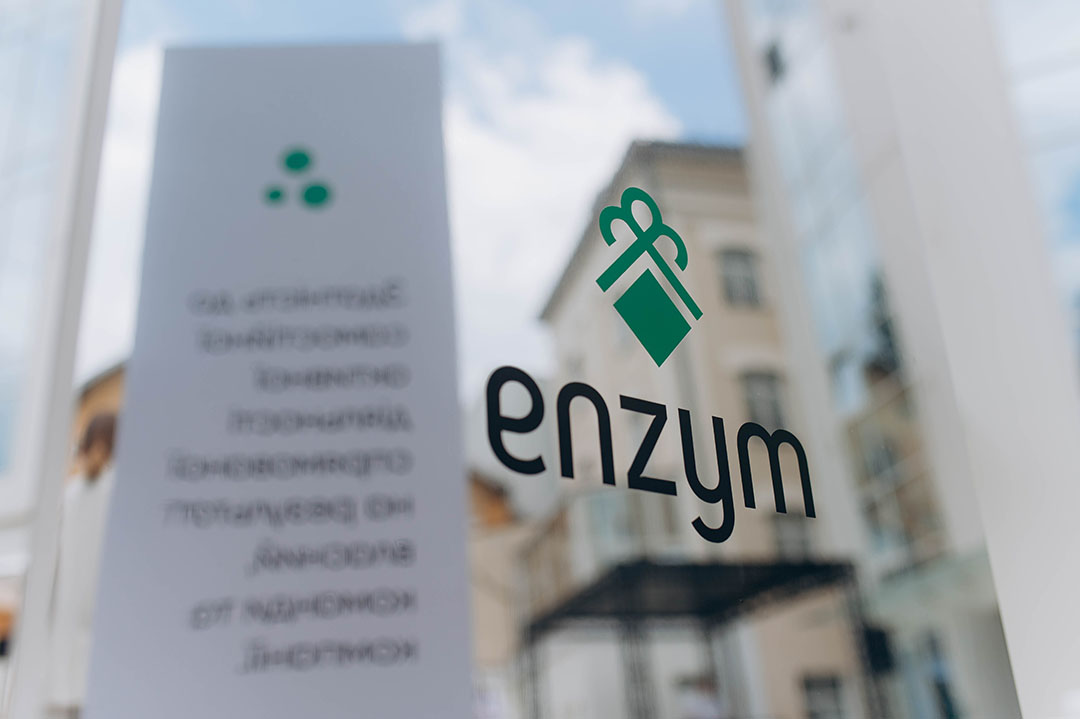 War brought uncertainty & adaption
At the start of the war, there was complete uncertainty about missile strikes and other military actions. Fortunately, so far Enzym Group has mainly only been affected by electricity outages.
The firm already had a few small diesel generators in place, but the decision was made to get a very large 1.5 MW diesel generator. This capacity allows production to continue uninterrupted but was hardly used due to the efficiency of Ukrainian power engineers, who restored power quickly.
But also, within weeks of the war starting, Enzym organised teams to look at how efficiencies could be gained, mostly to cut peak power usage. They are now very lean in terms of electricity use, using no more than what's strictly needed.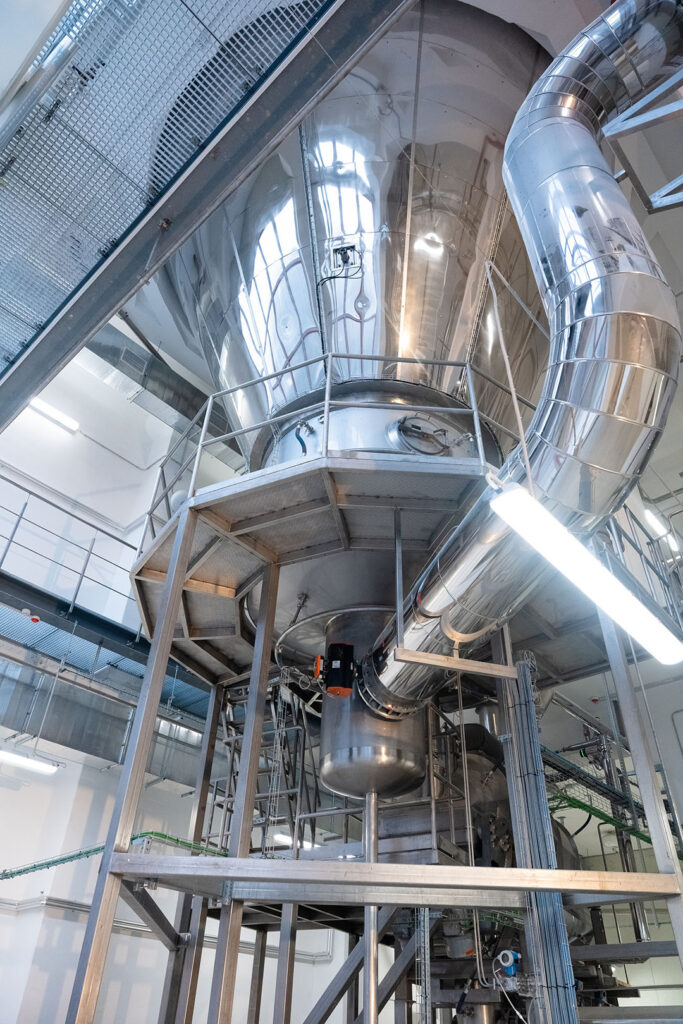 Creating a self-sufficient gas source
In addition to electricity, the yeast and yeast derivatives production process requires a lot of heat, and a lot of steam is also needed to sanitise equipment. For heat and steam, Enzym was already using biogas produced from its treatment facilities, which has provided over 40% of their heat and steam production needs (70% of the company's energy costs) for quite some time.
"We built our treatment facilities at the start of the 2000s and we have been investing in new technologies pretty much each year," says Vovk. "In total we've invested about € 12 million since the beginning. We want to eventually use all our own gas and be completely independent in that way." The remaining sludge from the aerobic waste water treatment unit becomes a natural organic-mineral fertiliser that's applied on farmland in the vicinity.
Reassuring new markets
A key challenge since the start of the war has been reassuring clients, especially in new markets, that supply will remain steady. "There were and still are questions from potential clients about how we can ensure supply continuity," says Vovk. "This is a critical issue for them of course, and our business development teams have worked hard to reassure clients by visiting them, inviting them to visit us and having a big presence at shows like VIV Asia. It's important to be at the shows and explain directly that we are reliable, to put forward a strong and confident presence."
Vovk is happy to report that all Enzym clients have stayed with them. On the whole, 2022 sales went very well and, in some markets, they exploded. In Germany and Croatia for example, Enzym doubled its bakery sales. "In the first month of the war, our feed additive sales went to zero but overall they increased by 17% in 2022 over 2021 and it's going even better in 2023 so far," says Vovk.
The biggest lessons
In any business there will be lessons over time, but of course lessons learned during war hold special significance.
"We are a family-owned business, and being resilient is in our DNA," says Vovk. "Therefore, we have grown in every crisis we have faced in the last decade. Through this most recent crisis of the war, we have saved our team, giving them and their loved ones all possible support. Moreover, our team has grown during these devastating months."
"We also learned that even in uncertain times, we should not stop development. The crisis mode should be very short, and if you have some ideas in development, it's very important not to stop them. This is important for us as a company but also for Ukraine."
Yeast cell processing plant
In terms of what was in development, Vovk is mostly referring to their new on-site plant that they'd started to construct in 2020, despite the pandemic. It will be dedicated to yeast cell processing (drying, drum drying and spray drying) and be called LinkCell. The products made there will include protein powder and others for the feed industry.
"We could have decided to stop construction of the plant but we did not," Vovk says, "and as we have lived through the months since the war started, this has proved to be the right decision. We also could have stopped R&D projects, but we didn't, and that was also the right thing to do."
Being efficient & independent
Another lesson is that in the face of potential future emergencies of whatever type, it's best to be as efficient and independent as possible. "This entire war has pushed us to examine all aspects of production," says Vovk. "We had raw materials in stock when the war started, but we have built more stock than usual and are going to continue to do this going forward. We run 24/7 365 days a year as baker's yeast has to be fresh, so we already always stockpiled spare parts for all our machines. We were therefore prepared for the spare parts shortage of the pandemic and then the war."
This readiness also meant Enzym Group was able to step in during the first weeks of the war to help the customers of its competitors keep producing bread and other baked goods.
Looking forward, although Ukraine's population of pigs, cows and poultry has gone down by 15% due to the war, it is hoped that numbers will return to 2021 levels this year.
Cultivating new markets
"Our biggest challenge now is to keep running as efficiently as possible and entering new markets, proving our products work well," says Vovk. "It's complex to do this but we have built resilience and we have a great deal of expertise in sales and marketing, production and R&D. One of our R&D scientists went to fight and we are looking forward to her return."
"We will continue to do research this year and actively get into new markets. We'll also continue to attend the big agriculture product exhibitions such as EuroTier and keep doing clinical trials on farms all over the world. We have not stopped and we will not stop, while we continue to hope the war will end soon."