Yeast culture, as a natural, effective, and sustainable nutritional supplement, is in line with the development trend of modern animal husbandry.
Introduction of yeast culture
Yeast culture is a kind of microbial additive produced by inoculating yeast or other fermentation bacteria on a specific medium and making it fully fermented by controlling the appropriate temperature and humidity environment. The main components are yeast cells and their nutritional metabolites, which are rich in amino acids, vitamins, mannose, digestive enzymes and unknown nutritional factors. In recent years, yeast cultures have been widely used in dairy farms. Previous studies have shown that yeast culture can improve the physiological health level and production performance of dairy cows by increasing feed intake, improving rumen fermentation characteristics, and enhancing immune function. However, its application effect is affected by many factors such as product composition, additive amount, animal physiological stage, etc.
Advantages of the yeast culture product " Angel Yeast Culture"
The quality of yeast culture products on the market is uneven, why is Angel Yeast Culture called "live" yeast culture? Under the guidance of Professor Lu Dexun's theory on the omics of feed nutritive active substances, the technical team of Angel Yeast Company has indicatively developed the "live" yeast culture with domestic and foreign scientific research institutions such as China Agricultural University, Chinese Academy of Sciences, Inner Mongolia Agricultural University and Nanjing Agricultural University.
No.1 High viable bacterial count
Angel Yeast Culture adopts automatic solid-state fermentation production line, and the production process is completely closed to avoid impurity pollution. The three-layer fermentation bed can not only enable the yeast to proliferate rapidly under aerobic conditions, but also produce a large number of metabolites under anaerobic conditions. At the same time, the optimal composite fermentation strain has strong fermentation adaptability and can maintain a high viable bacteria number during the fermentation process. After the fermentation, the three-stage fluidised bed low-temperature drying process can ensure a higher survival rate of bacteria in the finished product.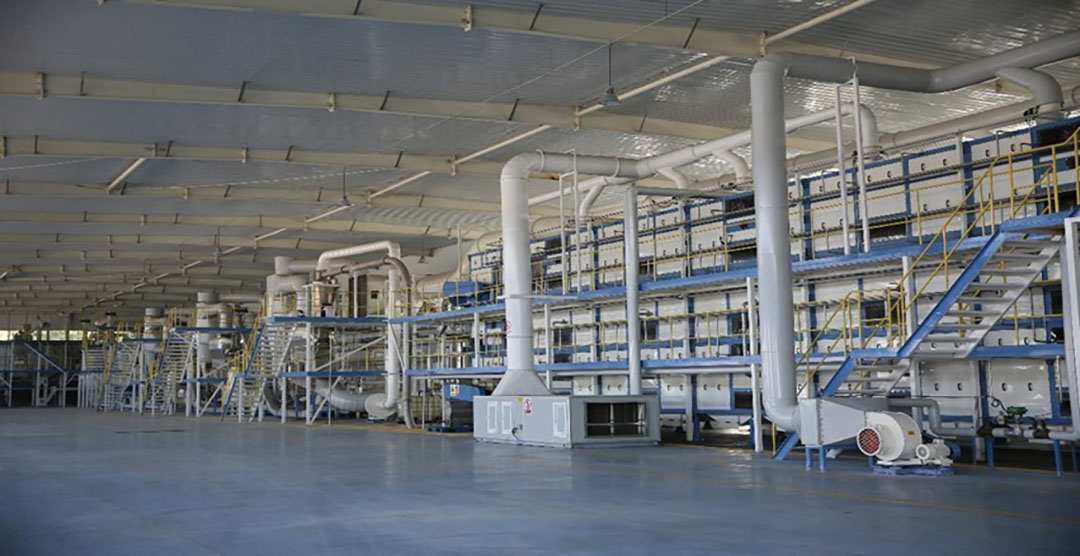 No.2 Multiple active substances
Figure 1 – Detection and analysis of active substances in Angel Yeast Culture.

Figure 2 – Metabolomics detection and analysis of Angel Yeast Culture.
More than 2400 active substances were detected in the "live" yeast culture from Angel Yeast (Figure 2) using metabolomics analysis. Its specific composition is 30.42% amino acids and peptides, 28.14% lipids, 17.87% carbohydrates, 9.89% nucleic acids, 8.37% co-enzymes and vitamins, and 4.18% heterobiotic biomass.
Figure 3 – Effect of Angel Yeast Culture on rumen microflora.

No.3 Activate rumen microorganisms
The results showed that the "live" yeast culture from Angel Yeast could improve the diversity and abundance of rumen microorganisms, and the difference of genus level bacteria was significant. It means that the "live" yeast culture could promote the fermentation of carbohydrate and increase the concentration of acetic acid, propionic acid and butyric acid (Figure 3).
Application effect of Angel Yeast Culture
The results of in vitro simulated rumen fermentation conducted in cooperation with China Agricultural University showed that: Compared with ordinary yeast culture, the "live" yeast culture significantly improves dry matter digestibility, improves energy and protein utilisation efficiency, and promotes rumen fermentation to produce more volatile fatty acids and microbial proteins (Figure 4).
Figure 4 – Comparative study on rumen fermentation in vitro by Angel Yeast Culture and common yeast culture.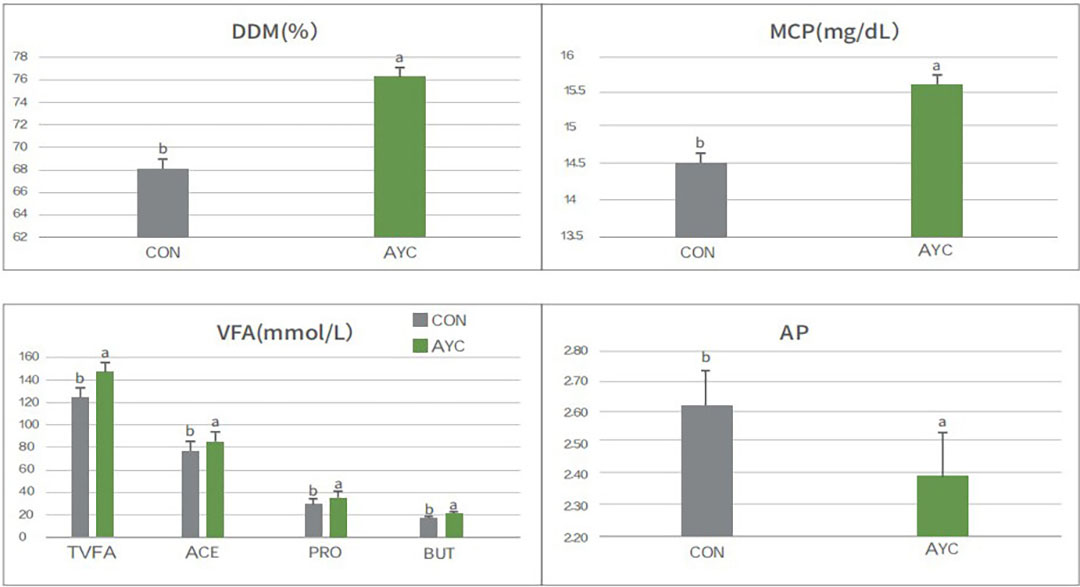 Note: CON (control); AYC (Angel Yeast Culture).
Click to enlarge figure
At the same time, a study carried out on a large number of cows, beef cattle, meat sheep on the results show that: the "live" yeast culture from Angel Yeast has the effect of improving feed intake, shortening feeding time, improving manure formation, and finally achieve the effect of improving production performance.
Introduction of test cases
Effects of yeast culture on in vitro rumen fermentation characteristics, feed intake and milk yield in lactating dairy cows
The aim of this experiment was to investigate the effect of yeast culture on in vitro rumen fermentation characteristics, feed intake and milk yield in lactating dairy cows. In the in vitro experiment, 0 (control group) and 1% yeast culture were added to the culture substrate, the gas production and rumen fermentation characteristic parameters were measured after 48 hours of simulated rumen fermentation in vitro. In the animal experiment, 573 cows with similar lactation days and milk production were selected and randomly divided into 2 groups: 276 cows in the control group, fed the basal diet; 297 cows in the experimental group, fed the basal diet + 150 g/(head*d) yeast culture, the experiment lasted 28 d. In vitro experiments showed that adding yeast culture to the culture substrate significantly increased the 48hr cumulative gas production, dry matter digestibility, pH, microbial protein content and total volatile fatty acid concentration of the rumen in vitro (P < 0.05). The results of animal experiments showed that the addition of yeast culture to the diet increased the dry matter intake and milk production of dairy cows by 0.07 kg/(head*d) and 0.86 kg/(head*d), respectively.
In conclusion, the addition of yeast culture improved the rumen fermentation characteristics of lactating dairy cows and had a positive effect on both feed intake and milk production.
Yeast can play an important role in dairy farming
In short, yeast culture, as an innovative dairy farming technology, has broad market prospects. With a deeper understanding of its application value and continuous progress in technology, it is believed that yeast culture will play an increasingly important role in the dairy farming industry, bringing greater economic and environmental benefits to farmers.
References are available on request.