ITPSA's Asia Pacific division in Bangkok has since 2020 strengthened its experimental nutrition team and has added new structures and experts from the feed and food industry globally, matching their European labs' analytical nutrition capabilities.
ITPSA combines a variety of products and services with a sound technical background to provide unique solutions for oxidative process control. ITPSA continually expands these capabilities to areas like pigments, antimicrobials and enzymes in both feed and food.
Unique needs and significant challenges
Business development manager, Dr Josep Mascarell, notes that their customers' needs have changed considerably. Rising raw material costs pose a significant challenge to the animal production industry, impacting profitability and potentially leading to increased product prices for consumers. ITPSA teams, identifying each customer's unique needs, offer full support to help them to implement new nutritional strategies in their production systems.
Enzyme degradation of legume oligosaccharides
Regarding enzyme solutions, ITPSA's R&D team has focused on the enzyme degradation of legume oligosaccharides for 20 years now. Dr Sergi Carné, ITPSA's global technical manager, introduces one of our latest products, Capsozyme SB Plus. With collaborations and applied research, we have fine-tuned our enzyme applications.
A fully authorised zootechnical feed additive
Capsozyme SB Plus is a unique mix of alpha-galactosidase activity from non-GMO Aspergillus tubingensis and endo-1, 4-beta-xylanase activity from non-GMO Trichoderma longibrachiatum. The product has been evaluated by EFSA and is fully authorised as a zootechnical feed additive in the European Union. Dr Javier Estevez, global R&D manager at ITPSA, explains that alpha-galactosides found in feed ingredients such as soybean meal (Table 1) can cause digestive problems, including water retention and flatulence, as well as abnormal gut bacteria growth. The unique feed enzyme, Capsozyme SB Plus, can reduce these harmful non-absorbable sugars, and ITPSA continues to showcase its benefits.
The industry now recognises the problems caused if legumes' alpha-galactosides aren't removed. ITPSA's new product helps to degrade anti-nutritional factors in soy and other legumes. Alpha-galactosidase, which works where traditional strategies fail, was its focus. Studies have shown that a specific mix of alpha-galactosidase and xylanase performs better than other products. The benefits of this complex, shown through better gut health, nutrient digestion, and microbiota balance, are unique to Capsozyme SB Plus, as it has been effectively tested on different animals and diets.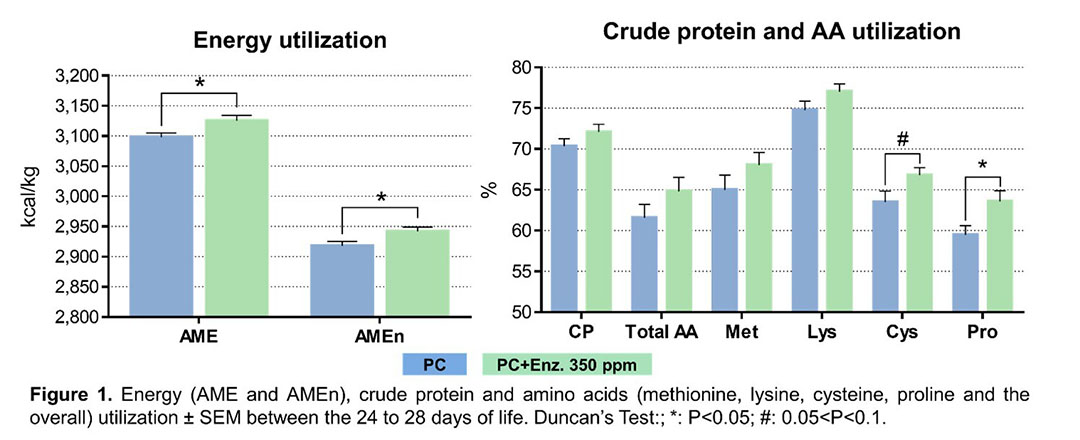 The enzyme Capsozyme SB Plus added to feed plays a significant role in improving nutrient absorption and digestibility, contributing to better overall animal health and performance, resulting in enhanced animal performance, as can be observed in a summary of a recent study (Figure 1). Consequently, this enzyme mixture is particularly valuable in the current animal production industry, which faces an unprecedented challenging scenario of feed materials price increments.