Interestingly, more than half of the known seleno-proteins are directly or indirectly involved in antioxidant defenses and maintaining redox balance in the cell. Dietary supplemental Se has been shown to positively affect the growth performance, antioxidation and immune function of different animals.
Se sources
The inorganic sodium selenite and organic Se yeast are commonly used Se sources in the feed industry, meanwhile some chemosynthetic seleno-methionine (SeMet) or seleno-methionine hydroxyl analogues (OH-SeMet) have also appeared recently as well as some other kinds of selenium resources. Some studies have reported that true organic Se sources include Se-enriched yeast (Se-yeast), SeMet, and OH-SeMet, while Se chelates, glycinates, and proteinates should not be included into this category of supplements.
Difference between the Se yeast and Se-Met
So, what's the main differences between selenium yeast and Se-Met or OH-SeMet which might be the most popular organic selenium, we can have an in-depth understanding from the following aspects:
Selenium and the forms
Yeast selenium is a natural product obtained by biological fermentation. The organic selenium content is not less than 98%. The forms of selenium include selenomethionine, selenocysteine, selenocysteine, MeSeCys, SeBet, etc.

Se-Met or OH-SeMet are products synthesised by chemical industry. Selenium exists in the form of selenomethionine or selenomethionine hydroxyl analogues. Meanwhile, to produce products with different gradient total selenium content, dilution is often done by using a carrier such as stone powder.
Metabolism of selenium
SeMet in selenium yeast mainly integrated into the body's protein, some of them translated into H2Se, which could synthesise functional selenoprotein then play the antioxidant effect of selenium; Other forms of selenium including Selenocystine, Selenocysteine, MeSeCys, SeBet and so on were used for synthesising functional selenoprotein which could exhibit antioxidant activities. In conclusion, the forms of organic selenium in selenium yeast were more reasonable, while the function of anti-oxidation and selenium storage were combined.
On the other hand, HMSeBA and Se-OH-Met need to be transformed into SeMet through 2 steps of reaction including dehydroxylation and transamination, then have a function of the body. Mostly, SeMet were mainly stored in the protein tissue, which means only very little could synthesise functional selenoprotein. In one word, most of selenium in HMSeBA or Se-OH-Met were used for storage.
Physiological effects for animals
Angel Yeast has done an experiment for exploring the effects of selenium yeast (YeaSel, selenium yeast from Angel yeast Co., LTD) on laying hens were compared with inorganic selenium (control), seleno-methionine (Se-Met) and seleno-methionine hydroxyl analogue (OH-SeMet). The animal trial last 12 weeks (Table 1).
Effect of different selenium on growth performance in laying hens
The laying rate of supplemented with yeast selenium group with high content seleno-methionine was significantly higher than that of other groups (P < 0.05), the unqualified egg rate of yeast selenium groups and Se-Met group were significantly lower than that of control group and OH-SeMet group (P < 0.05).
Figure 1-Effect of different selenium on growth performance.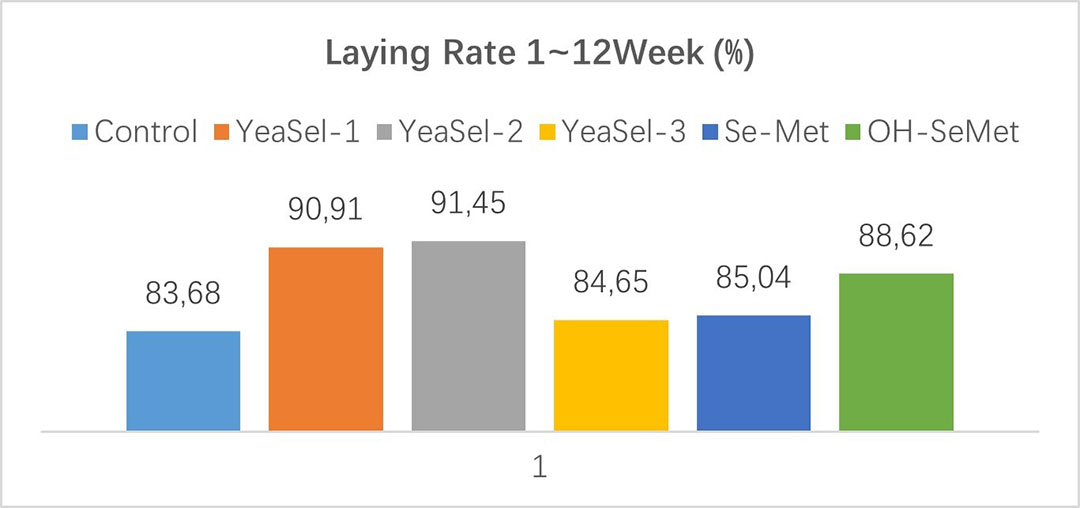 Effect of different selenium on antioxidant function in laying hens
The test results of serum antioxidant indexes showed that organic selenium could significantly increase the antioxidant capacity of laying hens (P < 0.05). At the same supplemental level (0.3ppm), the antioxidant effect of selenium yeast with high content of seleno-methionine (YeaSel 1 group) was better than that of other organic selenium. The results of muscle antioxidant were same with the serum.
Figure 2-Effects of different selenium on antioxidant function.


Effect of different selenium on Se-deposition in laying hens
The selenium deposition in eggs at different time points showed that the organic selenium deposition in eggs was significantly increased (P < 0.05). At the same organic selenium supplemental level (0.3ppm), there was no significant difference in egg deposition among all organic selenium groups.
Figure 3-Effects of different selenium on Se-deposition.

Effect of different selenium on haugh unit of egg during shelf life
The egg quality during storage period showed that the haugh unit decreased the most slowly after 35 days of storage in the eggs of 0.3ppm selenium yeast (YeaSel 1) and 0.3ppm Se-Met group.
Figure 4- Effects of different selenium on haugh unit.

Safety and stability
SeMet analogues is degraded easily in transportation and storage, but SeMet in selenium yeast is protected well in yeast. Meanwhile, SeMet analogues (HMSeBA) was regarded as eye and skin irritant, inhalation exposure poses a hazard to users. But SeMet in selenium yeast is safe for users.
Beneficial effects of using selenium yeast
YeaSel, as a recognised source of organic selenium for animals, produced by submerged fermentation of Saccharomyces cerevisiae in selenium-enriched media, which has better effects for antioxidation to relieve the stress for different animals.