Among the most important quality indicators for pet food are stability and freshness during storage. And of course, safety is non-negotiable. With all these attributes in mind, it can be a challenge to maximise quality targets such as tastiness, production efficiency, and nutritional value, while keeping the product free from moulds. Careful extrusion processing tends to aim for a low final moisture level in the finished kibble. Though this helps to control mould growth, it often affects the cost of extrusion efficiency and profitability. Achieving the proper balance of moisture content, throughput and pet food quality can support safety and quality parameters without sacrificing production efficiency. This article examines three approaches to achieving a high-quality product, efficient production, and profitable economics.
Managing the moisture levels in pet food
Extreme thermal conditions during extrusion and drying processes reduce moisture levels, which can have an adverse effect on consumption preference. And while simply adding more moisture or decreasing the drying time may seem like a logical solution, additional moisture can negatively affect the shelf-life stability of the finished kibble and increases the risk for mould development during storage.The key is to consider the moisture profile of pet food. This includes both the moisture level, and more importantly, the water activity (aW) value. Water activity and moisture content are related through the moisture sorption isotherm but are not the same parameter. A high water activity means that free water is available for microorganisms to grow and consume valuable nutrients. Feed ingredients that are high in water activity will affect ingredients with low water activity. As moisture balances out throughout the feed, it can potentially affect attributes such as texture, durability, and palatability.
Water activity, alongside temperature, is the most important determining factor for the degree of quality loss and shelf life can be optimised by determining the ideal water activity range for a pet food. Like the food industry, in pet food production, water activity is becoming a standard parameter to guide formulation and produce safer and more high-quality kibble. Table 1 shows that different pet food products from different segments can have comparable water activity levels but different moisture content.
The ideal water activity range is between 0.55-0.65 to maintain palatability as well as reduce the risk of mould growth. Any lower may result in dry and hard kibbles which negatively impacts palatability. Getting an aW too low furthermore impacts the economic benefit as the manufacturer is over-drying the product. As pet food is generally sold on a weight basis, reducing the moisture content will result in a lower weight of the kibble and in the end missed profit. On the contrary, a higher aW value increases the risk of microbial growth such as moulds as well as fat oxidation which reduces the shelf-life of pet food. Selko, the feed additive brand of Trouw Nutrition, developed Fylax Petfood, a potent solution that supports moisture profile optimisation while reducing the risk of mould growth. Surfactants in the feed supplement lower the surface tension of water, thus facilitating deeper moisture penetration within the food particles. This supports an even moisture distribution within the product and helps to achieve quality targets (Figure 1).
Figure 1 – Fylax Petfood supports even moisture distribution in commercial pet food production.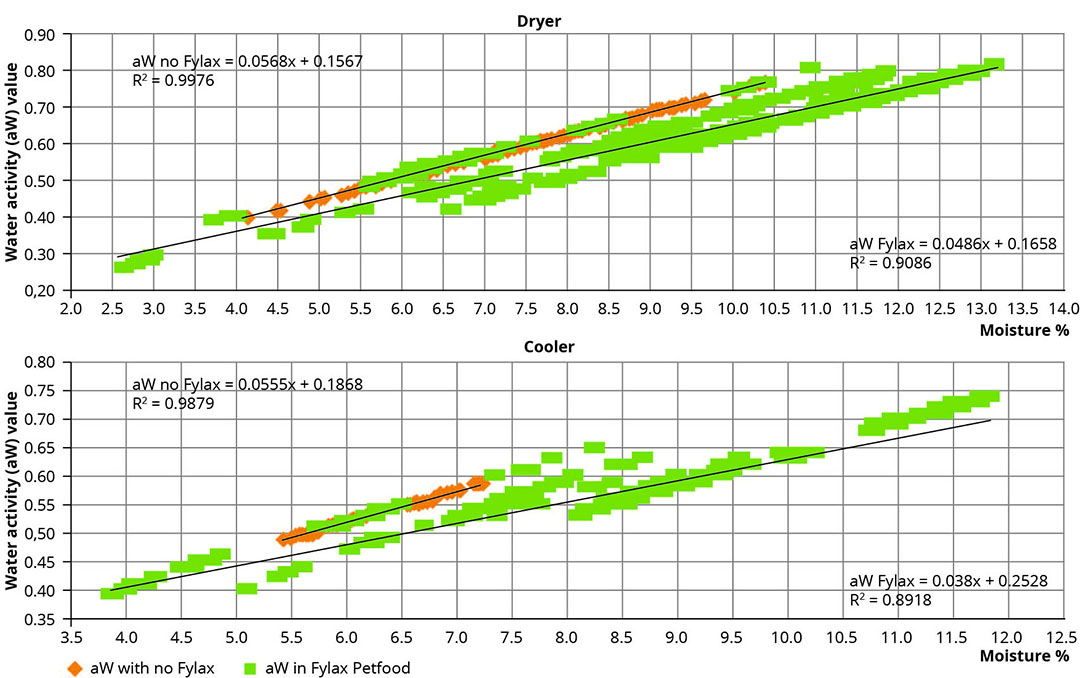 Synergistically supporting safety and a mould free shelf life
To be commercially interesting, pet food is generally produced with a shelf life up to 24 months. Assuring pet food longevity and quality can pose challenges with regards to mould development. A mould inhibitor can be added during preconditioning to help assure a mould-free shelf life. Fylax Petfood contains ActiProp technology to effectively reduce mould growth and helps to maintain the quality and freshness of pet food (Figure 2). This technology increases the porosity of moulds' cell walls, allowing its components to exert a destabilising effect on the cell membrane. As this effect supports better accessibility of organic acids, the cell's internal pH decreases, inhibiting its growth and eventually killing the mould cell. This mode of action is driven by the synergy of four key components delivered at the most effective quantities. Mould inhibitors that are added during preconditioning need to withstand the extreme environment of the extruder. The technology is designed to achieve a prolonged effect that can stand up to the extended shelf-life requirements of commercial environments. Studies show that the active ingredient to impact mould growth remains stable at high ­temperatures that occur during extrusion.
Effective application is essential
Even the most sophisticated pet food production technologies will not deliver the desired results if the mechanisms for dosing or application are not aligned with the production environment. This is why Selko has developed its feed processing and quality programme that combines products and services with effective dosing solutions that allow for accurate, safe, and continuous application of products during pet food production. This complementary service within the programme can be fully automated and integrated within the feed production lines. Various systems are available, depending on the needs, and allow for automated adjustment of inclusion rates. Remote access capabilities support quick analysis and help guide decisions. Managing moisture, mould and dosing mechanisms delivers a precision approach to achieving effective, efficient, and economical pet food production.