Meanwhile, in the production process of pellet feed, it is necessary to apply high temperatures and humidity to help kill any pathogens in feed raw materials. Furthermore, with the automation of modern breeding, pellet feed is more convenient in transportation, storage, use, etc. However, due to the great stress of feed pelleting conditions, some traditional high-efficiency feed additives, such as enzyme preparations and probiotics, may be at risk of decreasing their activity when used.
Active enzymes and probiotics, which can tolerate the feed granulation environment, are particularly important. Here we will focus on YeaVita R+, a Saccharomyces cerevisiae product dedicated to ruminant pellet feed with high tolerance.
What is YeaVita R+?
YeaVita R+ is a coated and heat-stable live yeast produced by submerged fermentation of specially selected strains of saccharomyces cerevisiae from rumen (Saccharomyces cerevisiae CCTCC M205128), mainly used for pelleting feed for ruminants. YeaVita R+ can remain viable throughout industrial pelleting processes and boats a live yeast count of ≥10 billion/g.
How does it remain stable during pelleting?
YeaVita R+ has been coated by a special embedding and drying process whereby a dense and compact spherical shell is formed on the surface. This prevents hot and humid steam from entering the interior thereby protecting the internal yeast which survives harsh conditions during feed pelleting. The internal structure of YeaVita R+ is also very dense, which can effectively resist mechanical pressure and avoid directly exposure to the granulation environment after being crushed (Figure 1).
Figure 1 – Comparison of YeaVita R (a, c) with YeaVita R+ (b, d) for appearance and morphology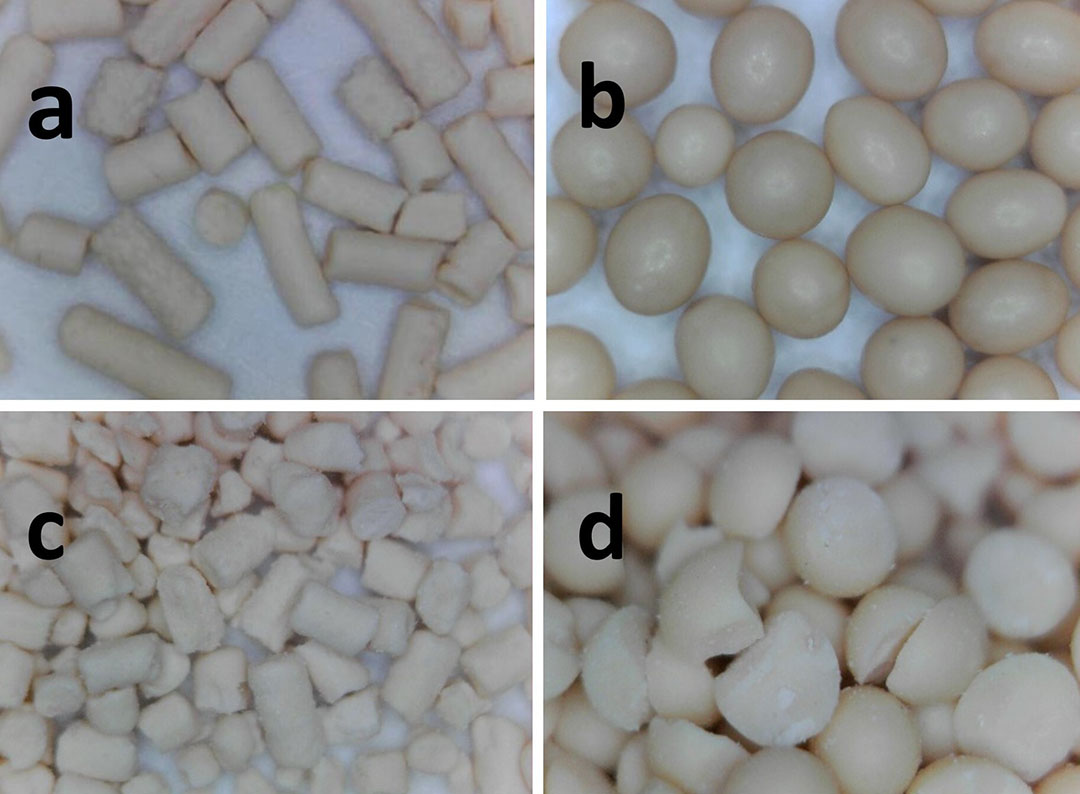 Test 1: Dry heat tolerance test (in a laboratory)
The results of the dry heat high temperature tolerance experiment showed that when YeaVita R and YeaVita R+ in the test tube were heated for 3 minutes in a 80℃ and 100℃ water bath, both have a better survival rate, but the survival rate of YeaVita R+ under dry heat conditions is 6.96% and 9.29% higher than YeaVita R, respectively (Table 1).
Test 2: Damp heat tolerance test (in a laboratory)
The results of the damp heat tolerance test showed that the survival rate of YeaVita R was significantly lower than that of YeaVita R+ by comparing ordinary type active dry yeast products and high temperature resistant active dry yeast products at 80℃ and 90℃ for 3 minutes by steam sterilisation pot (Table 2).
Test 3: Feed pelleting test (in a feed factory)
Three batches of YeaVita R+ (at 1kg/t) were selected for pelleting in a large-scale feed factory. The results of feed pelleting (high temperature and high humidity) showed that the survival rate of YeaVita B+ was between 58% and 68%, while the survival rate of YeaVita B was less than 1%, so YeaVita B+ has a good tolerance under the conditions of high temperature, high humidity and ring mold compression prepared during feed granulation (Table 3).
What's the function of YeaVita R+?
YeaVita R+ as a unique probiotic for ruminants, such as dairy cows, cattle, beef and sheep. It is helpful to create a better rumen environment by regulating the rumen microflora, improving fibre digestibility, and stabilising the rumen pH, which can prevent acidosis. It can improve the milk yield and growth performance.