The Coren Group is the largest agro-food cooperative in Spain and produces around 80,000 metric tons of compound animal feed (conventional and organic) per month. The company uses the NutriOpt On-site Adviser that offers real-time analysis by using a Near Infrared spectrometer (NIR sensor) in the form of a hand-held scanning device. After scanning the samples, the hand-held scanner sends all data to the mobile application, which creates a nutritional report of the scanned raw material, using the Trouw Nutrition nutritional database (available for more than 20 different types of raw materials and complete feed). All within minutes.
Testing forages on the spot
"Around three years ago we started with this mobile solution to complement our current (desktop) testing methods, reduce the costs involved in analysis and to increase agility and efficiency of our veterinarians and nutritionists who visit farmers", Braulio de la Calle Campos, ruminant Technical Director at Coren explains. The Coren Group uses this mobile solution mainly for testing forages and organic feed ingredients. "We can now test the raw materials more frequently, hence having more information about nutritional composition and deviations over time. In the past, we had to send all the forage samples to an external lab, and we will continue to do so, but thanks to this new way of testing on the spot we have reduced the number of samples that we have to send for external NIR analysis. In the organic part of our business, it is helping us to gain greater insight into organic feed ingredients. And due to the potential huge variety, especially in organic protein ingredients, we can check the batches more frequently and be more efficient. This helps us to improve our formulation of organic diets", De la Calle Campos says.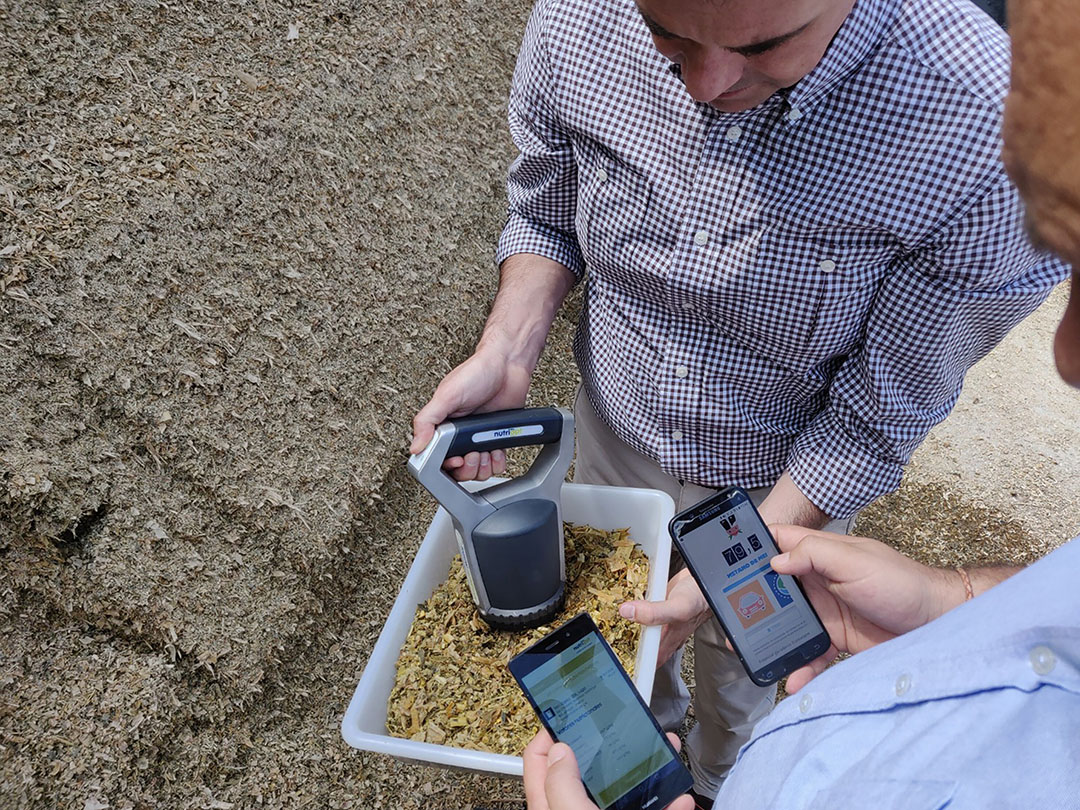 Fine-tuning dairy rations
The interest in mobile testing solutions is also growing among dairy farmers in Germany, explains Thorsten Steidle from Trouw Nutrition Germany. "In Germany, dairy farms are getting bigger. This consolidation also spurs the demand to better fine-tune rations and control feed quality because a balanced feed ration is key to reaching a higher milk production per cow. With the NutriOpt On-site Adviser, farmers can do the feed testing themselves in a quick and accurate way. They don't have to send the samples to the lab any more, which saves time and money", Steidle addresses. Trouw Nutrition Germany has already equipped several dairy farms across Germany with the mobile solution. "All of these farms, ranging from 100 cows in the South of Germany to even a 1,500-cow dairy in the East, have started to use the scanner a few months ago. By having more information on the quality of their raw materials and silages at their fingertips, farmers have better control over feed costs. It also allows them to adjust rations or add supplements when needed, based on the nutritional composition of the base diet and consultation with the nutritionist. In addition, the clear reporting of all the tested raw materials and rations give new farm employees a quick overview of the feed ingredients and their nutritional values that have been fed to the cows in the past and when the ration was adjusted", Steidle explains.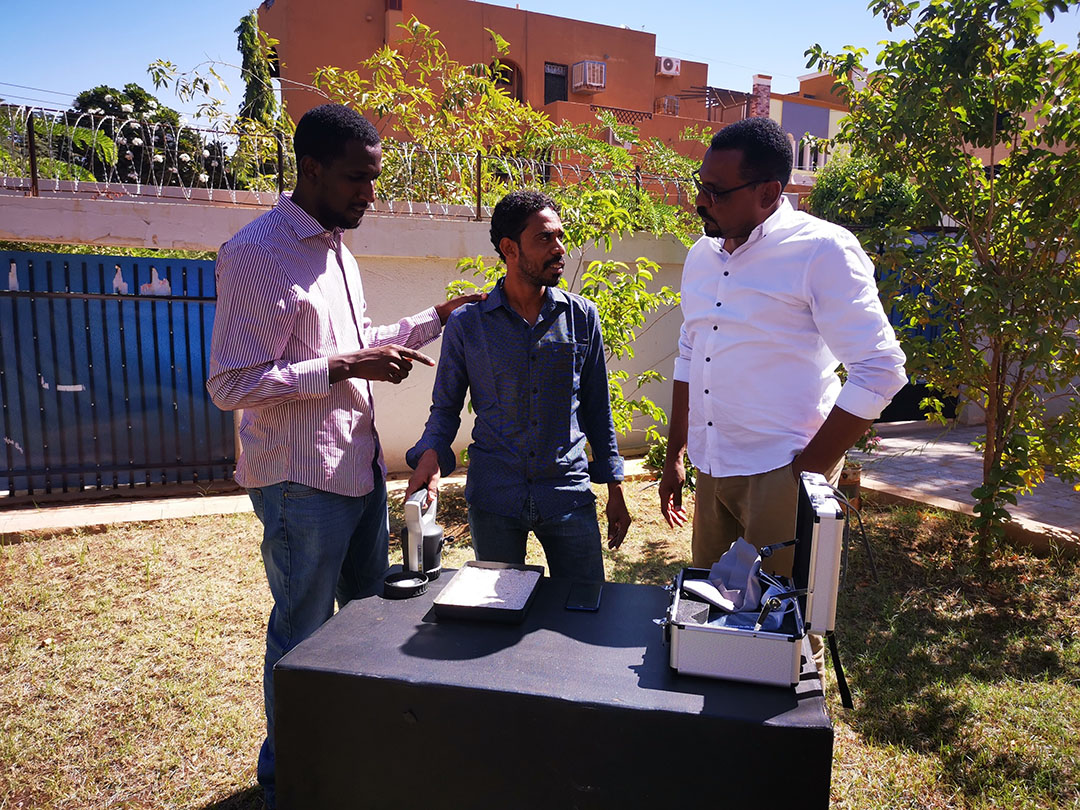 Use in poultry farming Sudan
Moving from dairy to poultry. The application of mobile feed testing solutions is very welcome in places such as (North) Sudan. Although Sudan has a professional poultry sector set up, the poor quality and the broad variety in protein levels of local raw materials is a serious issue. Mr. Omer Ibrahim is technical and sales manager at Atec Al-Arag Trading, distributor of veterinary medicines, vaccines, feed additives and diagnostic tools. Most of his clients are poultry farms, ranging from small to big farms producing 10-12 million birds per year and using a lot of local feed raw materials. Mr. Ibrahim: "The main issue associated with local feed ingredients is the quality. We use Ground Nut Cake (GNC) as the main protein source for poultry diets. GNC often lacks some of the essential amino acids. In addition, GNC can differ greatly in protein levels, depending on the area where the crop is grown. We are talking about a huge range between 40-52% in crude protein (CP) levels. Other raw materials used are sorghum, where we experience the same quality and variety issues, depending on the area where it is grown". Mr. Ibrahim is very pleased with the speed of getting the nutritional information. "With the NutriOpt On-site Adviser we get results within 5 minutes. We are so happy with this mobile feed testing solution that we call it "a magic box" in our team, because this technology allows us to take our business to the next level and have greater clarity on the raw materials, especially GNC, sorghum, wheat bran and complete feed. And this in turn, will improve animal health and animal performance at the farms", Mr. Ibrahim concludes.
Learn more about the NutriOpt On-Site Adviser and other NutriOpt services and solutions here.