Romanian maize enters Japan again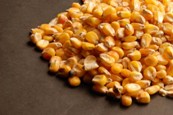 After eleven years, Japan – the world's biggest maize importer – has purchased Romanian maize again. The 5,000 tonnes of maize is intended for animal feed, marking the first such imports since 1998, government trade data showed this week.
A feed maize trader in Tokyo said it was part of a shipment of 42,000t. More cargoes from Black Sea producers, including Ukraine, also landed in Japan in February, traders said.
Of Romania 's total 23.8 million ha, 28% is covered by forest and more than 60% is used for agriculture. Of the agricultural area, one third is permanent pasture and some 63% is arable, more than half of which is planted with cereals, mainly maize and wheat. Around a tenth is oilseeds.