The feed and commodity sector in Canada is very complex. There are a number of companies that only operate in the individual provinces, while a few cooperatives operate in all 10 provinces, including COOP Canada.
Many of the farmers in the 3 large prairie provinces of Alberta, Saskatchewan and Manitoba are responsible for the mixture of feed for their own animals, just as the plant producers are largely responsible for the marketing and sale of their grain products. That is why many larger or smaller silos are seen everywhere at the farms for storing the harvest until the time when the prices are most favourable for the individual farmer.
Cargill – Big player in Canadian feed production
There are approximately 600 feed producers in Canada, of which approximately 80 are in Alberta. One of the very big players on the coarse goods market in Canada is the American company Cargill, one of the world's largest agricultural groups, which does not only have coarse goods and feed on its programme. The company has 13 feed factories in Canada, 2 of which are in Alberta, and the company's turnover in 2021 was approximately €12.06 billion in Canada. Feed production and its sales form a smaller part of this large turnover, as companies are involved in many other activities within the food, transport and logistics area. In North America – that is, the USA and Canada – the company has 200 companies, where you buy and sell services including coarse goods as well as a wide range of other activities in the food sector. Cargill markets and exports a wide range of grains and oilseeds, including wheat, barley, durum, canola, oats, rye, flax, soybeans and peas from Canada. The company has its head office in Manitoba in the capital Winnipeg. From here, you are close to the large agricultural customers in the three prairie states of Manitoba, Saskatchewan and Alberta. Cargill operates 2 canola oil mills in Claveti, Saskatchewan, and a facility in Camrose, Alberta. The first mentioned is one of the largest oil mills in North America. Together, these factories or plants produce regular and special canola oils and canola meal both for the domestic markets in Canada and the United States and for world markets, as well as canola cakes for animal feed.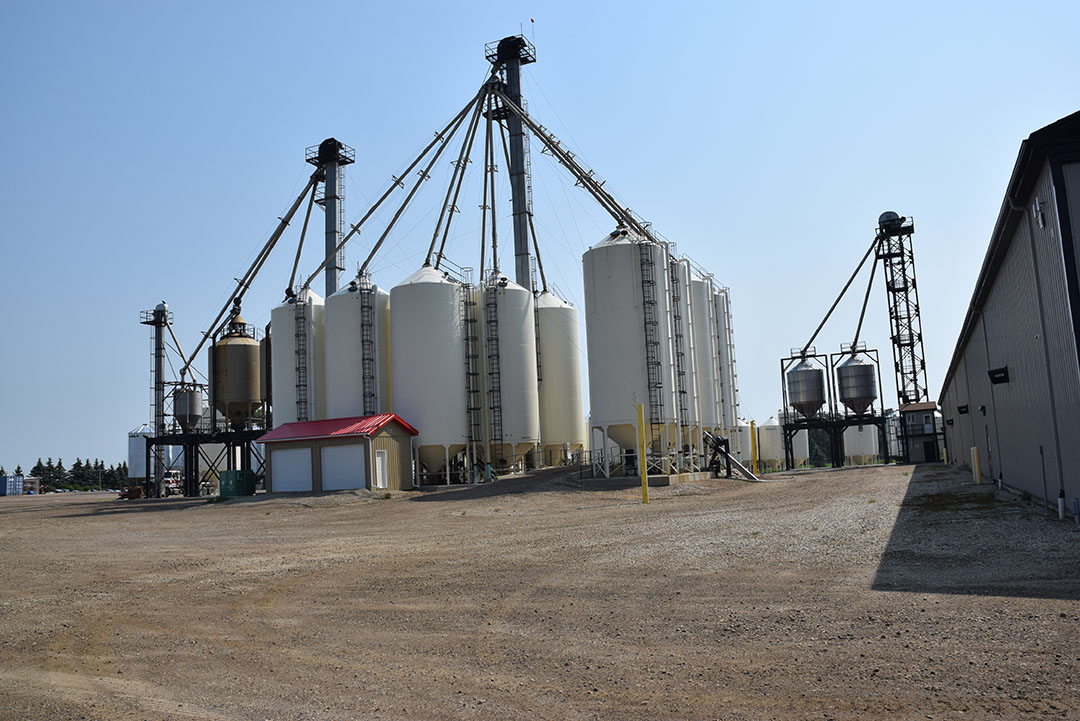 Farmers of own feed mixing facilities
The entire feed industry in Canada and Alberta in particular is based on the fact that the animal producers themselves have large areas where they grow the feed products for either pigs or beef cattle. This means, for example, that 58% of Albert's approximately 850 pig producers have feed mixing facilities on their farms. Barley, wheat, corn, soybeans and peas are typically grown to produce the feed for their pigs. These ingredients are included in the roughage for the slaughter pigs, while vitamin and mineral mixtures and sow feed are purchased from the feed companies.
Grazing
When it comes to the dairy farmers, of which there are approximately 500 in Alberta, it is estimated that approximately half let the dairy cows graze outdoors during the 4 summer months of the year, while the cows are fed indoors the rest of the year.
Silage
The milk producers also have large areas where they grow forage and mix it. The biggest item is silage made from barley, peas and corn, while they grow alfalfa for hay. The silage is typically stored in large concrete-cast plants, where they are covered with plastic foil.
Feedlots
The largest production of feed takes place at Alberta's approximately 12,000 beef cattle producers, who annually produce just under 5 million head of beef cattle for slaughter. This corresponds to 67% of the country's total production.
Grazing
The beef cattle are grazing during the summer months and are moved from one grazing area to another grazing area. Called rotational grazing. For the rest of the year, the cattle are fattened on so-called feedlots, where the main feed is silage (fermented grass crops). The large beef producers for many have herds of up to 20,000 animals and therefore these producers cultivate large areas of barley, wheat, maize and peas next to grazing areas, which are mixed in their own feed mixing plant and in large silage bales. Vitamin and mineral mixtures are bought from the feed companies.
Corn & barley for faster growth
In the last 4 to 5 months before the beef cattle are sent to slaughter, they are fed on corn or barley. This feed means faster growth and increases the quality of the meat, which becomes more marbled, states the organisation Canadian Beef. According to the organisation, grass-fed beef is leaner than grain-fed beef. Both types of beef contribute nutrients such as iron, zinc, B vitamins, calcium and potassium, as well as small amounts of omega-3 fatty acids, and both contain the same amount of cholesterol.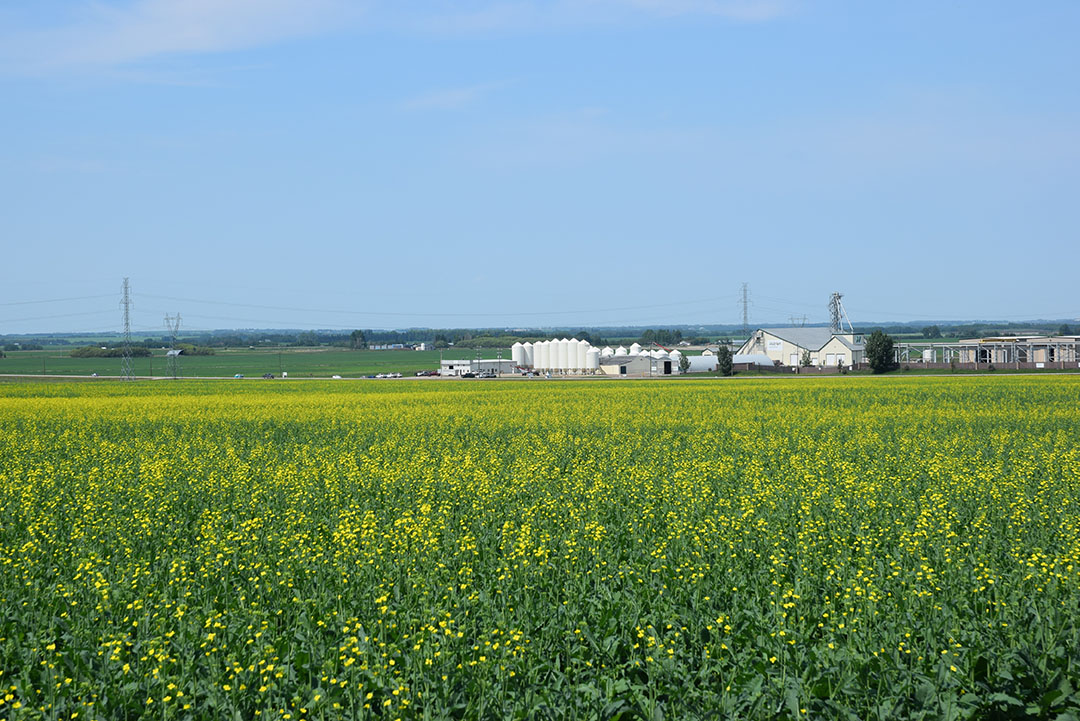 Positive environmental impact
Canadian Beef has investigated the environmental impacts of beef production. According to the studies, it appears that beef cattle's grazing of the prairie helps preserve Canada's natural grasslands. The grasslands help maintain watersheds, sequester carbon, prevent erosion, support biodiversity and at the same time secure habitats for a number of different species. The studies have also shown that cattle fed with cereal products have a lower CO2 footprint than cattle fed exclusively with grass products. Grass-fed cattle are typically slaughtered at 20 to 24 months of age and weighing approximately 500 to 700 kg., while grain-fed cattle are slaughtered at only 14 to 18 months and weighing approximately 700 to 750 kg.
Cooperatives
It is estimated that only about a third of Canada's approximately 190,000 farmers are members of a cooperative. Among these is the nationwide cooperative COOP Canada, which not only deals in wholesale trade with farmers, but also has a large number of retail stores where consumers can become members. In these shops, food and other necessities for the daily household are sold. The company was formed in 1909 in the province of British Columbia.
United Farmers of Alberta (UFA) operates in the province of Alberta. It is a co-operative commodity company formed by Alberta farmers in 1909, and initially as a political party. It was initially a government lobby group following a merger between the Alberta Farmers' Association and the Alberta chapter of the Canadian Society for Equity.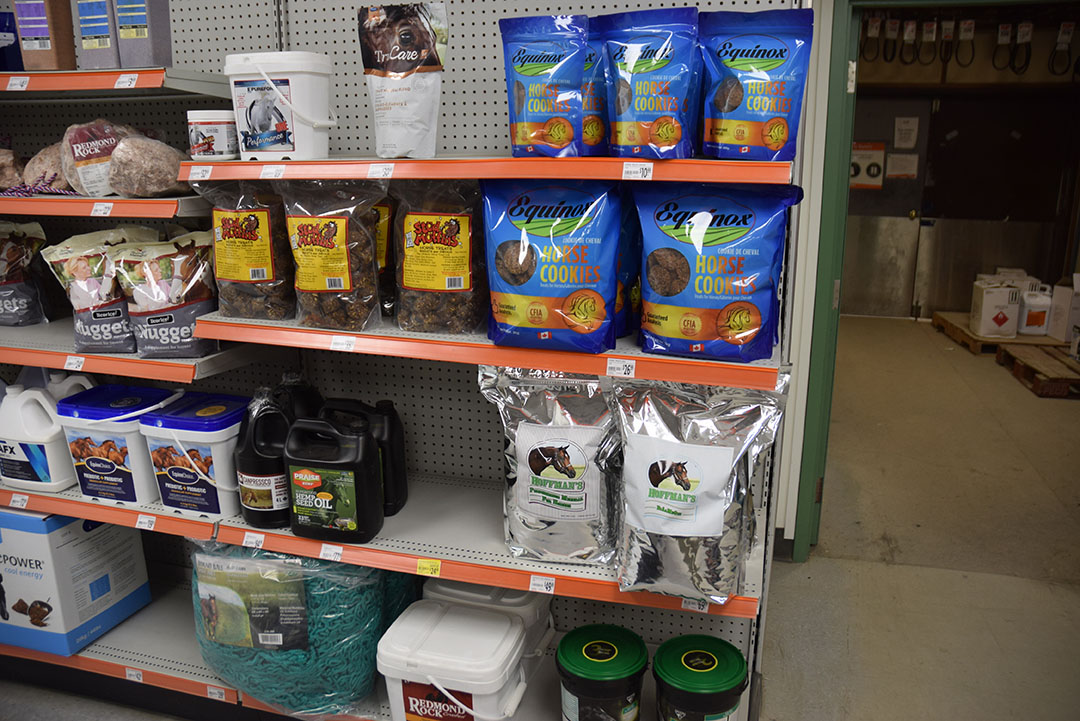 From 1935 exclusively wholesale trade
Over the years the co-operative has served various roles, namely as mentioned first as a political party until 1935. But since 1935, UFA has primarily functioned as a co-operative grocery company with headquarters in Calgary and with approximately 40 retail stores spread throughout the province and with a few branches in the neighbouring province of Saskatchewan. The company's first retail store opened in 1954 in Calgary and the second in 1957 in Edmonton, the provincial capital.
Over 120,000 members
At that time, the company's commercial activities included, among other things, the sale of vitamin and mineral feed mixtures to animal producers and horse owners. Also, pet food is a big item. In addition, the company sells and buys general raw materials for farmers (grain, rapeseed, peas, horse beans, seeds, fodder, sprays, fertilisers) as well as tools of various kinds, building materials, everything for the garden, machines of various kinds, steel fences for the cattle farms, barbed wire, large silos (capacity 5000-15000 tonnes) all equipment for horses, pets etc.
The Cooperative has over 120,000 members. This means that you don't have to be a farmer to become a member. Simply by shopping in one of the retail stores, you can become a member. The majority of members live in Alberta. The turnover is over €1.47 billion.