The first Grain Stocks and Planting Intentions report of 2021 was released by the USDA on March 31st. This report serves as a quarterly update of current grain stocks, as well as a survey-based estimate of 2021 planting intentions. This year farmers have several profitable options to choose from. While corn price went up by over 70% since August of last year, soybean prices are also back within a profitable range.
US soybeans maybe in short supply come summer
The most surprising part of the report had to do with on-farm stocks, which are down 41.3%. At these levels, procuring soybeans from within the US may prove difficult come the summer, and many buyers will need to consider importing soybeans from South America. The prices of these 2 commodities will surely determine the price of almost every other feed ingredient.
Soy and corn prices impact price of Lysine
Following the release of the USDA's Grain Stocks and Planting Intentions report, corn and soy prices shot up. These price increases directly affect Lysine prices. With the price of soy going up, farmers will likely reduce their reliance on crude protein in favour of amino acid additives. As demand for amino acids increases, producers of amino acids will look to find the balance between increasing demand and optimising profits.
Though logically farmers should always use the lowest cost feed available, these quickly changing market dynamics make it difficult to plan for feed that is both cost effective and optimises nutritional requirements. One clear example is with the current prices of Lysine HCl and Lysine Sulfate.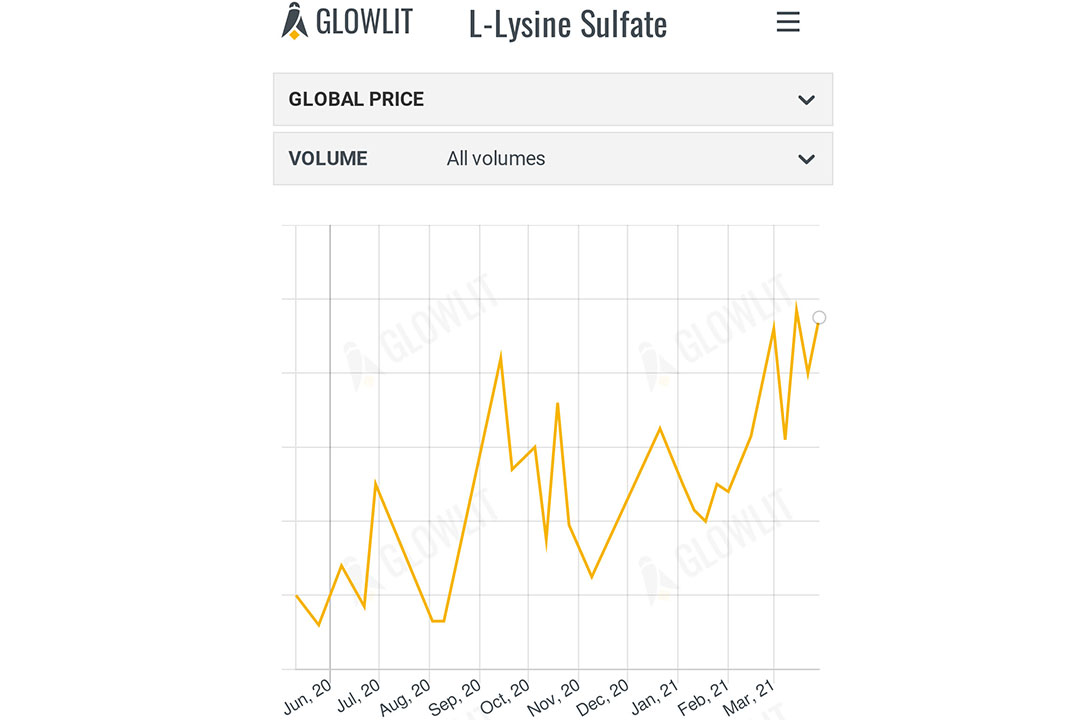 While both products have increased in price, Lysine Sulfate is priced relatively less expensive than Lysine HCl when considering actual Lysine concentration. If we look at Glowlit data globally, we see that Lysine Sulfate is approximately 13.2% less expensive than Lysine HCl when accounting for differences in concentrations. This difference may be great enough to push farmers to reconsider their formulation.