There is a tense quiet in feed ingredient markets, especially when compared to the soft commodities world where prices are currently extremely volatile. Buyers and traders are cautiously assessing their next order size with every new piece of information that comes their way. At the end, changes to supply and demand are the only factors that could shift a steady state in the market. Until we reach that steady state, hints of market shifts could significantly affect the prices that buyers are willing to pay.
Chinese swine herd recovering
With so much of the global demand for feed ingredients coming from China, it is important to start there when assessing demand. Chinese state television announced that China's sow herd grew 1.1% in April from the previous month, and 23% over the corresponding month a year earlier. In April, the Chinese sow herd stood at 97.6% of the end-2017 levels indicating a recovery from the losses due to African Swine Fever.
Feed ingredient demand from China uncertain
As hog populations appear to recover, they are also being raised more efficiently with large farms taking up a larger portion of the industry in China. In theory, the larger the farm the more sophisticated the feed and the larger the demand for feed ingredients. But even as Chinese producers expect larger demand, pricing data in Glowlit does not yet support these increases. Furthermore, the increased availability of animal by-products among exporters to China suggests increased demand for imported meat within the Chinese market. In short, demand from China remains unclear and uncertain.
Vitamin A
On May 10, NHU announced that it is planning to shut down the Vitamin A oil production unit for about 10 weeks of maintenance in July. With Malaysia keeping businesses in lockdown to prevent Covid spread, the industry fears supply shortage of citral, a key intermediate in the production of Vitamin A. The Malayian BASF Petronas facility produces citral and citronellol at its integrated chemical site in Kuantan.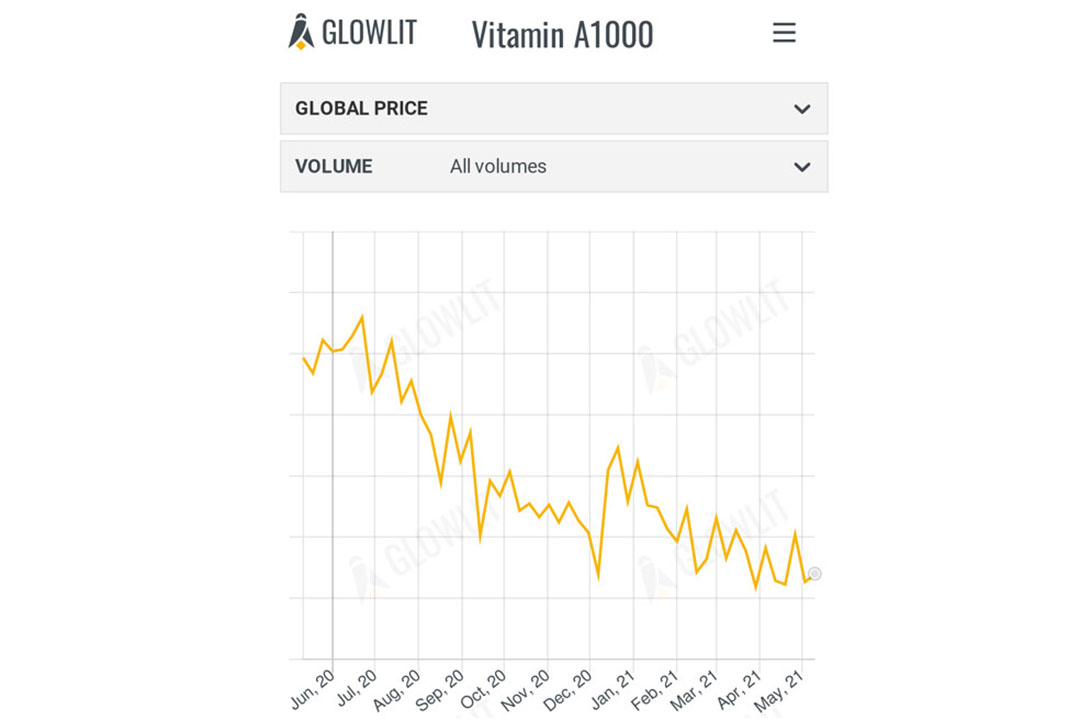 Methionine
On May 11, 2021, the US Department of Commerce announced its final determination in the antidumping duty investigation of methionine from France. The petition was submitted by Novus International Inc. in July 2020 against goods coming from France, Japan and Spain with Sumitomo and Adisseo in focus. In the final determination for France, goods sold by Adisseo France SAS will be taxed at 43.82%, and all others at 16.17%. The issuance of orders is expected for July.
In other news for Methionine production, Ningxia Ziguang Tianhua Methionine Co. suspended production of the methionine production line for maintenance in April-May. The CJ Malaysia plant plans to conduct a 6-week maintenance from June to July, with the exact time to be determined. NHU Methionine plant is due to start a one-month shutdown for maintenance in late June.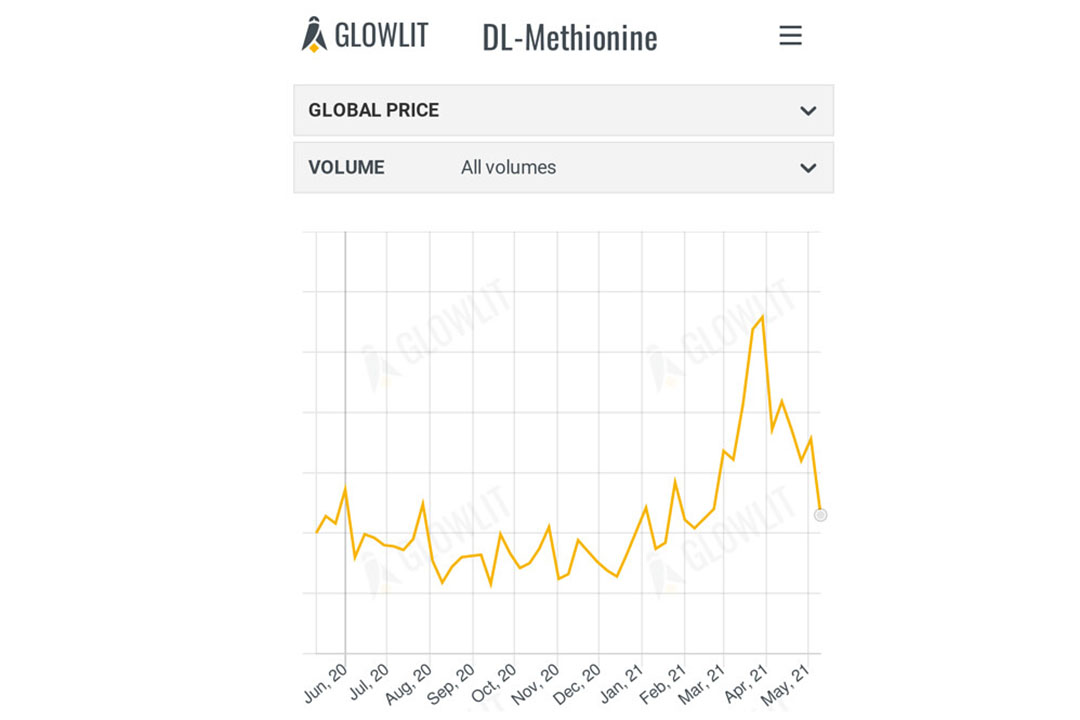 Blood Meal
Animal by-product prices across Asian markets were steady this week. However, with the end of Ramadan we can expect an increase in demand around the corner. US domestic prices remain stable as well. Despite what we would expect to see, increases in soybean prices have not pushed animal protein and by-product prices higher. Current prices suggest sufficient supply.