In August 2021, the Taliban took control over Afghanistan. Since then, the country has been diving ever deeper into a fully-fledged crisis. More than half the population of Afghanistan (23 million people) is expected to face high levels of acute food insecurity from November to March, according to a recent report from the United Nation's Food and Agriculture Organization (FAO) and the World Food Program (WFP).
Steady growth and investments
In previous years, Afghanistan had made exceptional progress in developing domestic animal protein production. In 2017, the Ministry of Agriculture and Irrigation calculated that US$ 700 million (€ 611 million) had been invested in the poultry and feed industry over the last few years. This is an unprecedented figure for a country in Central Asia, which had been war-torn not so long before. It was estimated that nearly 11,000 new production facilities had been launched, mostly from scratch, covering the entire production chain from hatching eggs to meat processing. Afghanistan was making good progress in terms of self-sufficiency in poultry, eggs, and some other livestock products with the support of several international organisations, gradually cutting its dependence on foreign aid.
It would be fair to say that the Afghan livestock industry experienced good development in both the livestock and poultry sectors in the last 15-odd years.
Dr Raymond Briscoe, Executive Director of the Dutch Committee for Afghanistan, said that, prior to the current crisis, Afghanistan experienced steady growth in the main segments of agriculture. "There was successful development, with a focus on health, education, production, employment opportunities, and access to quality services from trained veterinary paraprofessionals," Dr Briscoe said, adding that some improvements were also seen in terms of average incomes, added value, and gender issues. "It would be fair to say that the Afghan livestock industry experienced good development in both the livestock and poultry sectors in the last 15-odd years," said Kaustubh Devale, Head of the Emergency and Resilience Unit of FAO in Afghanistan. "This growth has been underpinned by investments by the government of Afghanistan with support from various development partners including international resource partners, FAO, the domestic private sector, and most importantly efforts by Afghan livestock keepers and rural households who took the risk of adopting technological and technical innovations to enhance livestock and poultry production, processing and added value," Devale said. These collective investments and efforts have enabled the formation of several livestock and poultry associations at the local, sub-national, and national level, the establishment of quite a few manufacturing units for inputs, including feed, as well as many dairy units and processing plants, according to FAO. Besides this, they contributed to an improvement in disease surveillance and animal health management systems and enhanced the local economy through adding value and providing services.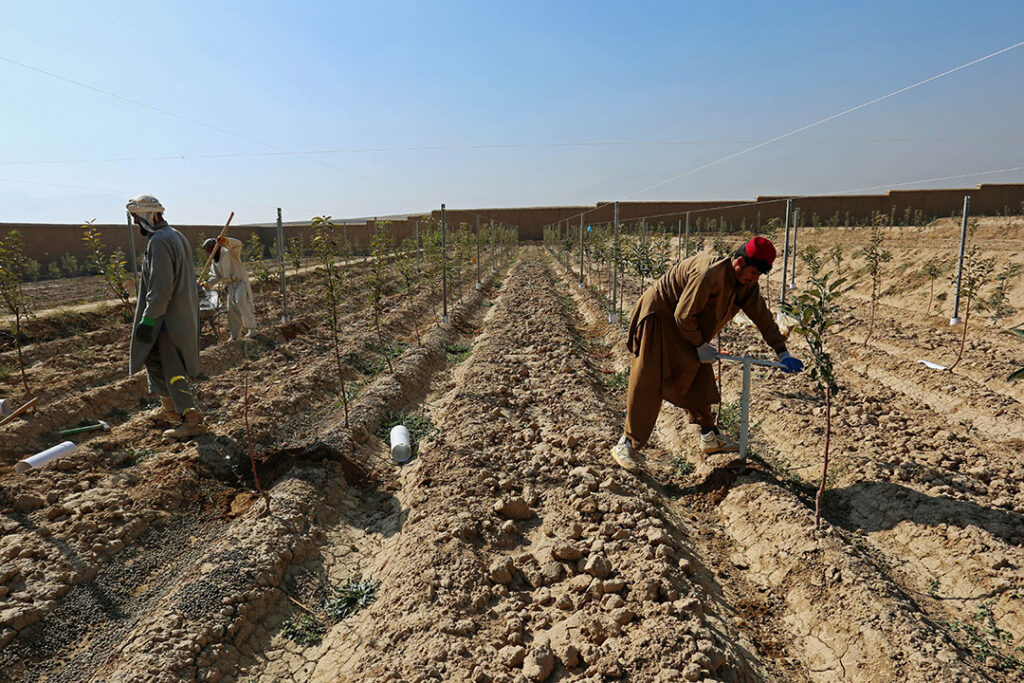 Extreme feed shortage
It is estimated that following the takeover by the Taliban, as many as 700,000 people have been displaced, which has significantly affected agriculture, especially livestock farming. Quite a few farmers reportedly culled or abandoned their livestock, running for their lives. "There are displaced farmers who have sold their livestock in order to survive, but on the other hand, many farmers and farms are continuing operations through specific supported interventions," said Dr Briscoe, adding that there were some improvements in security in some provinces of Afghanistan, but the lack of feed remains a pressing issue. "There is a feed shortage which needs to be addressed. We have established many feed banks as a way to give farmers the means to store and use feed in times of shortage," he added.
2021 drought – the worst in 30 years
Afghanistan experienced a severe drought in 2021, which is considered to be one of the worst droughts in the last 3 decades – and it is estimated to continue in 2022 as the second consecutive year of drought, thus making it the third drought to affect the country in the last five years, FAO warned. The Dutch Committee for Afghanistan estimated that in 2021 several Afghan provinces had only 200 millimetres of rainfall, which is a disaster since nearly 90% of livestock farmers rely on rain-fed pastures. Shrinking pastures spurs the demand for feed, which cannot really be met. Farmers keep around 36 million head of livestock, of which at least 5 million are reportedly at risk due to drought. "These numbers are estimated to have increased over the summer and autumn months of 2021 which, when, coupled with the usual harsh winter conditions that typically reduce access to fresh pastures and raw materials for feed manufacturing alongside livestock health concerns, indicate that a higher number of livestock are at risk in 2022," Devale said adding that feed manufacturing is also dependent on the availability of raw materials ranging from crop residues to oil cakes to other sources of biomass. "The availability of all of these raw materials was adversely affected by the impacts of the drought in the spring and summer months of 2021," he added.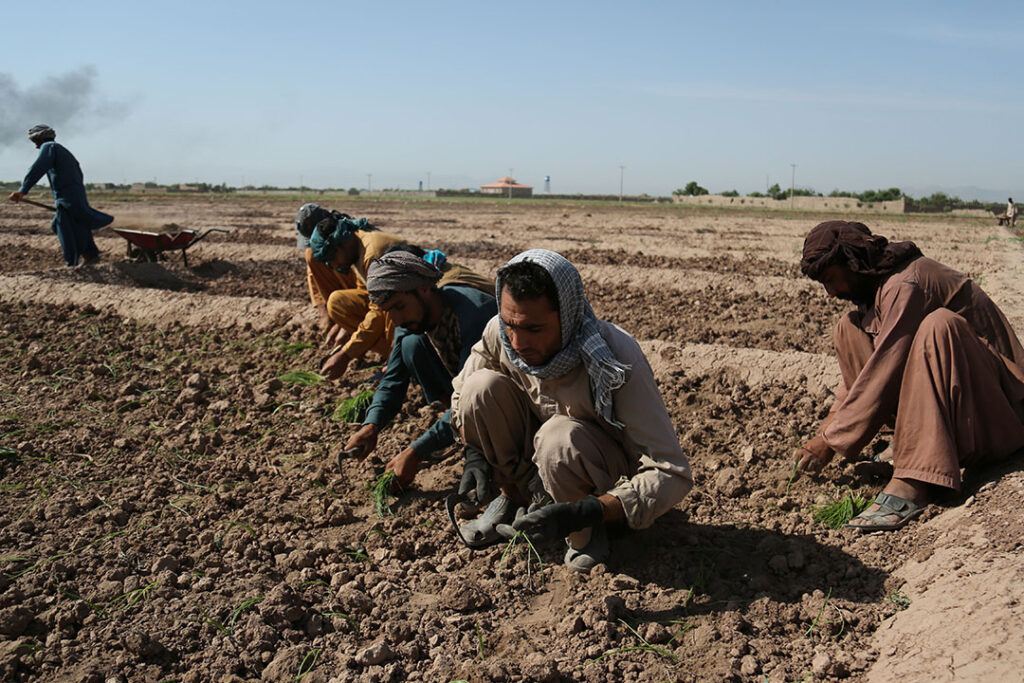 A web of circumstantial constraints
As explained by Devale, there are a range of factors that have hampered feed production in Afghanistan in recent months, including reduced local availability of raw materials for feed manufacturers. Then the sanctions regime and feed and raw materials exporting countries' policies' have led to import and related supply chain constraints plus the banking and financial sector crisis and the economic crisis for livestock keepers as well as herders, farmers, and backyard poultry keepers. To partly mitigate this problem, FAO procured close to 20,000 tonnes of concentrate animal feed for livestock and poultry and distributed it to vulnerable food insecure marginal livestock and poultry holding households across 31 provinces of Afghanistan in 2021. The risk exposure of these livestock and poultry keepers and their vulnerabilities has increased significantly in recent months due to a "complex web of circumstantial constraints," Devale said, adding that, despite the numerous challenges, the livestock industry continues to operate.
A lack of access to money
"Livestock keeping in the form of nomadic herding, semi-settled and settled livestock keeping through mixed farming systems as well as backyard poultry keeping continues in Afghanistan despite the many challenges. It is an important part of the overall agriculture sector in Afghanistan while also contributing to food nutrition security and incomes at the household level," Devale said. FAO also reported that large livestock holding households and others who could afford to purchase feed directly from local markets have done so, meaning that substantial quantities of feed have been manufactured in the country in recent months despite the constraints. "We are supporting farmers through our current donors and projects, but there are challenges which relate mainly to the (lack of) official recognition of the new government and stabilisation of the financial sector with banks not operating normally. There is a lack of access to money, jobs, and markets with consumer goods being sold at very high prices, and the local currency is very weak against other currencies," Dr Briscoe said.
Women in the workforce
There are also lingering fears about women's rights in Afghanistan. On 30 September 1996, the Taliban decreed that all women should be banned from employment. Since regaining control of the country, Taliban representatives had promised to respect women's right to work and education within an ill-defined Islamic framework. However, reports indicate that women cannot go to work or travel without a male guardian, and there are some other major constraints preventing women from keeping their jobs. This poses a serious threat to the Afghanistan livestock industry, since women account for nearly 43% of the Afghan agricultural labour force.
It is thus crucial that Afghan farmers are supported, and international aid can definitely contribute to this.
International aid needed
According to FAO, information available in the public domain indicates that all stakeholders are encouraging farmers to scale up domestic food production. "Enhancing domestic food production including increased household level subsistence production of nutritious food is critical to meet the current crisis of acute food insecurity that may tip into a catastrophe of hunger, malnutrition, and famine," Devale said, adding that international aid can help Afghan farmers – especially women farmers and backyard producers. With generous support from international resource partners, FAO has managed to procure approximately 10,000 tonnes of certified seeds of improved and adapted wheat varieties. "This demonstrates that it is possible to get international aid to farmers in this urgent hour of need since over 71% of all Afghans live in rural areas and a further 5% are nomadic (herders); agriculture generates 25.5% of Afghanistan's GDP apart from directly employing 45% of the national workforce and providing livelihood benefits to over 80% of the country's population," Devale said. He added that international aid could also help protect the development gains achieved by the agricultural sector over the past 2 decades and help ensure that these are not reversed, but rather taken forward for the benefit of Afghan farmers and people in general. He estimated that of the 22.8 million people projected to be facing acute food insecurity through March 2022, 79% live in rural areas and are dependent on agricultural livelihoods for their food, income, and sustenance. "It is thus crucial that Afghan farmers are supported, and international aid can definitely contribute to this," Devale concluded.