High-quality feed is needed to fuel the anticipated growth in Russian aquaculture. By 2030, Russia may catch up with the US in terms of farmed fish production, ramping up capacities from the current 200,000 tonnes to nearly 500,000 tonnes, the Russian fish industry union VARPE estimated.
Government optimistic for the future
The government agencies are even more optimistic. The Russian federal agency for fisheries Rosrybolovstvo forecast that, by 2030, domestic production could reach 700,000 tonnes per year. While in the longer run, the country can boost its share of global aquaculture production from less than 1% in 2020 to 10% or 15%, Ilya Shestakov, director of Rosrybolovstvo estimated.
Russia has everything it needs to become one of the world's leaders in this sector.
The government anticipated that private investors would pump Rub613 billion (US$ 8 billion) into building new fish farms in Russia and spend Rub118 billion (US$ 1.7 billion) on launching new aquafeed production capacity by 2030.
A fifth of the world's freshwater reserves
"Russia has everything it needs to become one of the world's leaders in this sector. We have plenty of water bodies, especially on the south and in the central part of the country," Shestakov said, adding that Russia possesses one-fifth of the world's freshwater reserves, more than any other country in the world. In addition, the Russian coastline is calculated to be 37,654 km long, which is more than enough to boost aquaculture production.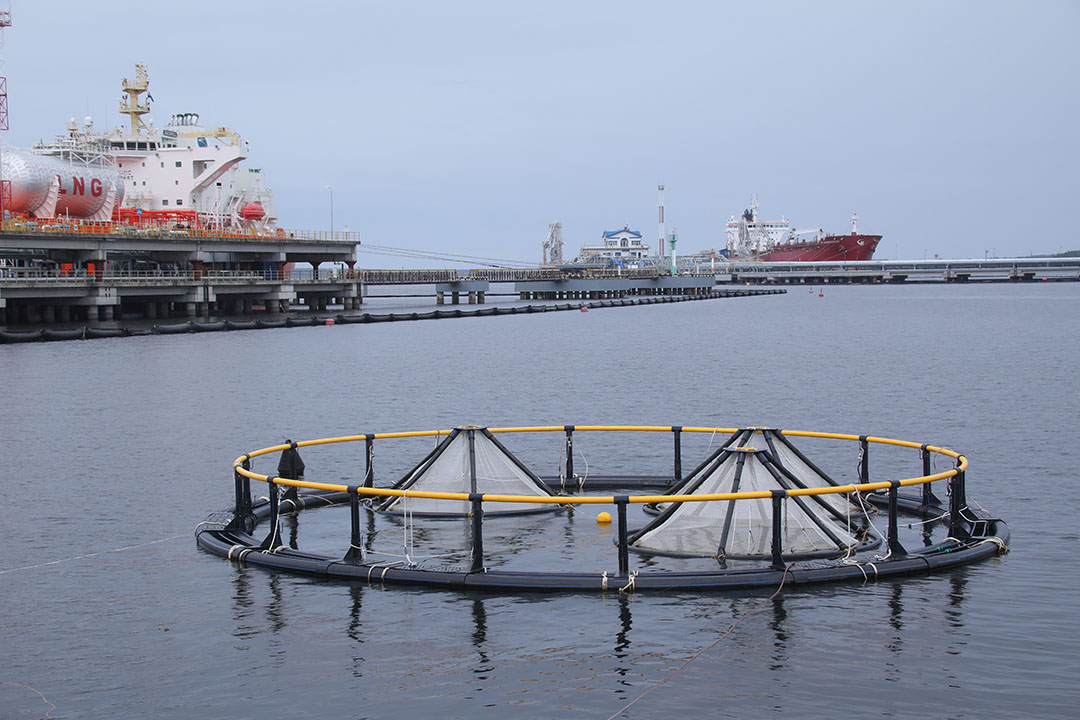 Russia's aquaculture dependent on imports
When it comes to aquaculture, Russia currently has the problem of being strongly dependent on imports for almost everything: broodstock, farming equipment, and feed, the government stipulated in an industry-development programme adopted in 2020. Fish farmers agree, stressing that sourcing good-quality fish feed is the biggest challenge. While the imported feed is expensive and has been getting even more expensive in recent years due to the depreciation of the Russian ruble and the inferior quality of domestic feed. "Only imported fish feed is good. There is domestic feed, but we don't use it," said Julia Vartemya, director of a trout farm in Leningrad Oblast.
Boosting domestic fish feed production
In 2020, the Russian government set the target to boost domestic fish feed production nearly tenfold during the next decade, to 525,000 tonnes. This figure is expected to meet domestic demand and let the country abandon imports, which currently mainly come from China and the European Union (EU).
This target is believed to be entirely realistic since, to some extent, it is based on already rolled out plans. Several new feed mills focused on aquafeed are already in the pipeline in Russia. For example, Astrakhan-based company Rybnye Korma laid out plans to build a new modern feed mill with a capacity of 50,000 tonnes per year for Rub1.3 billion (US$ 20 million). The company will focus on feed for valuable fish species, such as sturgeon, trout, catfish, and others, and use fishmeal, vegetable proteins, feathers, and chicken meat and bone meal as raw materials. Although the feed mill will employ imported technologies, all raw materials are expected to be sourced domestically.
Inconsistent feed quality
The main problem with Russian fish feed is poor efficiency. Farmers usually complain that when using domestic feed, they encounter high mortality rates and slow weight gain. In addition, some Russian producers supply feed of uneven quality, with one batch better than the next. This makes the Russian products less competitive on the market, compared to imported fish feed. This problem will hopefully be solved by the All-Russian Research Institute of Fisheries and Oceanography VNIRO, which is working with feed companies to improve their formulations.
Improving domestic feed quality
"We developed and tested fish feed using new sources of protein, and the results thus obtained are not inferior to imported feed in terms of fish growth rates," Roman Artyomov, the head of the feed department at VNIRO, told the Russian veterinary body Rosselhoznadzor's in-house publication. The new feed is also expected to secure better costs for Russian fish farmers. It is expected to be 20% to 30% cheaper than imported feed. During the last 5 years, the Russian rouble's exchange rate experienced a nearly twofold slump due to international sanctions and price fluctuations on the global oil market. This downward rally was painful for the companies relying on imported feed. While the poultry, pig, dairy, and beef industry in the country are almost completely self-sufficient on feed in Russia, in aquaculture, up to 80% of feed is still imported.
Extruded feed consumption
As estimated by Artyomov, domestic aquaculture currently consumes around 320,000 tonnes of feed per year, mainly extruded feed for salmon, sturgeon, and whitefish and granulated feed for carp species. "The extruded feed consumption is about 90,000 tonnes, of which about 20,000 tonnes are produced in Russia; the rest is imported," Artyomov said. This balance is likely to change thanks to the Russian scientists, who promise to provide Russian producers with new high-quality formulations shortly.
Cost-effective & competitive feed forumulations
"VNIRO has created a multifunctional testing centre for feed produced in Russia. And now the institute has cost-effective and competitive feed formulations for carp, sturgeon, whitefish, trout, and Pacific salmon. In 2020, our specialists began developing feed for crustaceans, in particular for Australian red claw crayfish and bath shrimp," Artyomov said. Russian scientists are also currently testing insect protein as a component of fish feed, he added, not providing additional details. This may be important since quite a few fish farms in Russia still apply the traditional practice of feeding fish only with grain, refusing to accept any innovations. "The majority of pasture farms in the Russian south use only wheat to feed fish because of its low cost. Highly efficient granulated and extruded feed are used to a lesser extent due to this practice that was developed in Soviet times, "Roman Artemov said.
Expanding the raw material base
A lack of a diversified raw material base is often cited as one of the main reasons constraining the Russian aquafeed industry development. Some producers continue to adhere to a wheat-based diet, frequently grinding and mixing production ingredients right on the farms. This is especially common for old farms.
However, in the coming years, Russian fish farmers are likely to get a better choice of raw materials. In the years ahead, Russian fishing companies aim to establish fish processing plants with an overall capacity close to 1 million tonnes of fish per year. If those plans take effect, the Russian feed industry will get an additional 150,000 tonnes of fish meat and 120,000 tonnes of fish oil per year. The Russian Agriculture Ministry expects these volumes to become the basis for the domestic fish industry growth in the next few years.
Establishing a fish feed industry will ensure cooperation between the fishing and aquaculture segments with the possibility of new vertically integrated holdings emerging,"
– the government said in the industry development programme
Use of insect protein
In the meantime, the first industrial production of insect protein is expected to be launched in Russia in the next few years. In 2019, Russian company Limkorm Pet Food disclosed plans to establish the country's first production complex to breed black soldier fly larvae (BSFL) for pet food production with an investment cost of Rub1.85bn (US$ 25 million). In 2021, the same investors declared plans to launch the second production company Biopro. Insect feed is reportedly planned to be used to produce fish feed, among other things.
Cost of insect protein needs to be competitive
Valery Afanasyev, president of the Russian Union of Feed producers, claimed that given a shortage of animal protein in Russia, such projects are necessary, but it all comes down to the high cost of the final products. Afanasyev explained that, if the BSFL meal turns out to be very expensive, as it is now, there will not be strong demand. To become popular, it has to have a similar price to meat-and-bone meal. Establishing new production capacities is just the first step towards achieving import replacement. Government officials warned that fish farmers must be urged to switch to domestic feed, which might not be an easy task.
"It is necessary to gain production experience and, of course, marketing as soon as possible, since it is difficult to persuade domestic fish farmers to abandon expensive but proven imported feed," said Vasily Sokolov, deputy director of Rosrybolovstvo.
Sanctions spur plans
In the meantime, local market participants warned that Russian fish farmers should start looking into sourcing aquafeed on the domestic market since soon they may not have an alternative. In a meeting with EU foreign ministers in April of 2021, Ukraine's Foreign Miniter Dmytro Kuleba said he had called for a tough new package of sanctions, including the expulsion of Russian banks from the Society for Worldwide Interbank Financial Telecommunications (SWIFT) network. The call to disconnect Russia from SWIFT seems to be becoming stronger these days. If this is approved, it may effectively bar the entry of European fish feed into the Russian market since sending payments for goods received would become virtually impossible. The rising threat of sanctions has given an additional import-replacement impetus to several segments of the Russian economy in 2021, and aquafeed may well be one of them.