Globally, agricultural productivity will need to improve by roughly 30% over the next decade to feed the world and to stay on track towards achieving internationally agreed climate goals. That means we will have to leverage a great deal of technological innovation to meet the growing calls from many sides to make our food systems more sustainable. Even in the current context of high feed costs, it is important to keep a focus on efficiency and sustainability. Direct greenhouse gas emissions from agriculture are projected to increase by 6% in the next decade, with livestock accounting for 90% of this projected increase according to the latest OECD-FAO Agricultural Outlook.
On the bright side, as an industry we are doing a lot of things right. Significant gains could be made if we were to roll out the best practices from the most efficient farm systems to the rest. Applying practices of the top decile of producers with the lowest GHG emissions while maintaining constant output would reduce the footprint of ruminants by 37-41%, swine by 24% and poultry by 17% according to the FAO.
Major topic among stakeholders
Consumers, regulators, investors and other stakeholders are increasingly looking at the environmental impact of animal farming. They expect to see real, credible gains in sustainability on the part of feed and animal protein producers. Fortunately, this coincides with new market opportunities and trends that retailers and agri-food companies increasingly recognise; namely the trend observed in the US consumer-packaged goods market, sustainably marketed products accounted for most market growth while commanding significant price premiums over conventionally marketed products.
Feed's role in sustainability and efficiency
Feed plays a unique and significant role in livestock farming and sustainability. Feed typically represents 50-70% of a producer's costs and accounts for up to 80% of livestock emissions. More efficient feed utilisation contributes to higher profitability for producers and drives down the environmental footprint of farming. To further emphasise the importance of nutrition in sustainable protein, consider that a pig will only retain about 50% of the nitrogen you feed it, and the rest goes out into the manure, some of which will gas off as nitrous oxide, a powerful greenhouse gas.
Measure and manage
It is a truism to state that you cannot manage what you do not measure. Understanding the environmental footprint of animal protein, which is key to building sustainable food systems, encompasses feed raw materials, feed production, feed use, manure disposal and animal productivity.
A baseline measurement can be of great value as a business diagnostic to detect the footprint hot spots and, for example, where productivity gains would have the most impact and more readily achieved. Identifying and implementing efficiency improvement measures will directly benefit the farm's bottom line and planetary well-being. To achieve productivity gains and unlock the market opportunities associated with sustainability, feed and animal protein producers must take ownership of their own data. This must be backed by robust and credible Life Cycle Assessment calculation methodologies that empower the value chain to be recognised and compensated for sustainability achievements.
Keys to environmental footprint reduction
Measurement is the starting point that enables producers to understand their environmental impact, not just for carbon but also other emissions such as nitrogen, water use, biodiversity, land use and more.
The environmental footprinting and analysis work that we have done with large integrators has consistently shown that significant environmental footprint reductions can be achieved through 3 key levers:
1. Productivity gains related to improving animal lifetime performance, reducing mortality, food loss and waste.
2. Improved nutrient utilisation and use of lower footprint alternative feed raw materials.
3. Reducing enteric methane production through the latest nutritional science and feed additives for fast and effective greenhouse gas reduction.
Feed additives, accurate data and nutritional science are foundational to making improvements and unlocking the value of sustainability of animal protein.
In a recent publication done with FAO, LEAP and DSM, micronutrient and functional intervention strategies were applied in terrestrial livestock species based on highly optimised Western European-type production systems using typical feed ingredients.
It was shown that the combination of micronutrient nutrition and functional nutrition led to meaningful reductions in greenhouse gas emissions, eutrophication and respiratory inorganics related to ammonia production in broilers, fattening pigs and dairy cows.
The study supports the relationship between productivity in terms of FCR/yield improvement and the reduction of environmental footprints while also highlighting the benefits of improving the lifetime performance of farm animals.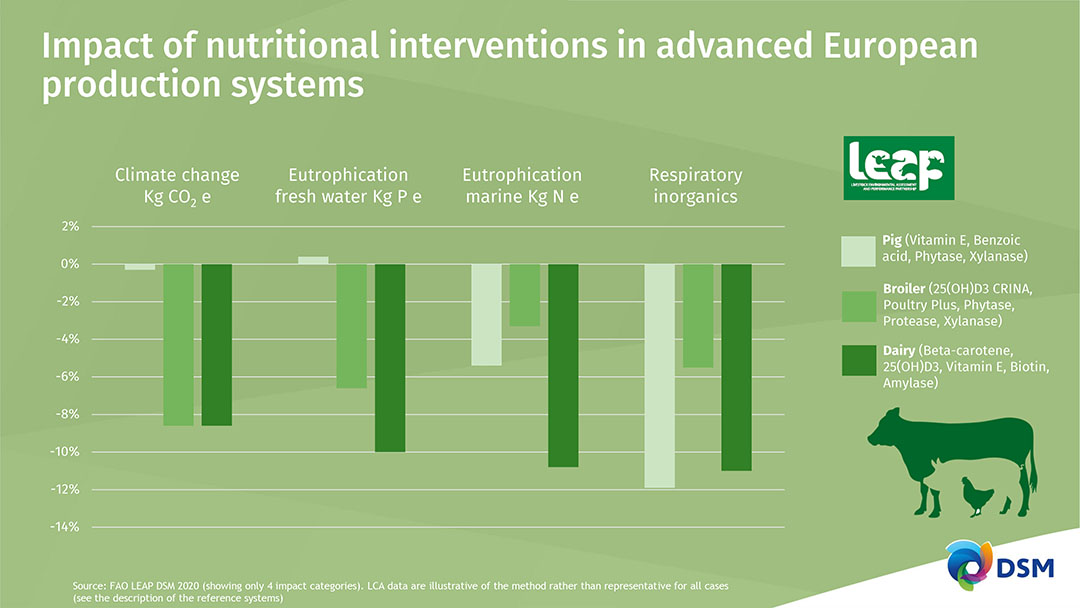 Conclusion
To address the challenges of greenhouse gas emissions and the sustainability of our food systems, we must reduce the environmental footprint of the eggs, fish, meat and dairy that make up part of the balanced diet of billions of people each day.
Producers will need to leverage a full set of tools that span high quality micronutrients, feed enzymes, eubiotics and environmental footprinting to apply a functional nutrition approach and accurately capture the sustainability and productivity gains that can unlock market opportunities around sustainable animal protein.