This was one of the conclusions drawn from the panel discussion: Advancements in Nutritional Solutions and the Future of Feed for Livestock, which was organised at the recently held Animal Health, Nutrition and Technology Innovation Europe 2023 in London, UK.
Adding sustainability to the mix
Aaron Schacht, CEO at BiomEdit led the discussion and addressed that we have entered an era where livestock production is challenged in many ways. "To sustain the supply of conventional animal protein, this means that we have to continue to invest in emerging strategies in the field of animal health and nutrition," Schacht said.
Christie Chavis, Vice President, Animal Nutrition and Health Performance Solutions at DSM joined the table at the panel discussion and explained: "Overall production and good performance are still main goals in animal production. What has changed is the number of variables that goes into the equation, such as animal health and sustainability."
This has spurred DSM to fully reposition its product portfolio around sustainability metrics. "Every product we sell must be focused and linked to one of the 6 sustainability business drivers we defined, such as: improving lifetime performance of an animal, ensuring efficient use of natural resources, and reducing antimicrobial resistance (AMR). This also entails that every product comes with an environmental declaration. We also ramped up our research around precision nutrition and diagnostics to be able to detect problems earlier (such as mycotoxin contamination of feed ingredients) and act accordingly," Chavis explained. In line with this, DSM updated the audience that it will further roll-out its methane reducing feed additive Bovaer (in Europe, as well as the US (in partnership with Elanco)) and will further promote Sustell, a software tool to accurately measure and improve the environmental footprint of animal protein production.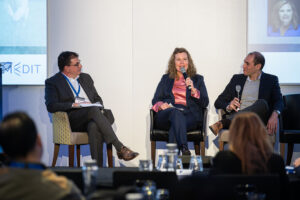 Driving digital transformation in livestock
Chavis was joined on the panel by Vinicius Chiappetta, Global Commercial Director at Cargill Digital Solutions who agreed that we now have to optimise for more variables in animal feed and livestock production. Chiappetta explained: "The definition of what we mean with optimisation is changing and more complex. Is it possible to optimise for performance, costs, sustainability, health, and welfare altogether?" Chiappetta explained that this is a challenge, but also incentivizes better use of data and modelling. "We already generate a lot of data in animal nutrition and livestock production, but the amount of data will increase and the need to have good quality data will be higher." Over the last years, Cargill has therefore formed strategic partnerships with companies that can supply the quality data through farm management software for swine, 3D cameras (powered by artificial intelligence) to measure the weight of chickens, sensor technology to automatically determine feed availability on farms, and several others.
Having access to this farm data helps to connect them to nutritional data, better predict problems and formulate more effective and sustainable diets. Chiappetta also addressed that digital transformation is not always about inventing something new. "We already create a lot of data and have proven (digital) solutions available that are very effective. The wins are in applying these to more farms, better analysis of the information we already have and bringing people along the digital transformation to show them the value. So, when we talk about 'digital transformation' in livestock production it might be more about transformation (of systems and people) than inventing new digital tools per se," he said.
Chavis agreed that there are already great solutions and data sources available. "Enzymes are proven, simple, and straightforward solutions that lead to better feed efficiency and hence lower the environmental impacts of feed and production systems. In addition, DSM creates extensive reports on mycotoxin contamination in different raw materials around the world. In light with changing weather patterns and associated changing mycotoxins risks, this type of data is more important than ever," she said.
Microbiome: The missing link
When asked for the next big thing in animal nutrition, Chavis mentioned the huge opportunities of the animal's microbiome to revolutionise animal health and nutrition and bring them more together. "We only know a small amount on what it can do and how can we positively influence it. I also see great potential to increase the use of biomarkers (through precision diagnostics) to identify and predict problems much earlier and the rise of new feed ingredients such as single cell protein."
A challenge is the way we move forward with sustainability. "We have to be more consistent in how we are measuring sustainability and determine clear benchmarks. We have to reduce environmental impact of farming, but if you don't know our starting point, how do we know that we are improving it? We have to aim for more credible ways to measure sustainability impact to allow for transparent reporting. Also new raw materials for animal diets, such as single cell protein and the impacts of feed additives on sustainability and health", Chavis addressed.
Chiappetta agreed that the microbiome is one of the most exciting areas to further explore. "We know a lot about genetics and animal nutrition, but we know the least about the microbiome. Future work will move from identification of the microbiota to getting a better grip on its function and how to apply it to better address gut health challenges." From a data standpoint, Chiappetta thinks there is still work to be done to integrate all the data in the whole animal value chain and optimise systems that is best for the value chain as a whole. Because this entails a lot of data, the use of models will be increasingly used in our industry."
Chavis concluded that because the future of feed (and livestock production) must deal with many more variables, we are moving away from pitching a single product as the magic bullet. "The magic lies in the combination of products and services. And this requires an even better understanding of the customer's pain points and how the farm is currently run (farm management practices, vaccination protocols, etc)."