DSM introduces microbiome metabolism modulator Symphiome
Royal DSM has introduced Symphiome, which it says is a precision biotic poultry feed ingredient designed to orchestrate microbiome metabolism and optimise the bird's resilience to enteric stress, aid in nutrient utilisation, improve welfare, and reduce emissions. SymphiomeT can be safely pelleted and withstand temperatures above 90°C.
FeedTechnoVision 2022 spotlights feed production strategies
As historic fluctuations in grain prices, supply chain disruptions, escalating energy costs and extreme weather events threaten feed producers' margins, a panel of 5 global experts on feed processing and quality reflected on sustainable production strategies for managing feed safety, quality and energy consumption during FeedTechnovision 2022, which took place on 8 September. The event was organised by Trouw Nutrition.
Study shows profitable ROI for beef rearer with Orego-Stim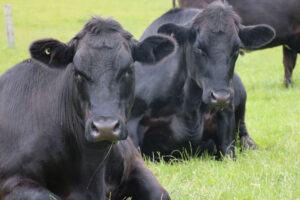 New beef research has shown that 100% natural oregano essential oil supplement, Orego-Stim, resulted in a 5% improvement in daily liveweight gain and an impressive ROI of 2.5:1. This commercial study was undertaken with an Aberdeen Angus to evaluate the effect of oregano essential oil feed additive Orego-Stim from Anpario on the performance of growing Aberdeen Angus cross beef cattle.
Players in the aqua sector partner to launch new shrimp feed
Leading industry experts Förde Garnelen, Aquafeed Germany, Protix, neomar and Crusta Nova have joined forces to launch a new shrimp feed: SHR EX. The feed has been exclusively designed for the needs of European land-based shrimp farms as they increasingly move towards greater sustainability. SHR EX replaces marine proteins with locally produced insect protein from a circular process. The product, which will be sold by Aquafeed Germany, is more sustainable, and initial research shows a significant improvement in shrimp growth and survival rates.
Novus International to shift from direct sales in China
To better serve those in its core markets through its strategic business plan, Project Destiny, Novus International has announced plans to change to an indirect business model in the Chinese market and is working to establish channel partners to continue serving customers in the country.
Anpario sustains sales in first half of 2022
Anpario, the manufacturer of natural sustainable animal feed additives for animal health, nutrition and biosecurity, has announced its interim results for the 6 months to 30 June 2022. Group sales increased by 3% to £16.5 million (2021: £16 million), helped by a strong recovery in South-East Asia with sales growth mainly driven by the opening of economies post-covid. Other notable performances were Latin America, the US and the Middle East & Africa (MEA). Adjusted EBITDA, however, declined by 10% to £3 million albeit after legal and professional costs in relation to specific acquisition opportunities. While these did not materialise, Anpario's search for suitable acquisition targets continues.
Nutrition Technologies in Asia to launch new products and expand into new markets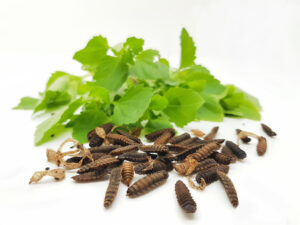 Nutrition Technologies, which manufactures sustainable animal feed ingredients and biofertilisers using a unique combination of microbes and black soldier fly larvae to recycle nutrients from agricultural and food processing by-products, has closed a US$20 million equity venture round. The funds will be used to further expand production capacity both at its current operating plant in Malaysia as well as through a new joint-venture project in a soon-to-be-announced second country in Southeast Asia. The company also intends to expand its R&D capabilities in Singapore; commence commercial activities in the UK and EU; and add several new patents to its existing IP portfolio.
Growket launches new stainless steel double boot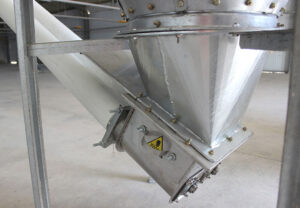 Growket has developed a 125mm diameter stainless steel boot with double outlet that allows auger feed delivery system to reach a production of 8,000 kg/h. An adaptation to the silo has also been developed with discharge slope of 0º and 30º. The increased size of the transition of the new adaptation improves feed flow reducing feed bridging. This boot Ø 125 with double outlet completes delivery feed system of 125mm that includes 2 control units with outlet 78mm and 156mm and intermediate and initial hopper.
Lallemand Animal Nutrition opens offices in Poland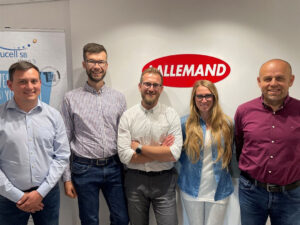 Lallemand Animal Nutrition has established offices in Józefów, Poland, for direct sales of its range of microbial-based animal nutrition and well-being solutions, forage inoculants and animal environment products. To increase its visibility in the polish market, the company is launching its Polish website.
EuroTier/EnergyDecentral 2022 coming soon
Animal welfare, sustainability, digitalisation, robotics and decentralised energy supply are in focus at the upcoming EuroTier and EnergyDecentral trade fairs this November. For the first time, the DLG-Agrifuture Concept Winner will also be awarded for concepts and visions that have not yet reached market maturity but are still in the development phase.
DSM completes acquisition of Prodap
Royal DSM has announced the completion of its acquisition of Prodap, an animal nutrition and technology company in Brazil that combines technology offerings, consulting services, and customised nutritional solutions aimed at driving efficiency and sustainability in animal farming.
MS Schippers and Denkavit partner
MS Schippers and Denkavit have launched MS Fit2GO to support the health of piglets, poultry, cows, calves and lambs, from digestive support for intestinal health to essential oils for healthy airways, to support for increasing the quality of the colostrum, to electrolytes, and support water, calcium and energy intake.
Metabolic Explorer creates Metex Animal Nutrition
Metabolic Explorer (MetEx), the French industrial biochemistry group, and its subsidiary Metex Noovistago, have launched Metex Animal Nutrition dedicated to animal nutrition. The portfolio comprises 10 amino acids registered as feed additives in the EU, and solutions targeting digestive health.
The Denkavit Group sets up entity in China
The Denkavit Group has established its own entity in China, Holland Agro Trading (Beijing) Co., Ltd, to support both Denkavit and Nutrifeed businesses, which market a full range of milk replacers for piglets, calves, lambs and goat kids. Nutrifeed also has a position in the sale of dairy concentrates for piglet feed
Victam expands to Latin America
The Victam Corporation has announced that it will expand its business to Latin America. Victam LatAm will be organised from 3-5 October 2023 at Expo Center Norte in São Paolo, Brazil, and will be co-located with Grapas LatAm, the event for the grain milling and processing industries.
Dr. Eckel begins World Tour on phytogenics in animal nutrition

The Dr. Eckel World Tour 2022 kicked off in Hua Hin, Thailand, where academic and industry experts shared and discussed promising innovations and solutions for ruminant feeding, poultry production and aquaculture. The series will proceed to Surabaya (Indonesia), São Paulo (Brazil) and, just before EuroTier, Braunschweig (Germany), focusing on the use of phytogenic.
Elanco launches new addition to Hemicell range
Elanco Animal Health has launched a new nutrient-sparing enzyme, Hemicell XT, to its range for pig and poultry producers. The company claims this gut-health enhancing supplement supports nutrient uptake and has the potential to reduce overall feed costs due to improved utilisation of dietary energy.
Danisco Animal Nutrition & Health leverages FeedCalculator app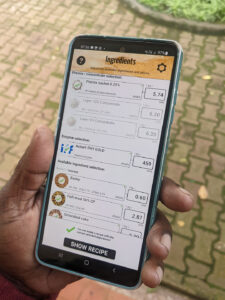 Danisco Animal Nutrition & Health is collaborating with Single Spark, creators of the FeedCalculator app, which supports farmers in developing countries generate quality feed recipes with locally sourced ingredients at the lowest price. The addition of Axtra Phy Gold to FeedCalculator makes the recently released phytase enzyme more accessible to smallholder farmers and feed mills.
Evonik and BASF partner
Evonik and BASF have entered into an agreement granting Evonik certain non-exclusive licensing rights to Opteinics, a software solution to measure, analyse and minimise the environmental impact of animal protein, with an emphasis on animal feed production. The software currently offers modules for pig and poultry production and can be integrated with feed formulation software.
Earlyfeed incorporates novel flavour strategy for piglets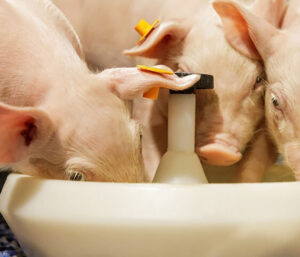 Earlyfeed, the young animal nutrition brand of Royal Agrifirm Group, has incorporated Piglet's Flavorit in its piglet feed portfolio. This flavour looks not only to the masking effect of sweet tastes, but also to the attractive and calming impact of maternal recognition. The flavouring will be included in the Babi creep feed line and the Vitastart starter concentrates. The initial launch will be at their Belgium facility and will be integrated at their other plants for the European market. The feed intake solution is based on how olfactory cues can create feelings of familiarity and recognition. When applied correctly, a smell can trigger the piglet's innate reflex to search for its mother and food. Through this maternal recognition, piglets can achieve smoother feed transitions to result in improved continuous feed intake, reduced stress levels, and increased overall welfare and performance.
AB Vista to extend reach across Asia Pacific with Signis
AB Vista continues its expansion across the Asia Pacific region with the launch of Signis in Vietnam, the Philippines and Thailand. Signis, a 'stimbiotic' product, is a feed additive that improves the gut health of poultry and swine and improves the animals' resilience to challenges by stimulating and accelerating the microbiome's ability to ferment fibre.
SPACE welcomed over 90,000 visitors
SPACE, which took place from 13-15 September at the Rennes Exhibition Centre in France, welcomed over 90,000 visitors from 120 different countries, and close to 1,200 exhibitors. The full scope of the livestock industry was represented, from cattle, pigs, goats and sheep to poultry, rabbits and aquaculture. The next SPACE is scheduled to take place from 12-14 September 2023.
eniferBio wins opportunity to work with Tesco
Finnish agtech start-up, eniferBio, has won the opportunity to work with UK retailer, Tesco, and its supply chain partners, after winning the 5th edition of theTesco Agri T-Jam pitching event run in partnership with the World Agri-Tech Innovation Summit. The innovator is developing a mycoprotein feed suitable for aquaculture, poultry and pig supply chains that is made from renewable raw materials and will offer a sustainable high-protein alternative to soy protein concentrate.