According to the global survey formed by analysing 21,709 samples from 79 countries, risks levels of mycotoxin contamination are extremely high in Central America (87%), Asia (79%), and North America (77%), and the most prevalent mycotoxins globally were the Fusarium mycotoxins DON (65%) and FUM (64%), followed by ZEN (48%), while the occurrence of mycotoxin often observed in corn, cereal, soybean, silage, DDGS.
Global threat of mycotoxin contamination
Mycotoxins can have adverse immunological, endocrine, reproductive, genetic, and histopathological effects on farm animals. A large number of studies in vitro and in vivo have confirmed that mycotoxin-contaminated diet led to growth retardation, reduced infertility, immutability, live failure, intestinal dysfunction. It has been estimated that during the production stages, for every 35,000 broilers that consume a diet contaminated with 20-60 ppb AFB1, there will be economic losses ranging from US$1,000-4,000.
Application of yeast cell wall as a mycotoxin adsorbent
Mycotoxin contamination and health consequences in animal production pose increasing challenges for food security and safety of the consumer. Different strategies, including preventive measures at pre and post-harvest, have been developed to neutralise mycotoxins in animal feed such as good agricultural practices (GAP) and good storage practices (GSP). Moreover, the use of physical and chemical methods for the detoxification of agricultural commodities contaminated with mycotoxins is widely used.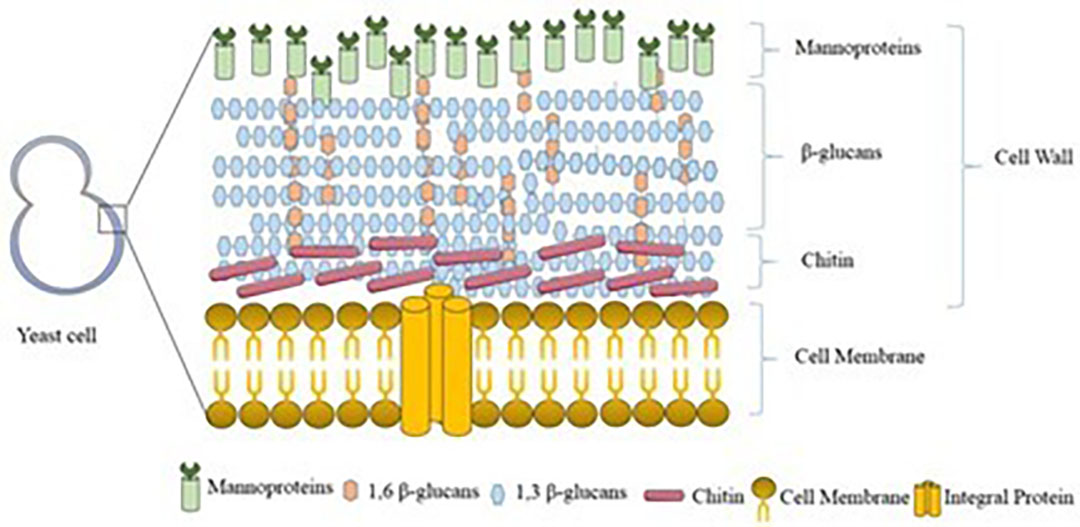 Although prevention of mycotoxin contamination in the field and during storage is the main goal of agricultural and feed industries, the absence of mycotoxins in the ration of farm animals cannot be fully assured. So detoxifying agents have been recommended for animals to reduce the absorption of mycotoxins from the GI tract and their distribution to blood and target organs. Among them, the yeast cell wall has been frequently used as a kind of organic adsorbing agents together with some other kinds of inorganic adsorbing agents such as hydrated sodium calcium aluminosilicate, montmorillonites and zeolites.
So, what is the mechanism of mycotoxin adsorption by yeast cell wall? Studies showed that the yeast cell wall network structure consists mainly of polysaccharides, with the outer layer made of heavily glycosylated mannoproteins involved in cell recognition and the inner layer made of β-1,6- and β-1,3-glucan chains linked with chitin and mannoproteins to give rise to the fibrous network structure (Figure 1).
There are at least 3 pathways of mycotoxin adsorption by yeast cell wall:
Physical structure and morphology theory. The yeast cell wall with greater thickness and content has a greater mycotoxin detoxification ability. In contrast, the mycotoxin removal percentage dramatically decreased when the yeast cell wall 3-dimensional network was artificially damaged.
Chemical components theory. The insoluble β-1,3-glucans provides a large of binding sites by forming a complex branched architecture for ZEN adsorption, which could be enhanced by soluble β-1,6-glucans. A similar collaboration function is observed between β-1,3-glucans, and chitin, those 2, as the main structural frame of the yeast cell wall, could provide many meshes for patulin molecule adsorption.
Interaction between structure and components. The recent study revealed that genetic modification technology could regulate the yeast cell wall thickness, chemical composition (such as the ratio of β-1,3- and β-1,6-glucans, and chitin), and network formation of reticular structures to achieve an mycotoxin adsorption enhancement.
Application of a yeast cell wall product in vitro and in ex-vivo for Angel Yeast
As the world's leading supplier for pure cultured yeast cell walls, Angel Yeast has been committed to the development and application of yeast cell walls and their derivatives in the fields of human health and animal nutrition. We have found that as a mycotoxin adsorbent, yeast cell wall products from different sources have different adsorption efficiency for mycotoxins in vitro.

Compared with the yeast cell walls of industrial by-products such as alcohol and beer, the adsorption rate of the yeast cell walls derived from pure culture fermentation of molasses are effective for mycotoxins is better. Moreover, the basic physical and chemical indicators of yeast cell wall, such as crude protein and β-glucan content, also affect the adsorption effect on mycotoxins.
Even the yeast cell wall has been used by itself, because the functions of binding mycotoxins, the immunity and gut health, it has a very good effect on the growth performance for poultry. Recently, a total of 93,000 day-old Cobb broilers were randomly selected and randomly divided into 2 groups. The experiment group was supplemented with 1kg/t yeast cell wall (YeaMOS, provided by Angel Yeast) for about 38 days. The performance of broilers in the experimental group was better than those in the control group. The average slaughter weight of was increased about 0.018kg; the average daily gain was increased 0.54g; the F/G was decreased 0.031; the survival rate was increased 0.256%; the final European index was increased 11.81, with an increase of 3.0%.
Depending on the yeast cell wall productivity and R&D advantages, Angel Yeast has developed effective mycotoxins adsorbent products especially for animals, called BioBon, which provide high-quality yeast cell wall raw materials. Animal tests also showed that compared with other mycotoxin absorbent products, supplementation of 2kg/t BioBon in basal diets has a better efficacy in alleviating AFB1-induced growth retardation and liver dysfunction of ducks (Figure 3).
Figure 3 – BioBon inhibits AFB1-induced growth retardation and liver dysfunction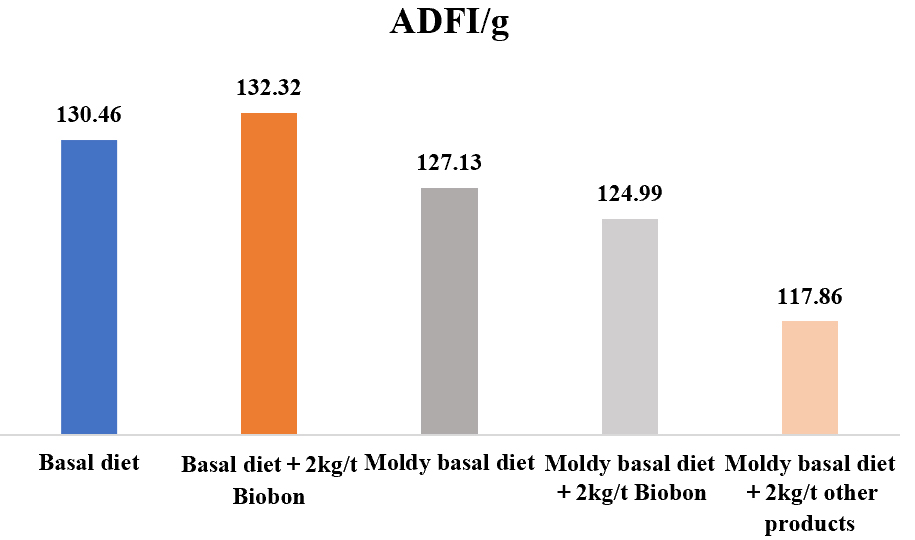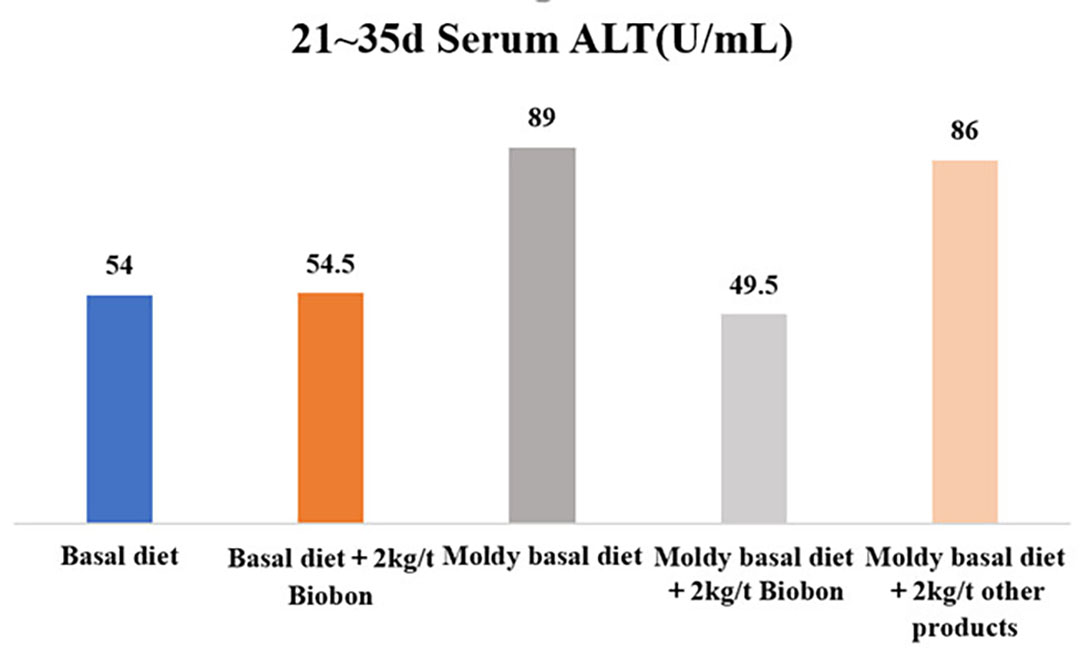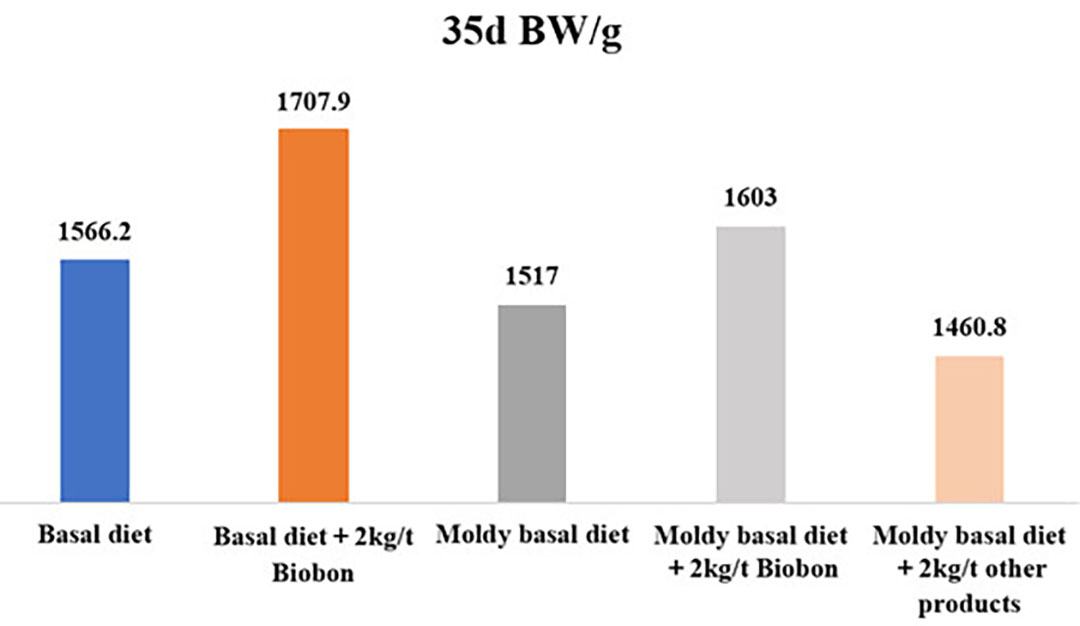 Conclusion
Yeast cell walls have significant positive effects in mycotoxin absorption (such as ZEN, DON, AFB1), increasing the quality of raw materials, thereby improving animal intestinal and liver health, and growth performance, which means it can be widely used as a mycotoxin absorbent for poultry.
References available on request.