Estonian insect farming start-up FlyFeed has big plans to address the global feed and food crises through the production of insect protein, as well as fats and fertilisers.
Sustainable feed and food production
The start-up aims to begin with supplying protein from black soldier flies to animal feed and pet food manufacturers, and then plans to expand production to human food in the future. In a recent interview, FlyFeed founder Arseniy Olkhovskiy talked challenges, opportunities and how he plans to build a sustainable business that makes feed and food more accessible and less expensive.
…the demand for insect products is way higher than the supply
About FlyFeed
Launched in November 2021, FlyFeed is based in Estonia but has global aspirations. In 2023, the company will launch its first production site in Vietnam. By 2026, it aims to launch 10+ farms in Vietnam, India and Africa. FlyFeed has signed over $10-million in pre-contracts with top-tier EU companies.
…we consider other insect protein producers as cooperating partners rather than competitors
The market needs insect protein
"Each negotiation round delves deeper into the needs of animal feed and pet food producers, discovering many peculiarities of their business and building a multidimensional understanding of what solutions they seek," Olkhovskiy explained.
After long discussions with key players within the value chain, Olkhovskiy concluded there's a serious need for insect protein.
"The main lesson learned is that the demand for insect products is way higher than the supply," he said. "This is true for any region, and with the existing pace of insect-farming growth, this will probably remain true for at least a few decades."
"That's why we consider other insect protein producers as cooperating partners rather than competitors," he added.
Scaling up a big challenge
Like most start-up sectors, fly farming faces several challenges.
Unstable production
The first is unstable production. Olkhovskiy said it's no secret that insect farms of every scale and complexity still rely on old-fashioned solutions. For example, larvae are fattened in small (3 square-foot) crates for the most part, and crates are stored by the hundreds of thousands in gigantic factories.
"Inevitably, this approach induces heterogeneity – every container is impacted by the temperature, humidity, light and feed structure in a completely new way," he explained. "This is the main reason scaling leads to instability."
Promising solutions do exist to address these challenges, including bioreactors and automated reproduction units that allow for more homogeneous growth of both larvae and flies.
"It would take just a few years for the industry to implement them on a larger scale," Olkhovskiy noted.
Market placement
The second challenge the fly farming sector faces has to do with confusion around where the product fits in the marketplace. Insect farming creates value by treating food waste and creating protein-rich meal and organic fertiliser. But securing the raw material needed to scale up production is becoming more challenging due to competition within the waste processing industry, Olkhovskiy said.
"The demand for insect farming products in feed industries such as pet food, aquaculture and poultry feed is phenomenal and surpassed the available supply a few years back," he explained. "At this stage of evolution, instead of unwarranted scaling attempts, insect-farming companies mostly devote their efforts to research and development of products with the most marginal value."
FlyFeed up close
Once constructed, a single FlyFeed farm is expected to produce 17,500 tonnes of insect products, including proteins, fats and fertilisers. Those products will be produced by processing 40,000 tonnes of organic waste. FlyFeed intends to use vegetal waste from the agricultural sector as nutrition for its operation. In Vietnam, feed formulations will include several rice by-products, fruit peels and sugarcane and coffee leftovers.
"We have developed a unique substrate preparation approach to farm black soldier fly on seasonal agricultural leftovers the whole year round, thus enhancing the consistent circular economy," Olkhovskiy explained.
It's crucial to remember that insect production is farming, not manufacturing because we work with living creatures
Hydropower
The electric energy necessary to transform the leftovers to feed the larvae and maintain temperature comes mainly from hydropower plants. Hydroelectricity accounts for 30% of Vietnam's power supply.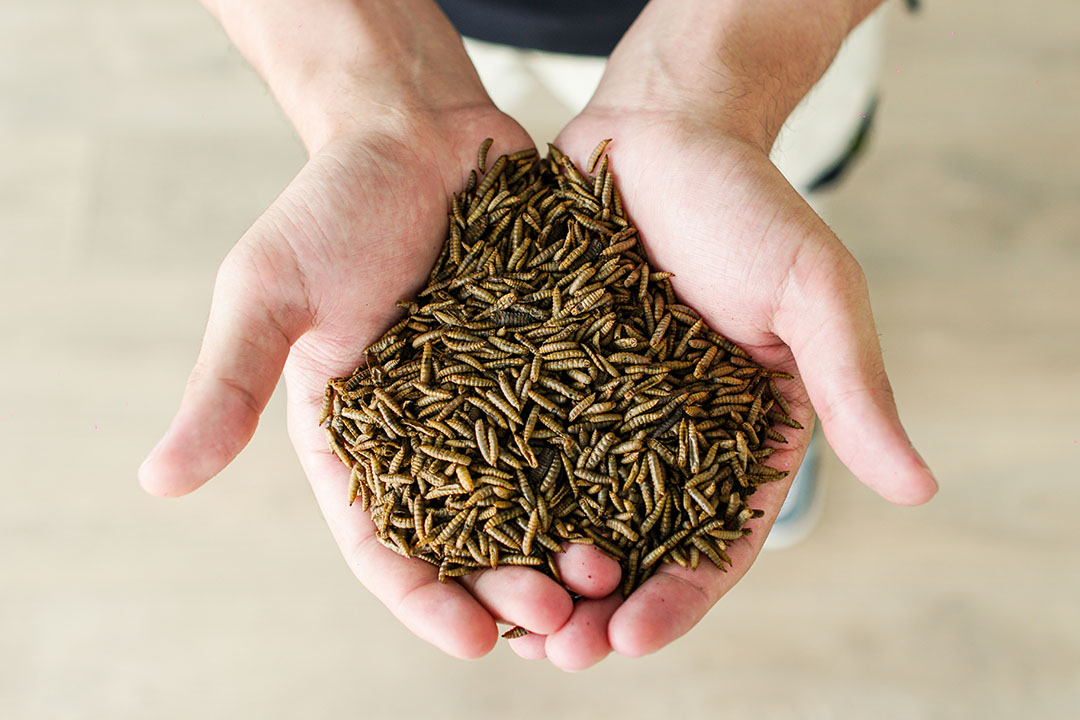 Automation
Where possible, FlyFeed has implemented automation, but with balance to ensure over-robotisation is not an issue. "It's crucial to remember that insect production is farming, not manufacturing because we work with living creatures," Olkhovskiy said.
Environment management
Black soldier fly breeding is done in thousands of separate crates that are organised in stacks. The best way to facilitate larvae growth is through careful management of environmental factors, including temperature, humidity and light. But this can be challenging, Olkhovskiy said.
"During feeding, multiple microbiological processes happen, changing the structure of a substrate and warming a crate up to 50°C," he explained. "To maintain optimal larvae development conditions, you must balance these effects properly."
To do this, FlyFeed uses thousands of sensors that transmit temperature data from each crate stack to a control room. There, personnel can adjust parameters as needed.
Moving newborn larvae
Moving neonates – or newborn larvae – to a crate containing feed must be done accurately, but larvae are nearly impossible to count with the naked eye. To ensure the correct number of larvae are moved to the feeding crate FlyFeed uses an automated dosage machine that selects the correct number of neonates by analysing their size.
First production sites in Vietnam
While Europe is undoubtedly the academic heart of insect-related research and technology development, Olkhovskiy said building production sites in countries like Vietnam and India offers unique advantages. For one, according to PwC projections, Vietnam's economy is projected to be one of the fastest growing in the coming decade (+5.1% annually). Furthermore, between 1980 and 2010, protein consumption in Vietnam increased 6 times. As economic conditions improve, it is likely that demand for protein will continue to rise.
Insect farming is an excellent fit, said Olkhovskiy, not only because of it can easily meet the demands of the agriculture sector there, but also because Vietnam considers circularity and sustainability critical priorities.
Opportunities in other countries
FlyFeed has plans to develop sites in other countries as well. Building production sites in India, the world's third largest economy, for instance, will help ease protein deficits. Additionally, the company sees Kenya as one of the regions with great potential for black soldier fly rearing.
Crucial role in feeding the world
Ultimately, Olkhovskiy believes black soldier fly production can play an important role in feeding the world, especially as the global population continues to grow.
"Malnutrition and hunger crises hit hardest for the people with a below-standard of living, but we can't feed them with beef and salmon because such protein supply has become unsustainable and dangerous for us all," he said. "I don't personally believe that the U.S. livestock industry – or China's, for that matter – will crash anytime soon. Nonetheless, in order to create a more inclusive and happier future, we have to innovate because current food production technology is just not going to cut it for 10 billion people living on earth."