COVID-19, the war in Ukraine and various chemical plant outages because of e.g. extreme weather have resulted in a challenging situation for sourcing departments of feed formulators, their suppliers and customers. Both palm oil- and petrochemical based ingredients are experiencing shortages and extreme price increases. These supply disruptions emphasise the need for a new method of feed additive production, which uses local, stable feedstocks such as fruit & vegetable residues and is more sustainable. Most farmers nowadays are aware of the value in adding small amounts of organic acids and/or MCFA to feed or drinking water to support the intestinal health of their livestock. In this article two unique fatty acids with distinct added value are highlighted: Caproic (C6) and Butyric (C4).
Two unique fatty acids, individual benefits plus synergies
By fermentation of plant based food residues, ChainCraft obtains a blend of C6 and C4 fatty acids, which exploits both the individual and synergistic effects of these specific acids. Caproic acid (C6) usage in agriculture is rare because of traditional high pricing and limited availability (a mere 0.3% in palm kernel and coconut oil). However, it is an excellent antimicrobial agent and can furthermore support gut health of various livestock types. Caproic has proven to be exceptionally effective against Salmonellae, E. coli, and various other pathogens, both gram-negative and gram-positive bacteria. In addition, it is one of the medium chain fatty acids (C6-C12) which has proven to be effective as antiviral agents, by causing leakage or total disintegration of the viral envelope. In contrast Butyric acid (C4) is one of the most widely used and well-known additives within current livestock farming. It is a main energy source for the enterocytes lining the intestinal tract, resulting in an improvement of tight junction formation, villus/crypt ratio, and exerting anti-inflammatory effects. Butyric acid has boosted efficiency at numerous farms for many years.
Both Caproic and Butyric therefore offer high value as feed supplements to optimise gut performance of various livestock types. Using a blend of these acids will boost both the gut health effects, antimicrobial support and immune strengthening capabilities of your feed or drinking water. In addition to this straightforward sum of effects, these fatty acids appear to combat pathogens 'cooperatively'. This synergism is thought to result from the fact that fatty acids of longer chain length (e.g. Caproic) damage the bacterial cell walls, after which shorter fatty acids (e.g. Butyric) can penetrate and disrupt the inner cell.
Sodium salts ensure buffering, ease of handling and high water solubility
Fatty acids can be incorporated in the diet of animals in various forms (acid form, fat coated form, glyceride form and salt form) and via two main routes (feed or drinking water). By making use of the sodium salt form, the ChainCraft products ensure the acids are buffered and thereby do not dissociate prior to reaching the animals intestinal tract. Furthermore, the salt forms are less corrosive, have less odor and ensure easier handling than their acid counterparts. In addition, the water solubility of the sodium salts is very high. The ChainCraft product is offered as 100% dry powder (no carrier) and as 50% solution in water.
Proven monogastric productivity improvement
The blend of Caproic- and Butyric acid sodium salts (C-Craft) has been tested for health and productivity improvement of monogastrics. A broiler trial was conducted at Schothorst Feed Research. Although the animals were kept under
optimal conditions, and not challenged, the fatty acid blend still provided additional body weight gain (BWG) of 3.7% and a 2.4% feed conversion ratio (FCR) improvement compared to the control feed, complete results were shared previously in the Young Animal Feed specialof this magazine (June 2021).
A piglet trial was conducted at Feed Innovation Services. Also here, supplementation with the fatty acid salt blend demonstrated strong performance improvement, by BWG increase of 3.6% and FCR reduction of 6.5% compared to the control feed (Figure 1). As reference, a high dosage PKFAD formulated feed was also tested.
Figure 1- Productivity improvement in piglets by dosing a blend of C4 and C6 fatty acid salts.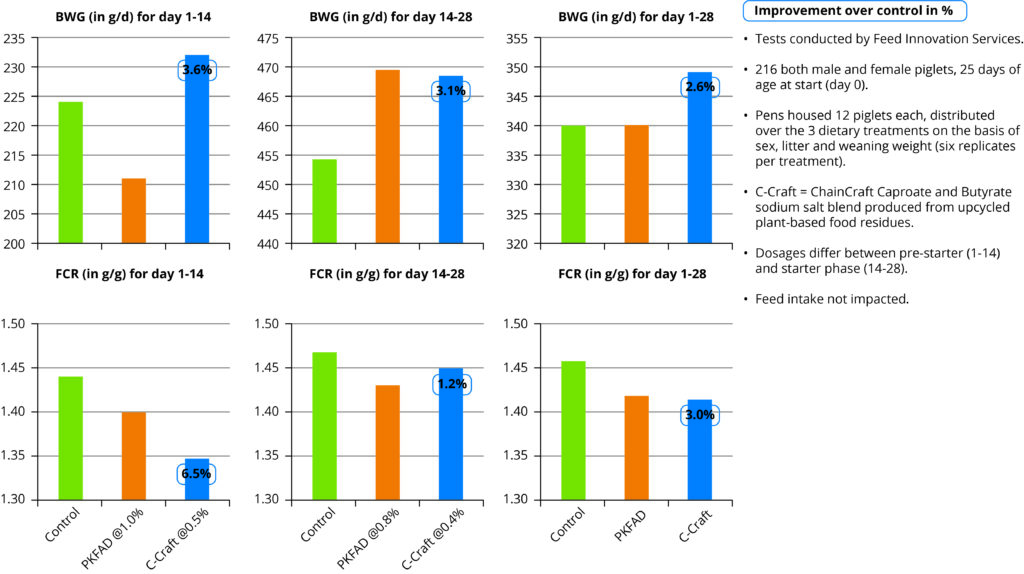 Sustainable production method by use of 'upcycling'
ChainCraft has developed new (non-GMO) fermentation technology for converting plant-based food residues into these next generation fatty acids products. This process is an example of 'upcycling': conversion of a residual material stream into higher value products. The benefits of producing fatty acids for livestock by fermentation of food residues are clear: it is a more sustainable and economical solution and will offer superior support for the health of the livestock. The ChainCraft products have a 70-80% lower carbon footprint than traditional fatty acid products and energy use for production is decreased by 50% compared to the current production processes. See Figure 2 for results of the LCA of the C-Craft product in comparison to traditional fatty acid products. The upcycling process is based on a proprietary fermentation technology developed at Wageningen University in the Netherlands. These ChainCraft developments have been co-funded by the European Union and the European Fund for Regional Development.
Figure 2 – Carbon footprint comparison of fatty acids produced via fermentation of food residues in comparison to the traditional palm oil or fossil fuel versions.

Now is the best time to switch
When is a good time to switch to new functional feed ingredients with sustainability benefits and better performance? The current high prices and scarce availability of many of the incumbent gut health and antimicrobial feed additives (standard organic acids and MCFA's) confirm that now is the best time to make the shift to circular fatty acid products.