Beneficial nutrient supplementation has become increasingly important in recent years due to a steady reduction in the use of antibiotics. New drug regulations and legislative changes for more protection against antibiotic resistance have come into force, especially in the European Union (EU). Moreover, the ban on therapeutic dosages of zinc oxide (ZnO) in the EU requires new management approaches and feeding strategies to achieve long-term sustainability of pig production. These strategies should be designed to improve growth performance while minimising the use of antimicrobial compounds as well as heavy metal excretion.
In critical phases, e.g. the weaning phase of piglets, numerous essential functional changes (biochemical, physiological and immunological) take place in the gastrointestinal tract. Here, only one feeding measure is insufficient to support intestinal health. A healthy intestinal tract is crucial for superior performance in both monogastrics and ruminants because their productivity demands require high levels of feed intake and feed efficiency. Since it is commonly known that the microbiota is strongly related to the immune status of the gut, it may be concluded that innovative feed additives can lead to a healthy immune system and optimum animal performance as alternatives to antibiotics. The strategy for replacing antibiotics will depend on a combination of nutritional, management, housing, health and/or husbandry factors expressed with a score to give an indication of their potential value.
How feeding strategies can improve the pig's intestine
The majority of commercially available products in animal nutrition supporting gut health include lactic acid bacteria, spore-forming organisms and yeast strains. Probiotic cultures are key elements of feeding concepts in livestock and poultry production as they have a regulatory and stabilising function in the intestines. Their main effect is to stimulate desirable bacteria in the intestinal flora and to protect the intestine from unwanted microorganisms.
Despite these probiotics, ZnO is a cost-effective treatment that can be used to control post-weaning diarrhoea in piglets and has been used as an alternative to antibiotics, such as Colistin. Zinc oxide is used to reduce fermentation of digestible nutrients in intestinal segments, to stimulate appetite, to regenerate microvilli and to improve the absorption of nutrients. At high levels, ZnO is also thought to increase the insulin-like growth factors (IGF) levels in blood serum and has been observed to be a growth promoter. Regardless of some nutritional advantages, the EU Commission has confirmed the EU-wide ban on the use of ZnO at therapeutic levels in piglet feed based on European Medicines Agency (EMA) conclusions that the benefits of diarrhoea prevention do not outweigh the risks for the environment.
By establishing an activated ZnO (aZnO) as part of a "feed ingredient change strategy" in piglet nutrition, it´s highly recommended to aim for the following improvements: fewer gastrointestinal lesions until the end of the breeding phase (caused by pharmacological Zn dosages), improved feed intake during the mid-phase of breeding, enhanced gut integrity as well as improved daily weight gain and feed conversion rate.
Activated zinc oxide as an innovative solution
Provita supplements have succeeded in activating feed grade zinc oxide through a novel eccentric vibrating mill technology (EVM) that modifies their functional properties, particle size, and surface area, causing an increase in the stored internal energy in the molecule. This, in turn, improves the physiochemical properties of the activated zinc oxide, making it more reactive during ingestion by the animal. The effects of EVM treatment on ZnO have been proven in vitro and in vivo.
Figure 1 – Effect of activated zinc oxide on reasonable gut microbiota and suppression of E-coli count in piglets´ faeces.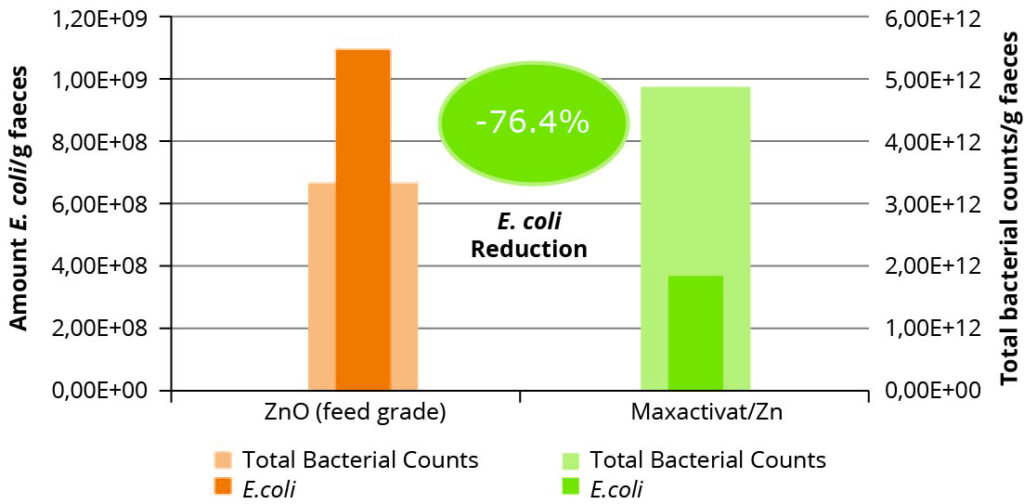 A feeding trial with 200 piglets was carried out to assess the effect of aZnO supplementation on their intestinal health status. A total of 16 animals were sampled to quantitatively assess the most relevant bacterial taxa in the distal intestine. The results in Figure 1 show that E. coli counts were reduced by 76% when piglets were fed aZnO compared to the control receiving feed grade ZnO. Total bacterial counts were slightly higher in the treatment group as the number of desirable bacteria such as Bifidobacteria increased.
A second feeding trial was carried out to assess the effect of aZnO supplementation on the incidence of diarrhoea in weaned piglets. A basal diet which provided 160 ppm feed grade ZnO was fed to the control group, whereas the treatment group received 160 ppm a ZnO. The consistency of the faeces was assessed daily according to a defined evaluation scheme. As shown in Figure 2, animals fed the aZnO had a lower probability of suffering from diarrhoea, which is due to improved intestinal integrity and reduced epithelial damage. This resulted in a 17% improvement in feed conversion ratio and a 27% increase in daily weight gain.
Figure 2 – Influence of activated zinc oxide on incidence of diarrhoea within first 14 days after weaning of piglets.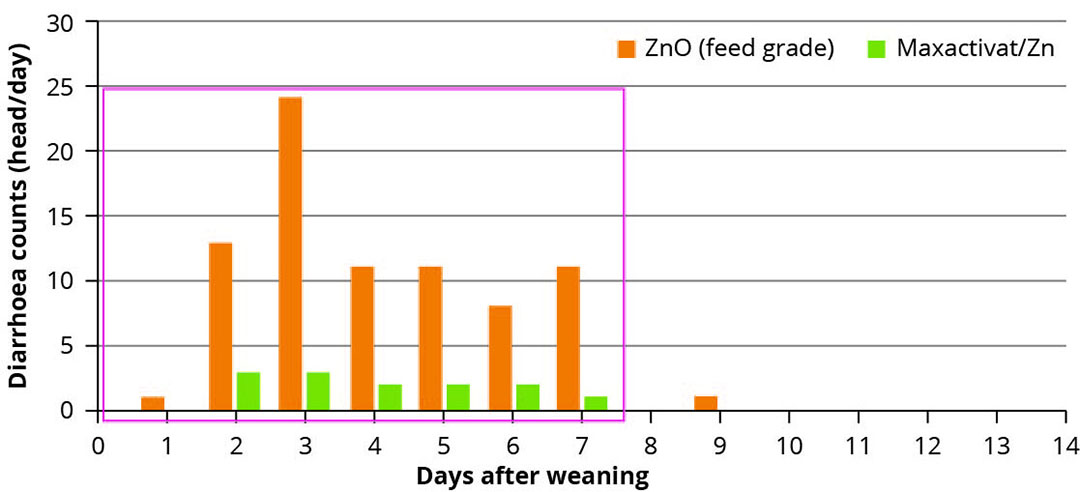 Activated trace minerals as part of antibiotic reduction strategies
In conclusion, activated trace minerals in diets for weaning pigs are part of effective measures to improve the health status and performance of piglets as an alternative to antibiotics in innovative feeding concepts. Due to its increased reactivity, even at dietary inclusion rates in accordance with European legislation, the activated zinc oxide Maxactivat/Zn as a functional feed ingredient offers a sustainable alternative to pharmacological ZnO dosages. This specially activated ZnO has a clear impact on gut function and feed intake while leading to an improvement in the zootechnical performance of piglets. Nevertheless, reducing trace mineral excretion while maintaining animal health and welfare can only be achieved by adopting a multifactorial management system and not by merely substituting single feed ingredients.