Phytase is the most widely used feed enzyme that is providing nutritional, physiological, and environmental benefits in the feed industry. The current industrial feed phytase production mainly depends on microbial phytase production by biotechnology.
What is phytase?
Phytase is a vital enzyme that poses nutritional advancement properties in mono-gastric animal feeds. It hydrolyzes the phospho-monoester bonds of phytate which is salt of phytic acid (Figure 1) and is the major form of phosphorus (P) found in plant tissues that consist 40-90% of P as phytate P. Ruminants sustain with the microflora and thus enzymatically release inorganic P from phytate. But mono-gastric farm animals such as poultry and swine produce little or no phytase in their intestine. In the poultry diet, plant proteins are commonly used and its phytate P is unavailable for digestion. And also, phytate P reduces the bioavailability of certain nutrients by chelating them into the molecule. Phytic acid is a strong anti-nutritional factor and the lower the myo-inositol phosphates form complex with divalent metals. Therefore, the inclusion of phytase in the mono-gastric diet is increased nutrients bioavailability and reduces the excessive accumulation of P in the manure that causes environmental issues including water pollution, algal blooms, fish death, changing fauna and flora.
Figure 1 – Chemical action of phytase.

How phytase is commercially produced?
The recent feed phytase is produced using micro-organisms and scales up by biotechnology and recombinant DNA technology. Fungi are widely used for phytase production. Microbial phytases are produced under different fermentation techniques including submerged, semi-solid state, and solid-state fermentation
Types of phytases
There are 3 types of phytases:
3-phytases (EC 3.1.3.8),
4-phytases (or 6-phytases, EC 3.1.3.26), and
5-phytases (EC 3.1.3.72).
Plus, phytases are further classified into different categories according to the catalytic mechanism; Histidine acid phytases (HAPhy), β-propeller phytases (BPPhy or alkaline phytases), Protein tyrosine phosphatases (PTPhy), and Purple acid phosphatases (PAPhy) (Figure 2). Each category has unique adaptations to hydrolyze the phytate. For instance, HAPhy N-terminal H forms a phosphohistidine intermediate, C-terminal acts as portion donor/substrate specificity site reduces positively charged.
Figure 2 – (A) Phytase with phytic acid in atomic colours. (B) 3 of these structures have phytic acid or a close analogue bound in the active site, and the PAPhy has phosphate.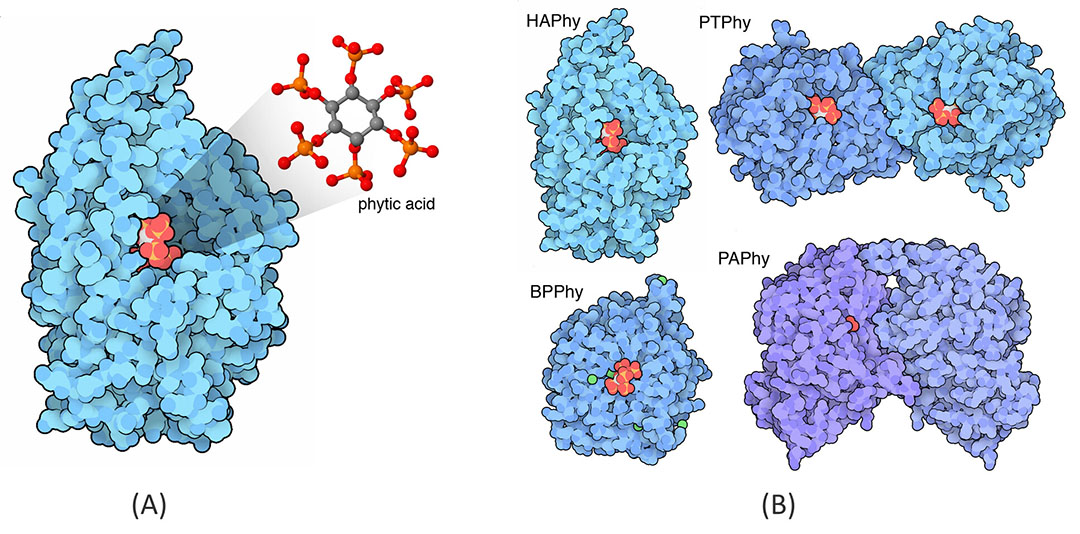 What is next-generation phytase?
The genetic advancements for the thermo-stability of the phytase were the top priority in the industry in the past decade. Now the industry is focusing on advanced methodologies to optimise the phytase function and stability by structural modifications such as carboxylated multi-wall nanotube (MWNT) with phytase covalent attachment, adjustment of Sulphur-containing amino acids (eg: cysteine, taurine), and adjustment of ions and chemical reagents. Novel advancements of functional modern feed enzymes are gradually increasing in the market due to high competition and demand.
What is Genphase?
Genphase is a GBW phytase that has a high heat-stable ability to retain the high phytase activity in higher pelleting temperatures. Genphase is produced from Aspergillus niger as phytase source and production strain. It is categorized under 3-phytase and HAPhy. It has identified several amino acid residues that constitute a substrate-specific site (SSS) in the Aspergillus niger PhyA molecule (Figure 3) that encircles the enzyme's active site and functions as a "gatekeeper". This feature has eventually increased the functions and stability of the enzyme.
Figure 3 – Structure of Aspergillus niger phytase.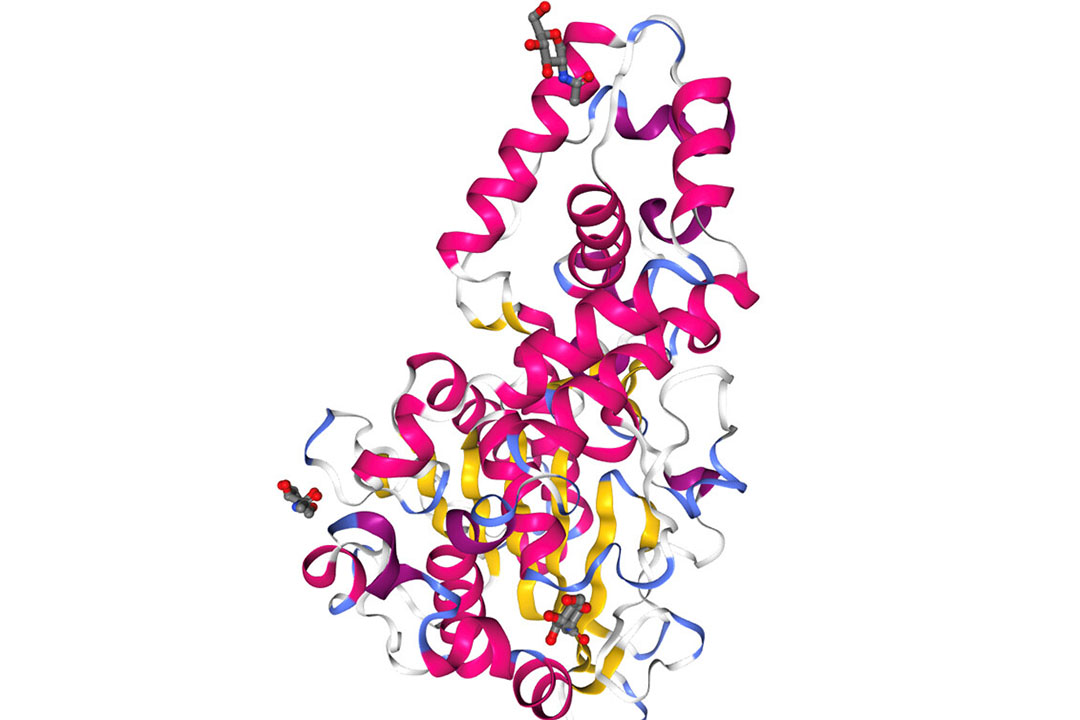 Visit gbwgroup.com for more information