In 2021, China officially issued guidelines for reducing the amount of corn and soybean meal in feed. It is expected to reduce the consumption of corn by 45 million tons and soybean meal by 12 million tons every year. According to statistics, in the first three quarters of 2021, the proportion of corn in compound feed has dropped from 52% in 2017 to 38.8%, and the proportion of soybean meal has dropped from 17.9% to 15.6%.
Ways to reduce the use of SB meal and corn to improve livestock sustainability

Precision animal nutrition
Feed is representing between 60 and 70% of the overall production costs in commercial growing-finishing pig production systems. Similar figures hold for broilers and other livestock. The practical application of precision livestock feeding can largely contribute to reducing production costs and improving the sustainability of livestock production systems.
Precision livestock feeding consists in providing in real-time to individuals or group of animals with the amount of nutrients that maximizes nutrient utilisation without loss of performance. The use of precision livestock feeding can decrease protein intake by 25%, nitrogen excretion into the environment by 40% while increasing profitability by nearly 10%.

Alternative feed ingredient
– Use of unconventional feed ingredient
Sustainable livestock production can be facilitated by using local feed-ingredient and industry by-products, such as wheat bran, cassava, rice bran, barley, sorghum, rapeseed meal, cottonseed meal, peanut meal, sunflower cake meal, palm meal, flax meal, sesame meal, and corn processing by-products. However, these unconventional plant source feed ingredients often have shortcomings such as low digestibility and high levels of anti-nutritional factors. Table 1 shows the main potential problems that limited the use of these alternative feed ingredients. Therefore, enzymes such as NSP enzyme, protease, and amylase are often required to be used to improve their utilisation. GBW can offer a series of enzymes product to open up options of using various alternative feed ingredients, with more than 10 years of experience, we also can provide customised products to fulfil the need for different formulas.
– Single-cell protein
An alternative to plant protein is the microbial protein produced by the fermentation of bacteria or fungi. Recently, the researcher from China is using industrial waste gas containing carbon monoxide, carbon dioxide, and ammonia as the main raw materials, Clostridium ethanoicum as the microbes to produce microbial protein. The protein content of the final product is more than 80%, and the composition of amino acids are resembling to fish meal, which is better than soybean meal.
"This is very exciting technology," says Michael Boddington, managing director of Asian Agribusiness Consulting. "It's a further step in the right direction — utilising science to produce food in a more sustainable way and helping China to feed itself." Now they have completed the production line construction of 10000-ton protein capacity this year, it will further expand production in the future, Achieve a wider range of applications.

Feed ingredients pre-treatment
Pre-treatment methods consist of Fermentation, enzyme hydrolysis, extrusion, mild acid hydrothermal treatments, alkaline treatments, and so on, with the purpose of increasing the availability of feed ingredients. Fermentation or enzymatic treatment of soybean meal is a very common measure to improve the digestibility and degrade the anti-nutritional factors of soybean meal. Gentide is a 100% fermented soybean meal product by GBW patented multi-strain (B.subtilis, S.cerevisiae, Lactobacillus) fermentation technology, with the advantage of high digestibility, high lactic acid contains and lower anti-nutritional factors. Research shows that replacement soybean meal with Gentide has improved the FCR and decreased the diarrhoea rate in weaned piglets, (Figure 1 and 2).
Figure 1- Effect of Gentide on growth performance of weaned piglets.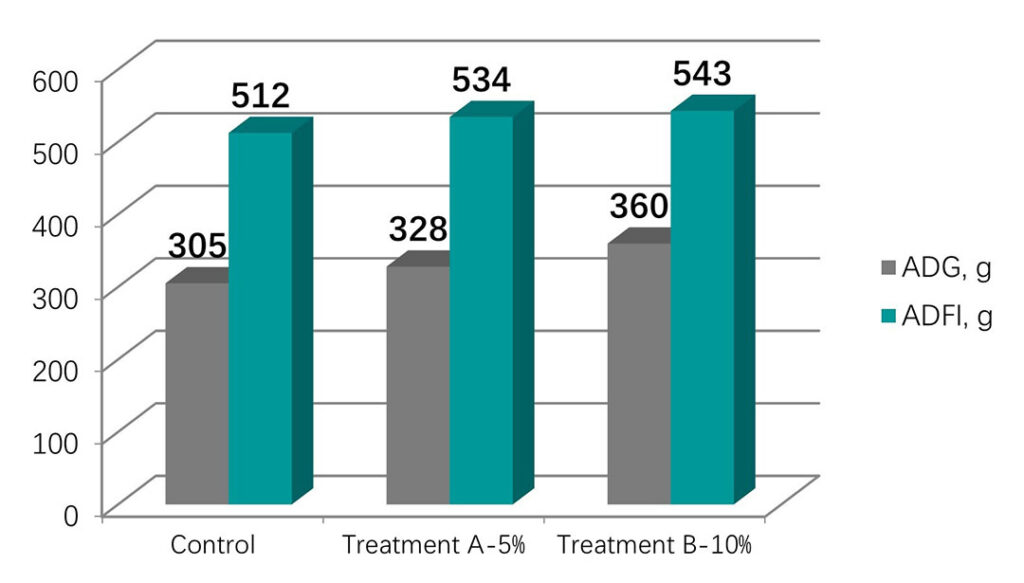 Figure 2- Effect of Gentide on diarrhoea rate of weaned piglets.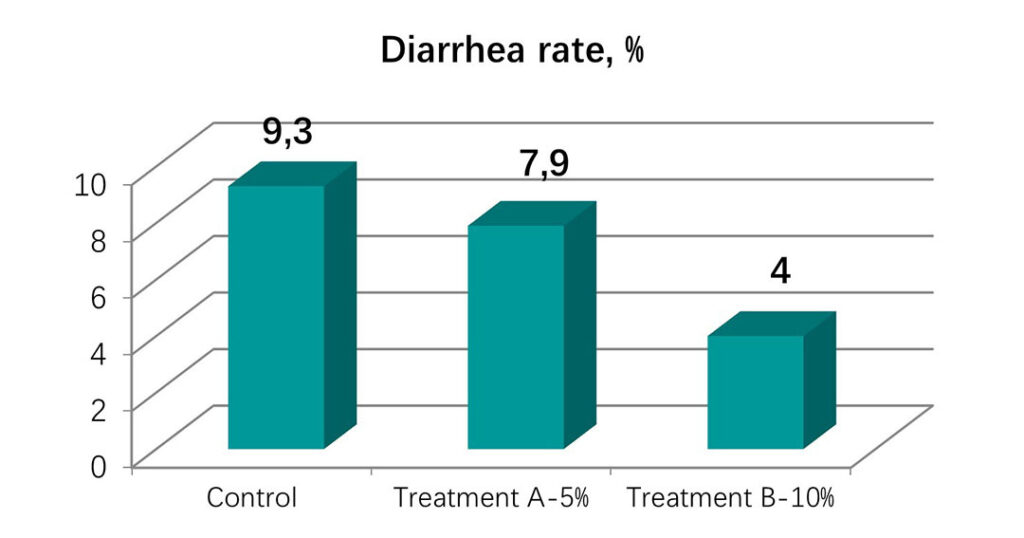 Control group: Soybean-corn based diet; Treatment A: 5% Gentide replace soybean meal; Treatment B: 10% Gentide replace soybean meal

Use of feed enzymes
Normally, the utilisation of nutrients is only about 80% in livestock. Because the feed ingredients contain indigestible anti-nutritional factors that interfere with the digestive process and/or the animal lacks specific enzymes that break down certain components in the feed. With the supplements of enzymes can increase the digestion of nutrients and makes it possible to decrease the protein and energy density in formula without compromising the performance.
GP 100 contains 4 kinds of functional proteases effectively targeting a broad range of feed protein sources. To evaluate the effect of GP 100 on piglets, a field trial was conducted featuring a total of 600 piglets.
Half the piglets (300) were given soybean meal-corn based diet with CP 21%. The remaining half were given soybean meal-corn based diet with CP 19.5% and GP100 (200 g/ton compound feed). The trial duration was 30 days.
The result shows that GP 100 group has better performance than the control group, also the feed cost of GP 100 group is lower than the control group (Figure 3).
Figure 3- Effect of GP 100 on health and growth performance of weaned piglets.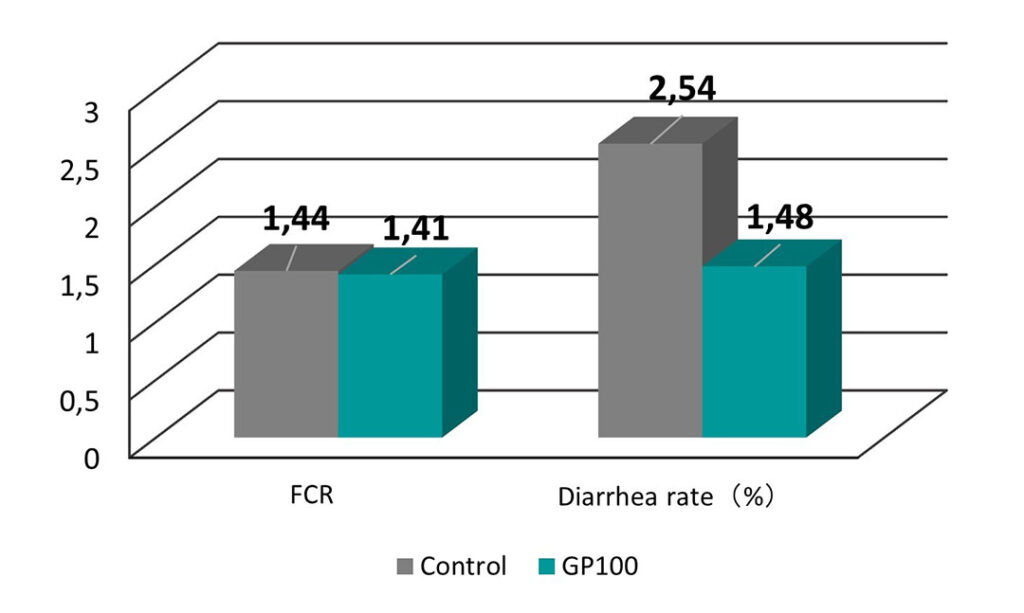 A Genergy 6101 (NSP enzyme) trial was conducted in GBW experiment farm (Table 2). A total of 630 Rose 308 broilers with similar body weight were divided into 3 groups with 7 replicates every group and 30 broilers in each replicate. The broilers were fed corn-soybean meal-based diets. The adaption period was one week, the test period was 20 days (21d-40d).
Supplementation of Genergy 6101 allowed reductions in ME without reducing product performance. Based on the costs of feed ingredients, Genergy 6101 could give the net saving of $6/ton feed, meanwhile, 6101 could provide broiler with potential nutrients and promote product performance.