According to the Intergovernmental Panel on Climate Change (IPCC), average annual global greenhouse gas emissions were at their highest levels in human history from 2010 to 2019. This alarming fact is just one of the statistics proving that the clock is ticking for all industries to act on reducing emissions to manage global warming and improve sustainability – and the animal agriculture sector is no exception.
Globally, it is estimated that agriculture is responsible for up to 8.5% of all greenhouse gas emissions, with a further 14.5% coming from the change of land use through deforestation, to clear land for food production. [1]
According to the FAO's Global Livestock Environmental Assessment Model 3.0, based on 2015 data – broken down into species:
Cattle are the main emitter of greenhouse gases (5.0 gigatonnes CO2-eq),

Followed by pigs (819 million tonnes CO2-eq)

Then chickens (790 million tonnes CO2-eq)
But what about the impact of the food that we feed the animal?
Research shows that animal feed is a huge contributor to carbon dioxide (CO2), methane (CH4) and nitrous oxide (N2O) of meat, milk and egg, making up more than 50% of carbon emissions of processors and retailers.
The fight against emissions must therefore begin before the animals have even left the farm gate. Throw into the mix the continuing global price volatility and economic uncertainty, and farmers might feel like they are facing an uphill struggle.
However, enough information is now available for farmers to decide the best diet formula to optimise animal performance, productivity and profitability, while quantifying feed-related emissions and understanding the overall carbon footprint at farm gate.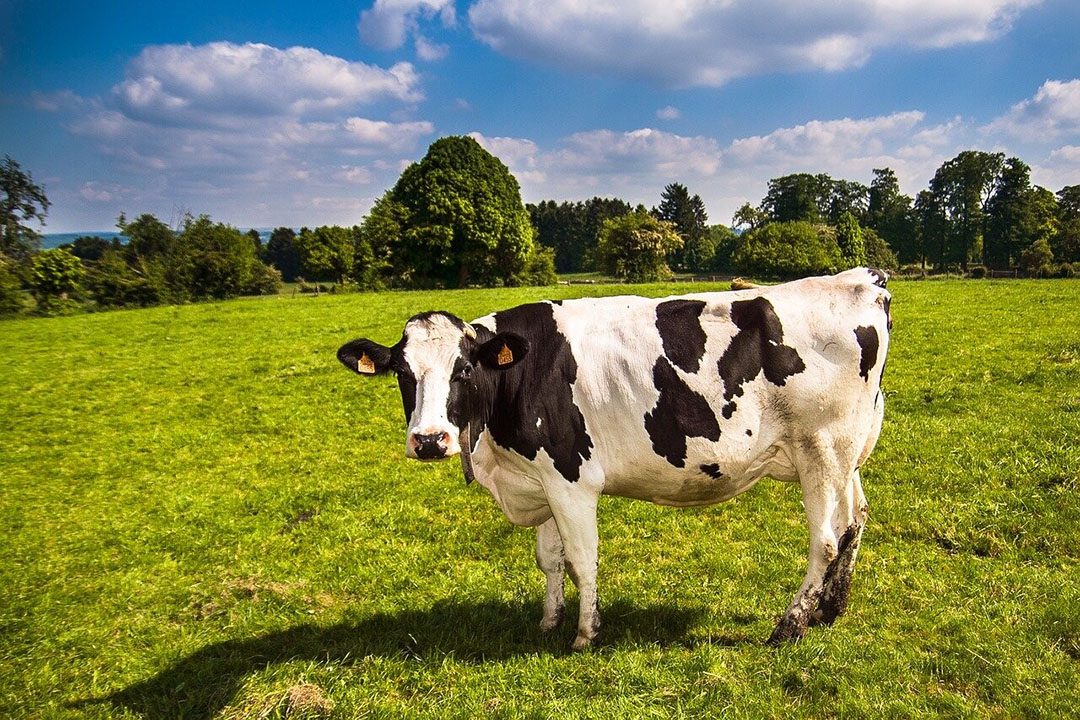 Feed Strategy
It all starts with the ingredients used to make the feed which account for more than 70% of carbon footprint at farm gate. Choosing the right ingredients and their amount therefore has a significant impact on emissions, not to mention the production cost, too. With feed prices going up by as much as 50-100% globally since 2020, price is understandably a huge factor in decision making.
Additives can be added to the diet to help break down less digestible components in the feed. Revisiting formulations and analysing feed additive combinations can help farmers optimise the health and performance of their livestock and reduce carbon footprint by ensuring the best nutrient utilisation, thereby reducing waste and excretion. Thus, it is a useful tool to support them on their sustainability journey and help them maintain a competitive edge.
Take phytase, for example, an additive which is now commonly used instead of non-organic phosphorus (due to its ever-rising cost) to break down phytate found in ingredients such as corn, wheat and soybean meal and make more phosphorus available to the animal. Phytase also improves amino acid and energy utilisation, which consequently reduces nitrogen and carbon dioxide emissions released into the environment.
Better decision making
So, what does quantifying and mitigating farm emissions look like in practice?
AB Vista's Emissions Reporting Service (ERS) enables farmers to calculate the carbon footprint and nitrogen and phosphorus excretion at farm gate, whether it be for ruminant, swine or poultry. By building a picture of a farm's emissions, the team of ERS experts analyse and benchmark data to identify areas within the live animal production system which produce higher emissions, to devise targeted solutions that align with the farmer's medium- to long-term objectives.
AB Vista can also recommend mitigation strategies based on certain "what-if" scenarios, which explore the benefits technologies and management strategies can deliver to an individual farm.
For example, a reduction in carbon emissions may be quantified when formulating diets with additives, such as VistaPre-T, a fermentation extract which boosts fibre degradation. The customer is then delivered a report on site and given the knowledge they need to boost productivity and increase profitability through sustainable solutions.
The emissions service, created with AB Vista's sister company Intellync, helps producers gain insightful knowledge into their carbon emissions, enabling them to make informed and responsible decisions on feed formulation and farm management.
Intellync is also the developer of the world's first on-farm carbon footprint assessment tool which produces data and insights to inform improvement strategies. This has benefited thousands of farms and currently supports a range of retailers and food processors in their efforts to reduce Scope 3 emissions.
More from less
Balancing environmental impact, production costs and commercial pressures is never easy, and ultimately farmers want and need to find ways to get more from less. One way to achieve this is by using a higher dose of phytase and non-starch polysaccharide degrading enzymes (NSPases) when formulating diets, using a full amino acid and energy matrix.
This Maximum Matrix Nutrition (MMN) approach can achieve the necessary nutrient release to maintain animal performance and create the ideal combination of feed ingredients for their specific needs.
The MMN approach has been proven in 7 trials across both grower/finisher pigs and broilers. Looking at today's market prices and carbon footprint calculation of feed formulations in different regions the trials showed:
a 4% cost saving in broilers and 9% kgCO2e saving/tonne of feed when using Quantum Blue 1,500 FTU/kg full matrix + Econase XT 16,000 BXU/kg

a 4% feed cost saving in laying hens and 9.5% kgCO2e saving/tonne of feed when using Quantum Blue 1,200 FTU/kg + Econase XT 12,000 BXU/kg

for swine, a 3% reduction in costs and a 14.6% kgCO2e saving/tonne of feed when using Quantum Blue (2,000 FTU/kg) + Econase XT (16,000 BXU/kg).
Methane Inhibitors
Since methane is responsible for 44% of livestock-related carbon emissions, methane inhibitors also offer potential in reducing enteric methane emissions from ruminants. However, such inhibitors are not yet widely used, leaving room for future opportunity and development in this area.
A fermentation extract from Trichoderma reesei, a revolutionary feed technology that directly impacts fibre usage, is the first of its kind to enter the ruminant market. It's a pre-treatment that can be formulated into the total ration to get more energy from home grown forage.
VistaPre-T provides more energy from fibre, a rumen friendly source to help increase overall animal productivity. It helps maximise forage and reduces the need for concentrates, resulting in lower feed-costs, improved performance, reduced emissions and better profitability.
In 2021, a 44-day trial of adding VistaPre-T to dairy diets, taking an energy matrix approach, resulted in a significant 15% reduction in methane emissions, while a 65-day trial of VistaPre-T in beef led to a 4% reduction in carbon emissions per kg of carcass.
Conclusion
The term 'sustainability' is often used in the agriculture industry. Ultimately, it means remaining profitable while being socially and environmentally responsible. Efficient feed and livestock management is key to this, as is being able to accurately identify, quantify and mitigate climate change impact. With the right management strategy, the use of feed additives not only improves livestock animals' absorption and utilisation of nutrients, enhancing performance and productivity, but, crucially, it also helps farmers to mitigate greenhouse gas emissions at farm gate.