Without a doubt, 2020 will go down in history as the year mankind faced a common enemy and when everything changed. The global pandemic led us to humbly realise how fragile our system is and how important it is to be well prepared for any possible scenario that could possibly threaten the foundation of modern society. The ongoing argument on control over freedom is something that will never end. But most importantly, COVID-19 basically changed our way of life. Social distancing and lockdowns have forced our industry to operate based on non-contact activities, which is something many of us thought would never happen, if possible at all.
Over the past few months, we have learned that many things do not go according to plan in times filled with uncertainty. We were forced to make real-time decisions, hoping that they would mostly turn out to be good ones. Had this been an event which we had previously experienced, life would have been much easier for many of us. Bad news is that we are likely to encounter another pandemic event in the near future. But we will be better prepared for the next one with solutions and reliable references from all the lessons learned.
Feed grain prices
As we march into 2021, another serious issue awaits our industry. Major feed grain prices are forecasted to soar this year as a result of all the floods, hurricanes, locust swarms and draught that swept our global grain belts in 2020. Increase in feed formula cost seems inevitable with estimations of +15~20% increments compared to Q4 last year. But unlike COVID-19, we are lucky to have many past experiences and our formulators know exactly how to cope with such issue. Least cost formulations will pick up more alternative feed ingredients such as DDGS, rapeseed meal, palm kernel meal, copra meal, etc. and reduce formula cost to the decimals. Most alternative ingredients are byproduct from the oil crushing industry and are hence enriched in protein and minerals giving price competitiveness over major feed grain sources when their price go up.
One obvious problem with using more alternative ingredients is an increase in non-starch polysaccharide (NSP) content. Non-starch polysaccharides are structural carbohydrates that are found abundantly in plant cell wall which can be up to 90%. Above mentioned alternative ingredients are generally high in fibre and will consequently increase dietary NSP level as more alternative ingredients are included. For example, formulating a broiler diet with 10% DDGS, 5% palm kernel meal and 3% canola meal will increase total NSP content by 42% (9.4% vs. 6.6%) when compared to a typical corn-SBM-wheat basal diet. Meanwhile, since feed ingredients differ in NSP composition (Table 1), we need to consider all major types of NSPs as more alternative ingredients are included. Specifically, arabinoxylans, beta-glucans, galactomannans, and alpha-galactosides (raffinose and stachyose) are important NSP fragments that should be taken into account.
Monogastric animals lack the ability to produce endogenous enzymes that hydrolyse these complex carbohydrates and have limited microbial fermentation in the foregut. Hence NSPs are not readily digested by monogastric animals as shown on Table 2. Therefore, significant amounts of NSPs are introduced into the gastrointestinal tract (GIT) and is increased as more alternative ingredients are included. Apart from the fact that NSPs are indigestible, they further impair digestibility of other nutrients, by entrapping nutrients within the cell wall, forming a physical barrier that impairs nutrient utilisation, causing them to exit the GIT undigested.
Feed production
For decades, supplementing exogenous NSP enzymes has become a common practice to breakdown NSP contents, release embedded nutrients for digestion, and to enable flexible diet formulation with alternative feed ingredients. A multi-enzyme approach is widely accepted to maximise NSP coverage and completely degrade various NSP fragments present in complex diet with alternative feed ingredients. Enzymes function under optimal temperatures, in which their tertiary structures are held properly.
Basically as proteins, enzymes are denatured under severe temperature and lose its enzymatic function. During feed production, pelleting involves high temperature, thus enzymes must recover and maintain its activities throughout the whole process. Therefore, heat stability is a prerequisite for NSP enzymes that needs close attention. In addition, enzymes should be able to work at various pH environments of the GIT. Changes in pH cause conformational changes to enzyme, which directly affect enzymatic reactions. Low pH in the stomach not only is a challenging environment to enzymes, but also undoubtedly affect its efficacy in further digestion at the lower digestive tract.
Endo-Power treatment
Endo-Power is a multi-NSP enzyme product which show effectiveness on a variety of feed ingredients. It is developed and manufactured by GNC Bioferm in Canada, via an EU approved production system. It contains alpha-galactosidase, galactomannanase, xylanase, and beta-glucanase, produced from solid-state fermentation of non-GMO fungi organisms, Aspergillus niger and Aspergillus oryzae. This unique fermentation process provides additional ancillary enzymes such as amylase, phytase, etc. for a complete breakdown of feed ingredients. Besides having the right enzymes to target specific substrate, characteristics of enzymes must also be considered. As indicated above, those two important factors are temperature and pH stability.
All 4 enzymes maintained over 90% of enzyme activity at 70°C, 80°C and 90°C up to 10 minutes. Also, 70%, 80%, 95% and 100% of enzyme activity was maintained at pH 2, 3, 4 and 5, respectively. These results indicate thermo-stability of Endo-Power under actual feed processing environment and pH stability that enable immediate NSP breakdown right from the acidic stomach environment, thereby allowing thorough and complete digestion of nutrients.
When examined under scanning electron microscope, corn and SBM showed clear structural changes upon 0.02% Endo-Power treatment (Figure 1a and 1b), visualising its efficacy to breakdown cell wall components of these grains.
Figure 1 – Scanning electron microscopy of corn and SBM treated with Endo-Power.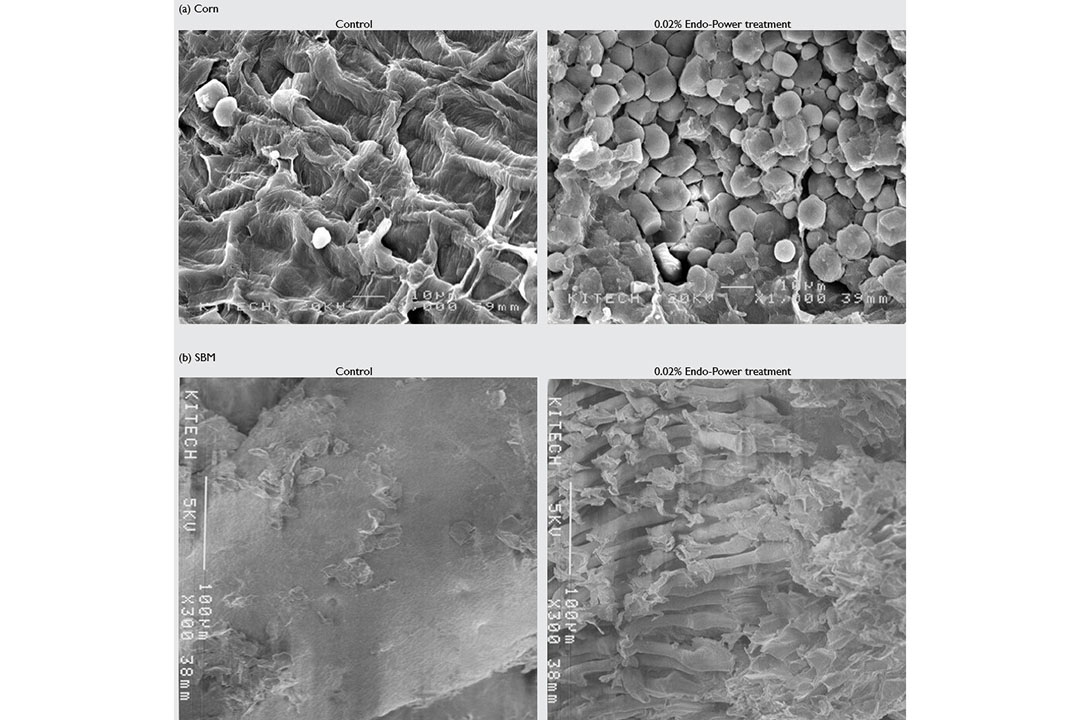 Natural presence of NSP in feed ingredient reduce nutrient digestibility and utilisation. Supplementing exogenous NSP enzymes to monogastric diet will optimise nutrient digestion and growth performance for profitable production. A multi-NSP enzyme approach is favourable in times when more alternative feed ingredients are being considered. Endo-Power is a scientifically proven solution to tackle nutritional challenges caused by NSP and to reduce formula cost in times of high grain prices.