The global availability of fossil-fuel-based raw materials and agricultural products is in chaos, as a result of the continuing Ukraine-Russia conflict, and the sanctions against the latter. This, in addition to global inflation is causing the price of animal feed to increase exponentially, which – considering feed accounts for 70% of animal husbandry – means farms are struggling to survive in the face of an onslaught of challenges.
More than 30% of the world's arable land is currently used to produce livestock feed, but more cost-effective, sustainable and healthier methods are available. Competition between the cultivation of crops for direct human nutrition and for animal protein production is once again coming into public focus, especially when you consider the potential famine in Africa due to wheat shortages. Therefore, it is important for the animal production industry to exhaust every possibility to optimise raw material efficiency.
Impact of amino acid supplementation
As part of a balanced diet, animals need protein – consisting of amino acids – for healthy development. However, some amino acids, known as essential amino acids, cannot be produced by the animal, and must be ingested via feed instead. But many plant-based feed raw materials such as wheat, maize, soybeans and peas do not contain all, or enough, of these essential amino acids.
Using MetAMINO can ensure a sufficient supply of amino acids containing sulphur, particularly the essential methionine, and yield great benefits, with significant improvements in animal performance in poultry (broilers and layers), pigs, fish and shrimp and reduced production costs through optimised feed conversion. The feed additive can compensate for methionine deficiencies and help address sustainability issues through decreased excretion of nitrogen – an important consideration given the industry's need to reduce its carbon footprint.
Figure 1 – Liebig's barrel applied to poultry feed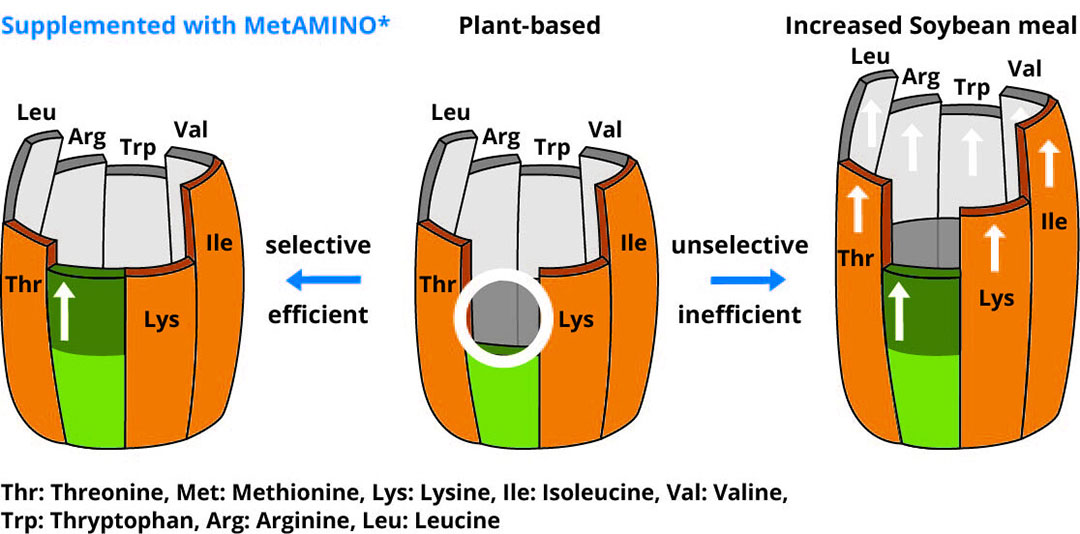 How does reducing crude protein help?
Reducing protein levels and supplementing feed diets with precise amino acids has been scientifically proven to reduce crude protein without negatively compromising animal performance. But when considering this approach, it is important to note that the essential amino acid with the lowest levels in the feed limits overall feed utilisation.
This principle was demonstrated by German chemist Justus von Liebig (1803-1873) with his "barrel" model. When applied to poultry feed, the different length staves represent the amino acid content in the feed. The shortest stave represents the limiting amino acids, which prevent the barrel being filled above that level, representing the growth potential of the farm animal.
There are 2 ways to increase barrel capacity:
Lengthening all the staves (non-selectively); or

Lengthening the shortest stave (selectively).
The selective approach is favoured as it requires less material.
Once the limiting amino acid is depleted, the animal cannot continue to use the abundant amino acids for protein synthesis, so must metabolise and excrete the excess. By adding more crude protein to the feed, farmers unintentionally harm the environment, the animals and themselves. This is because the unutilised feed protein consumes arable land, fertiliser and energy sources for production and transport, and burdens the animal. It also increases the nitrogen excreted into the environment, and wastes money.
A more sustainable approach is to use less vegetable crude protein and adjust the desired amino acid profile. In this context, the shortest stave on the barrel is extended to the length of the second limiting amino acid, thus increasing the capacity of the barrel while reducing excess unusable amino acids.
As a result, the animal gets the feed it needs to develop healthily and in a way that conserves resources, and substantially reduces the environmental impact of production. Reducing the crude protein content in feed by one percent can potentially result in a decrease of nitrogenous excretions by a significant 10%, for example.
Benefits for livestock farmers
A lifecycle assessment certified by TÜV Rheinland, in 2021, demonstrated the positive effects of low protein content and balanced amino acid profiles in broiler, laying hen, and pig diets when compared to the environmental impact of commercially available feeds.
Each year, our livestock farming solutions save approximately:
7 million metric tons of CO2 equivalents

128,000 metric tons of nitrogen emissions to water and soil

590,000 hectares of arable land
This reduces the need for feed raw materials and lessens reliance on expensive artificial fertilisers and soy (which can be more easily replaced using regional legumes) – helping farmers to cut operating costs.
Depending on the raw materials market situation and the feeding concept, a low-protein strategy can also reduce feed costs and therefore increase the profitability of food of animal origin.
While the barrel concept is straightforward, targeted amino acid supplementation requires a thorough understanding of the amino acid contents of the feed raw materials and the animal's requirements at their various stages of development – knowledge we have acquired over decades, and which we use to support feed mills and farmers.
Competitive edge
Animal nutritionists have long known that animals do not need crude protein itself, but rather the essential amino acids it contains. Thanks to technological developments in the industry, precise amino acid calculations make it possible to fine-tune feed composition to fully meet the need of the animal. These benefits can be specifically calculated with our three MetAMINO Benefit Calculators, helping farmers to boost animal health and performance, cut nitrogen emissions, and save money – thus ensuring a competitive edge in a challenging climate.