Decarbonisation efforts in the global economy have long become a mainstream trend. Since 2016, 191 countries have signed the Paris Agreement, a legally binding United Nations treaty designed to limit global warming. In this rally, European countries intend to be ahead of the curve. In April 2021, the EU rolled out a target to reduce carbon emissions by at least 55% by 2030 compared to 1990. The long-term goal is to reach carbon neutrality by 2050.
In 2019, European Green Deal was introduced to boost the efficient use of resources by moving to a clean, circular economy. The Common Agricultural Policy supports the Green New Deal, as it was announced in May 2020 that 40% of the CAP budget would go towards climate-relevant initiatives. The European feed industry is already playing an active role in the decarbonisation push, evaluating what can be done at various stages of the supply chain.
Efforts to decarbonise compound feed factory plants would fall under scope 1 and 2 GHG emissions reduction efforts, commented Pedro Cordero, FEFAC President. These are the emissions related to a feed factory's own production on-site and outbound transport to farms, which typically include energy and fuel use.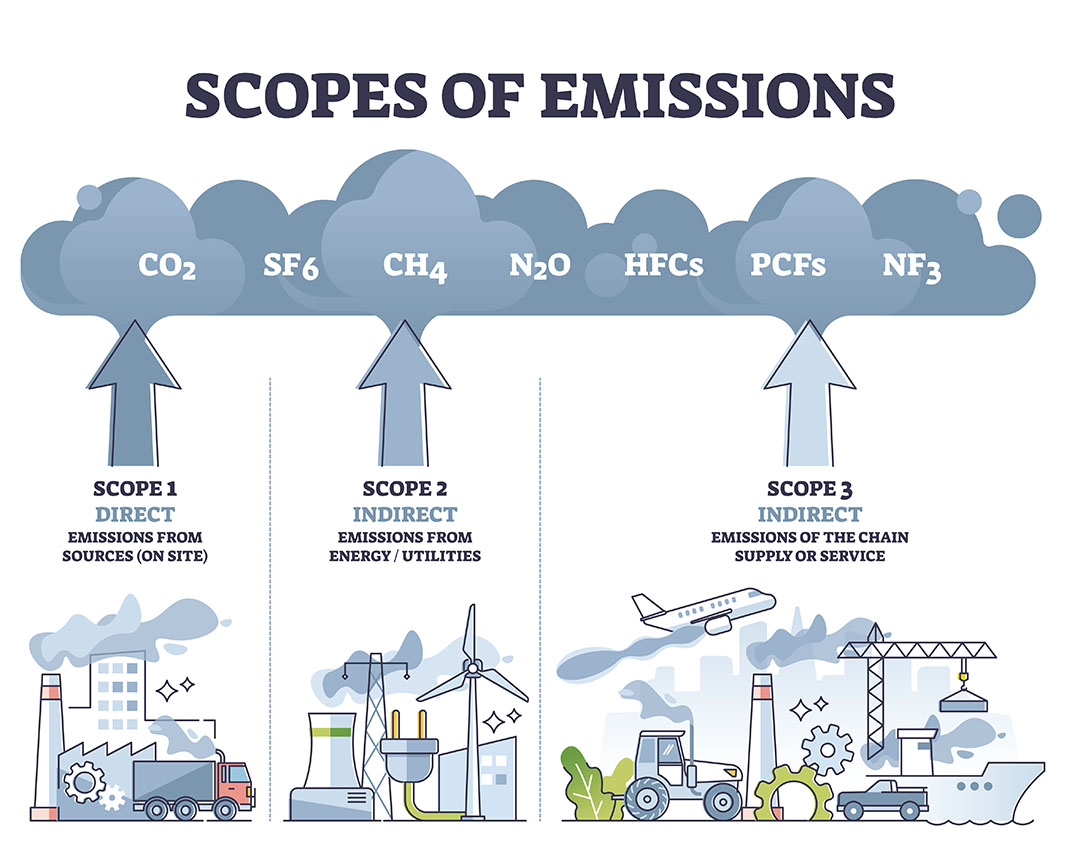 "It is general knowledge, though, that the largest share of over 95% of the environmental footprint of compound feed manufacturing is related to scope 3, which is the supply chain and specifically the production/cultivation of feed ingredients. Key sector efforts in the past decade have therefore focused on this area," Cordero said, adding that compound feed production still continues to be an energy-intensive industrial activity.
Energy saving measures have attracted increased attention in recent times, of course, with the energy crisis triggered by the Russian aggression of Ukraine
Pedro Cordero, FEFAC President
Tools available
Several common strategies for reducing carbon emissions at the feed mill level are already on the table. For instance:
using mash feed instead of pelleted feed has been a widely applied mitigation mechanism,
as well as the investment in more energy-efficient equipment and machinery,
plus, companies are increasing investments in the use of renewable energy, for example, through solar panels and biogas, but also by electrifying production processes where possible.
Decarbonisation on state level
"FEFAC does not have an overview of the precise state of play of decarbonisation efforts at Member State level, but in the light of cost reduction, we can be certain investments are being made. It can be assumed, however, that for the sector at large, the challenge to decarbonise its activities remains significant, considering the fact that most production sites are several decades old, which does not facilitate performing upgrades," Cordero added.
An important factor in the road towards decarbonisation is the measurement of emissions and the monitoring of energy consumption through specialised equipment, Cordero continues.
"Some of the larger European feed companies have started to report on Scope 1 and 2 emissions, with the inherent ambition to reduce them. Working with the PEFCR Feed for Food-Producing Animals also implies taking into account these 'factory-level' emissions," he explained.
Decarbonisation beyond the factory
Tangible improvements can also be made in the outside-of-the-factory segment. The fuel consumption of the transport fleet per tonne of produced feed is an important indicator, for example, where investments in truck engines with modern engines, such as Euro 6, replacing road transport with rail transport and optimising delivery routes to livestock farms are options that can be used to save fuel, according to Cordero. There are already some success stories in the path towards decarbonisation, which should encourage market players who only consider embarking on their own programmes.
"There are known examples of large investments in solar panels where companies have been able to cover 25-30% of their energy consumption. To increase energy efficiency, some companies have recirculation systems of hot water in steam boilers to reduce water and gas use for heating purposes," Cordero said.
Not all measures aimed at lower carbon emissions are associated with energy or fuel use. Biodegradable or recyclable packaging is chosen, using, for example, paper instead of plastic and mono-component bags, as well as increasing the possibilities for bulk supplies to reduce overall packaging use, Cordero said, adding the larger feed companies will also fall within the scope of the EU's new Corporate Sustainability Reporting Directive, which will drive reporting obligations on all these kinds of items.
While significant gains can be made through reduced footprints of formulated feed, it is also important to bear in mind that what really counts are the emissions per kg animal product.
Advanced feeding strategies can help
FEFAC recently published its initiative on advanced feeding strategies for enhanced and circular sustainable livestock and aquaculture production, which involves some solutions to get to a lower carbon footprint of formulated feed.
"The use of co-products and former foodstuffs are mentioned as key examples of low-footprint feed ingredients. In addition, the development of the GFLI Database provides a tool for compound feed manufacturers to optimise feed formulation using LCA datasets on the environmental performance of key feed ingredients, where driving data generation of alternative feed ingredients is also a key ambition," Cordero said.
"Taking additional measures to reduce or even avoid the impacts of land use change through imported soy use will also help to significantly reduce generalised impacts, for example, through the stimulation of the inclusion of legumes from the local level," Cordero added.
Among the other measures of putting advanced feeding strategies together, FEFAC listed the development of digital tools, which could offer fantastic possibilities to adapt the diet of animals to their physiological needs. Precision feeding can really bring a breakthrough on the road to enhanced sustainability. One example of this is the control by a camera of the distribution of feed to fish to adapt to their intake and avoid wastage in the aquatic environment.
"While significant gains can be made through reduced footprints of formulated feed, it is also important to bear in mind that what really counts are the emissions per kg animal product. There may be feed solutions that will increase the footprint of formulated feed but may well help to tackle emissions related to feed digestion at the livestock farm level. This is in particular where the use of feed additives proves their value, while they can also facilitate feed efficiency," Cordero said.
On the other hand, FEFAC stressed that the organisation does not pretend that animal feeding can bring solutions to all challenges and can be a solution on its own: animal husbandry is a subtle alchemy between zootechnical sciences such as nutrition, animal health and animal breeding and the structure of the farms, the production system and, last but not least, farmers' skills.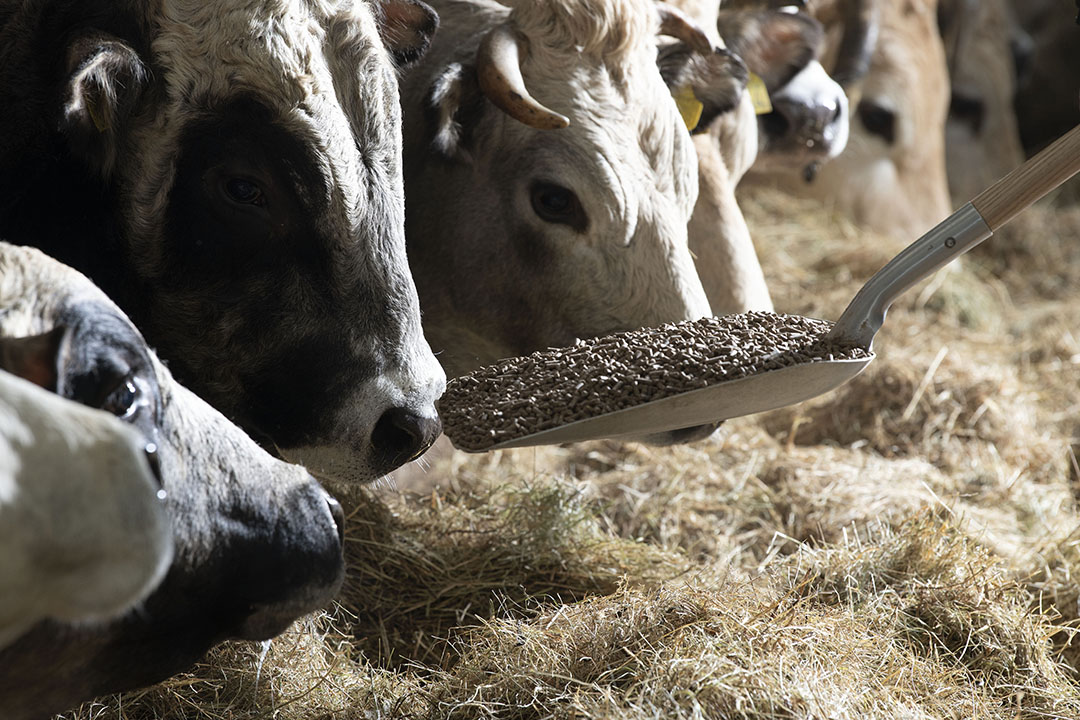 Feedstuff supplies on the sustainability track
The EU vegetable oil and protein meal industry is also putting a lot of effort into chasing decarbonisation goals. In 2021, FEDIOL signed the Code of Conduct for responsible business and marketing practices, through which the sector commits to enhance the sustainability of its food system. Reducing carbon footprint is one contribution to this goal, commented Nathalie Lecocq, general director of FEDIOL.
"To this end, member companies may use different approaches and tools to support them: enhance energy efficiency, invest in combined heat and power generation based on co-produced biomass to reduce the use of fossil energy sources, set company targets on the reduction of emissions and monitor progress, but also use the FEDIOL PEF report, made in 2021, and the related PEFCR to identify emission reduction potential across the chain and notably reduce Scope 3 emissions by supporting farmers in improving practices," Lecocq said.
Different factors determine a company's ability to advance on the emissions reduction path, including its location and access to sufficient renewable electricity.
"At our level, it is important to raise awareness, to share knowledge and expertise. But it is also useful to know where you stand. Hence, we set up a CO2 emission monitoring programme, on which we reported at our 2023 FEDIOL conference in June. Some of the activities mentioned above show promising results in that sense, but CO2 reduction projects take time," Lecocq added.
The European vegetable oil and protein meal industry can reduce CO2 emissions by improving energy efficiency and by switching from fossil fuels to sustainable co-produced biomass. However, to reach serious cuts in CO2 emissions, the availability of sufficient renewable energy is necessary, including for inland processing sites located in areas which are less well connected, Lecocq suggested.
"In that sense, one can think of the need for heat pumps to produce heat above 200ºC and infrastructural improvements such as a sufficiently strong power grid to enable electrification and availability of heat networks. Renewable energy needs to be available at competitive prices to ensure a global level playing field for oilseed processing and vegetable oil refining," Lecocq added.