Consider the basics
One question the producers must constantly ask themselves is if their production processes could be made more efficient, including
• Feeding as "precisely" as possible:
– Adapt the diet's nutrient content to the animals' age and production phase
– Determine variations in raw material quality (near-infrared spectroscopy) and consider them in feed formulations
• Using locally available feed sources, which may be cheaper and less susceptible to transport and trade difficulties.
Feed additive solutions: use what is available in the best possible way
In addition to the steps above, solutions provided by the industry can be used to compensate the high prices by considering 4 approaches:
1. FCR improvement to derive maximum value out of the available feed ingredients
2. Feed quality improvement to protect the ingredients or mitigate the adverse effects of harmful substances on the animals
3. Use of feed alternatives
4. Cost savings by optimising production processes.
Improvement of FCR
The most direct way to better utilise feed is to improve FCR with the help of the right supplements. Various product groups contribute to this aim in different ways.
Phytomolecules fight on different fronts
Phytomolecules are well-known for their gut health-promoting effects. They act against pathogenic bacteria and shift the microbiome balance to the beneficial side. A healthy gut is the best precondition for efficient digestion and absorption of nutrients. Trials with phytomolecules showed improved FCR in
– layers (11 points; feed/egg mass)
– broilers (3-8 points)
– finishing pigs (17 points)
– dairy cows (10 points; milk/DMI).
Enzymes improve nutrient availability
Even a corn-soybean meal diet is not fully digestible for monogastric animals. High feed prices force the producers to include more alternative, often less digestible ingredients in the diet. The non-starch polysaccharides (NSP) contained, due to their physicochemical properties, decrease the diet's energy content. Additionally, they trap nutrients such as proteins and digestible carbohydrates ("cage effect") and make them inaccessible for digestive enzymes.
Enzymes make the nutrients available, increase the energy yield of the diet and improve FCR. In a trial with a xylanase product (Axxess XY, EW Nutrition), FCR in layers improved on average by 8.2 points between weeks 26 and 46.
Antioxidants maintain the energy content of the diet
Fat in the diet is an energy carrier but is susceptible to oxidation, especially at hot temperatures in summer. The resulting rancidity and the accompanying destruction of vitamins, pigments, and amino acids decrease the diet's bioavailability and energy content and lead to poor FCR.
The use of antioxidants stabilises fatty ingredients in the feed, maintaining nutrient integrity and availability. The use of an antioxidant (Santoquin, EW Nutrition) improved FCR by 10 in pigs (diet with DDGS) and by 2 points in poultry (diet without DDGS) (Figures 1a and 1b).
Figure 1a – Improved FCR in pigs fed with DDGs.
Figure 1b – Improved FCR in poultry DDGs.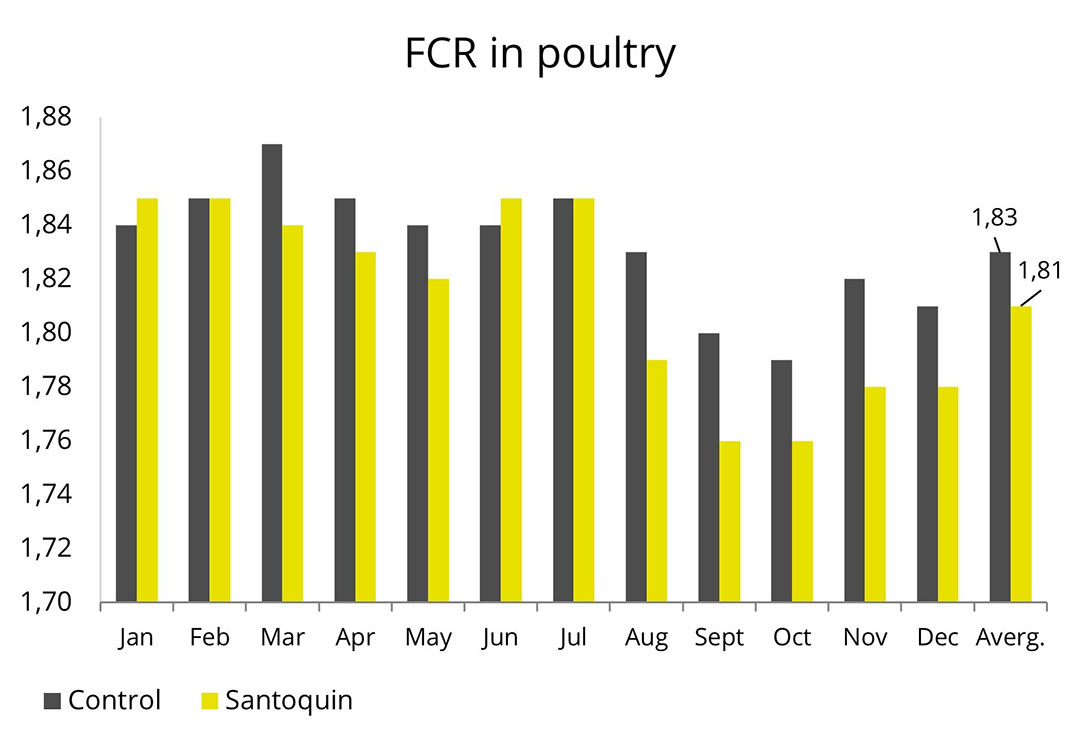 Organic acids improve intestinal processes
Organic acids (OAs) reduce pathogenic bacteria such as E. coli, Salmonella, and Clostridium by decreasing the pH, but also through direct attack, while promoting beneficial bacteria, e.g., Bifidobacteria.
The acidifying effect of OAs also favours digestion and nutrient utilisation by activating digestive enzymes. The beneficial shift of the gut flora improving gut health together with better digestion and absorption of nutrients leads to an ameliorated FCR.
Improving feed quality
Feed quality is not only a question of raw material quality. Feed additives play an essential role in ensuring feed safety and enabling optimal utilization by the animal.
Mould inhibitors preserve the feed's value
Active water is the main factor responsible for the growth of moulds impacting animal health but also reducing the energy content of the feed. Surfactants bind free water, maintaining the moisture of the feed. In combination with organic acids with antifungal properties, moulds can be reduced and the degradation of feed energy prevented. A trial with 28-day-old chicks shows the beneficial effects of mould inhibitors (Table 1).
Mitigating the negative impact of mycotoxins
If there are already moulds in the feed materials, it is crucial to mitigate their negative impact on the animals. The improved FCR can be seen in a trial comparing
broilers receiving a mycotoxin-contaminated diet (MT; 300ppb zearalenone, 6000ppb DON) with
broilers fed this diet plus a toxin mitigating solution (Mastersorb Gold (MSG), EW Nutrition).
Groups fed feed with neither mycotoxins nor additives and feed with MSG served as controls (Figure 2).
Figure 2 – Improved FCR in broilers fed contaminated feed and contaminated feed with mitigating solution.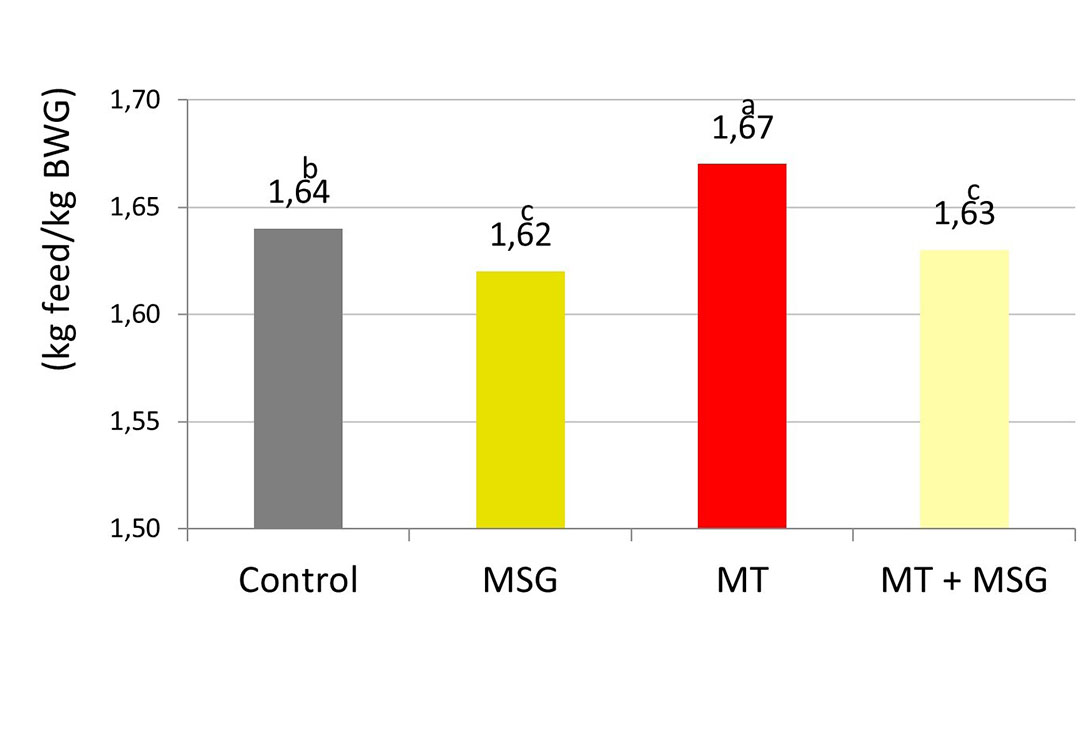 Surfactants for microbiological control and high pellet quality in the feed mill
Moisture is important. Too dry feed results in poor palatability and digestibility and lower pellet quality. Moisture loss also has a direct impact on production and profitability. Surfactants, binding the moisture to the feed, improve starch gelatinisation, reduce fines, increase metabolisable energy and lead to a higher pelleting efficiency (Figure 3).
Figure 3 – Results on pellet quality, moisture content level and mould occurrence in feed. Control vs Surface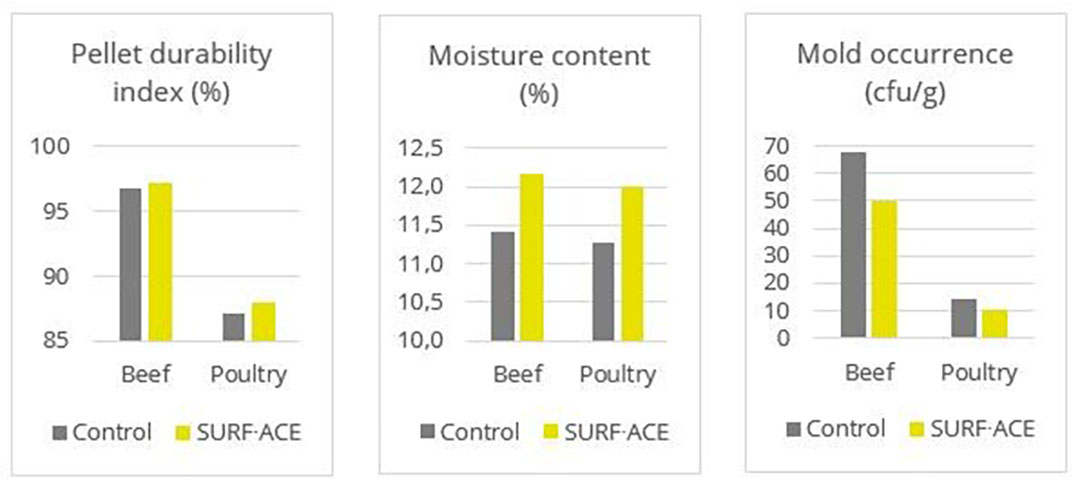 Lower temperatures, due to better antimicrobial efficiency of moist steam, conserve the nutrients.
Using feed alternatives in ruminants – partial replacement of protein feed by urea
As rumen bacteria can produce high-quality protein out of non-protein nitrogen, urea can be used in ruminants to replace soybean meal. Required: enough energy, minerals, and trace elements available in the feed. A special coating technology allows for a nitrogen release rate close to that of protein degradation of the main vegetable protein sources (e.g., soybean meal). This leads to a more constant nitrogen supply for the microorganisms and maximises microbial protein synthesis.
Save costs in the production process
Besides high pellet quality, feed millers seek to maximise production efficiency, including the quantity of fines to be reprocessed, the utilisation of steam, the pellet throughput, and the energy demand. Also, the moisture is decisive. Adding a surfactant leads to a 10-15 % lower energy demand or a higher production output without increasing energy consumption (Figure 4).
Figure 4 – Pellet output and energy efficiency. Control vs Surface.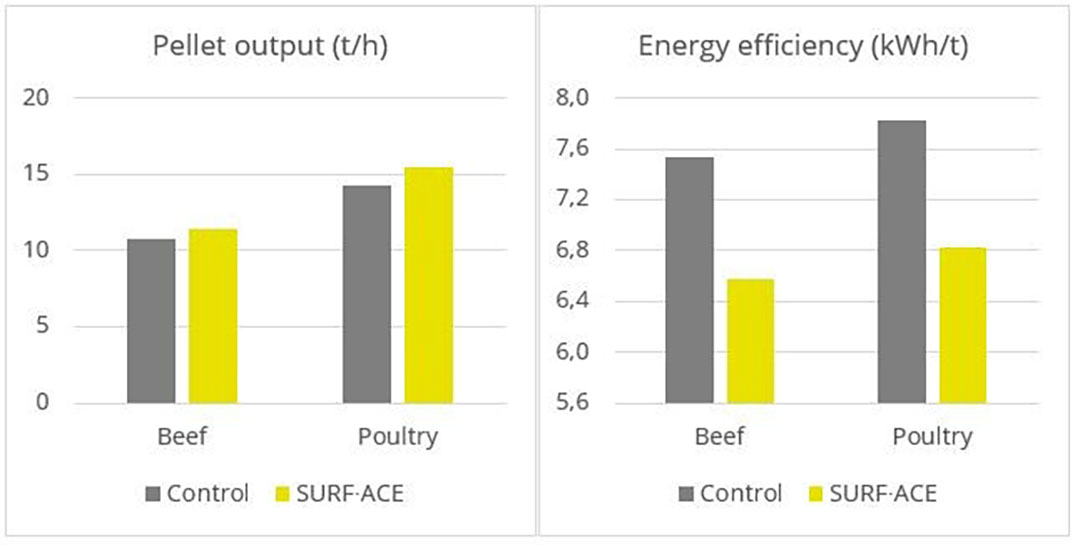 Good machinery lubrication additionally reduces wear and tear, contributing to higher production efficiency.
Producers can cope with the challenge of rising feed prices
Rising feed costs pose a significant challenge to everyone in animal production. After a critical look at the production processes in their own operation, animal producers can get support from the industry, offering diverse solutions to optimise resource utilisation and manufacturing processes. By engaging all these tools, we will be able to overcome this critical period.
References are available upon request.