This has advantages, says Prof van der Fels-Klerx, but re-use must be assessed in a broader context. "All the pluses and minuses must be measured."
During food production, residual materials are released. These are now largely processed into animal feed. There is a growing interest in processing the residual flows into food ingredients. Ine van der Fels-Klerx, who works as a principal scientist at WFSR, and is a professor by special appointment of Food Safety Economics in the Business Economics Group of Wageningen University: "Residual flows are often a cheaper raw material for new food ingredients. Application in food may be more sustainable and can generate more money than processing into animal feed."
Consider all pluses and minuses
Prof van der Fels believes the use of side and residual flows is appropriate in a circular economy. She also believes that reuse should be assessed in a broader context than is often the case at present. "If a residue or by-product from the food industry becomes less available for the animal feed sector, feed manufacturers will look for alternative raw materials. This may mean that more raw materials must be imported. The food company that reuses residual materials can contribute to a more sustainable food production. If this results in a larger import of raw feed materials, it can still turn out to be less sustainable in general. So, all the pluses and minuses must be measured."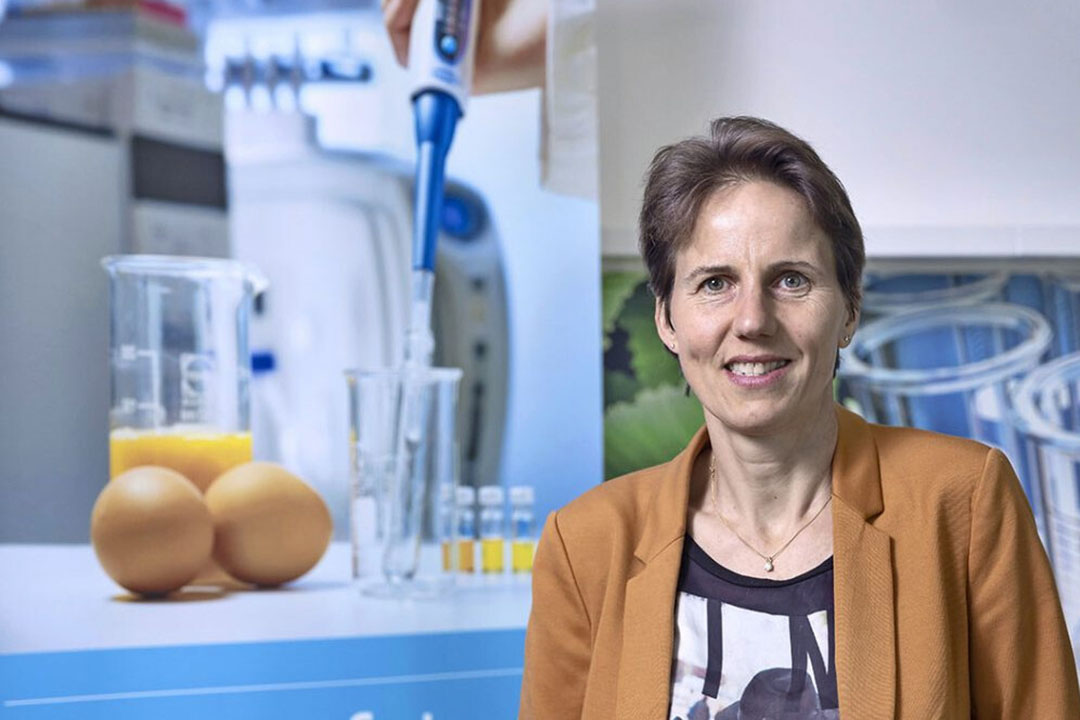 Beet leaf
Another example of a conflicting sustainability interest arises when beet leaves are used as a protein source. Agro company Cosun is testing whether rubisco protein can be extracted cost-effectively from beet leaves. Rubisco protein can replace animal protein in food. Prof van der Fels: "The leaves are removed from the field where the beets have grown. The discharge of organic matter can have consequences for soil health. You must take such consequences into account when considering whether a particular application is sustainable overall."
Insects are a new and interesting raw material to produce animal feed and human food
When are residual flows not sustainable?
Prof van der Fels mentions another aspect that must be considered when determining sustainability. "Many residual flows from the food industry are processed to make them suitable as raw materials for food. Certain components must be extracted, and wet streams often need to be dried. This takes energy and we must also include that when assessing whether the use of a certain residual flow is a sustainable development. I would like to develop a model to determine the sustainability of a residual flow for use in food. Not only on a small scale for a specific company, but also on a large scale for the whole of the Netherlands, for example. In such a model you can also include the safety aspect of the various flows."
Insects
EU regulations state that food safety is primarily the producer's responsibility. WFSR conducts research into new residual flows or new processing of residual flows. Van der Fels: "We are researching whether undesirable substances are created during processing, for example through heating. Or whether a residual flow contains substances that can be harmful to humans or animals, such as heavy metals, mycotoxins (toxins produced by fungi) or residues of pesticides and medicine. We do this, among other things, through research projects of the Dutch Top Sector Agri & Food."
Before we can use algae, seaweed or cultured meat in food or feed, it must first be clear whether it is safe for humans and animals.
EU: Approved 3 insect species
Prof van der Fels mentions insects as an example of a new and interesting raw material to produce animal feed and human food. 3 insect species have now been approved for use in food through the Novel Food regulation after all safety aspects have been assessed by the European food authority EFSA. Prof van der Fels: "The authorisation only applies to that specific insect species that is bred in a certain way and processed into a raw material. You cannot just apply a different form of processing to that insect. The authorisation does not apply to that, because with each form of processing, other safety aspects can play a role."
Transmission of viruses
WFSR also conducts research into the transfer of undesirable substances, pathogens, and viruses through insects. Van der Fels: "For example, there may be low concentrations of arsenic in the substrate on which insects are grown. We want to know to what extent the insect absorbs that and whether this can be found in the raw material you make from the insects. With cadmium, we found that it accumulates somewhat in the larvae of the black soldier fly, but not in the mealworm. So, you must select your substrate based on that. The same applies to residues of veterinary medicine and pesticides, heavy metals, and mycotoxins. They should not accumulate. Insects even seem to break down mycotoxins, which gives safe larvae. We are currently looking into how these insects do that."
According to Prof Van der Fels, such research is necessary for every new source of food ingredients. "Just think of seaweed, algae, cultured meat or mycoprotein (protein produced by fungi). Before we can use it safely in food or feed, it must first be clear whether it is safe for humans and animals."