New issue All About Feed now available online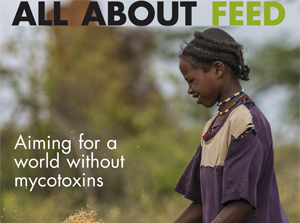 The latest issue of All About Feed (July/August, number 6) is now available online. In this issue we take a look at the 7 challenges to beat mycotoxins, leucaena as a promising forage for the tropics and we speak to the new CEO of feed additive company Nuscience.
The recent World Mycotoxin Forum was again a success. Many presentations and posters were presented. All About Feed was present and names the 7 main challenges (and possible solutions). Among them are beating the effects of climate change, fighting aflatoxins in Africa, developing quicker and on-site sampling methods and dealing with masked mycotoxins. Read the full article here.
Feeding cattle in the tropics
In this issue of All About Feed we also take a look at Leucaena. Leucaena leucocephala (leucaena) is a tree-legume, which is native to Central America, and is widely naturalised throughout the tropical and subtropical regions of the world. Native inhabitants of Central America have been using its unripe pods and seeds as food and traditional medicine since ages. Villagers in Thailand use its very young shoots as a food and in some places it is used as shade tree for coffee and cocoa plantation. However, the primary value of leucaena now is as a feed for ruminants particularly, in south-east Asia, India, China, Pacific islands, Hawaii, Central America, Mexico, South America and Australia. Read more about this promising feed ingredient here.
Leucaena is a multi-purpose agroforestry tree and it was first domesticated for human use 7000 years ago. Photo: Shutterstock / nucharee chukong
Nuscience: Full steam ahead
In this issue, All About Feed interviewed the new CEO of Belgian animal nutrition company Nuscience. This company has experienced a stormy growth over the last few years. Since autumn 2015, the company's rather eventful and ambitious ride on the global waves has been steered by a new captain, Johan De Schepper. In the article on page 12 of this issue De Schepper says "Product-wise, gain is to be achieved by growing the importance of feed additives in the portfolio, currently at 10% of sales. Geographically, Russia is interesting, and so is the United States, but the company's biggest interest is in areas where clear market growth potential can be found. To be more specific: Central and Latin America as well as Asia-Pacific."
Also in the July/August issue:
• Benefits of latest NIR developments
• Beating Salmonella refined functional carbohydrates
• Visit to Lucta plant to learn more about sensory additives
• Mitigating mycotoxins in swine diets with clay
• Butyric acid: the crucial link
To read all the articles in this issue, go to the magazine overview page and sign up with your current website login.