Brazilian feed production among all species reached 81.8 million tonnes in 2022, which represents 1.3% more in comparison to the previous year, according to Sindirações (Sindicate of Brazilian Feed Producers).
The organisation consists of around 130 animal nutrition companies in the country and has been representing this sector since 1953. Ariovaldo Zani, its CEO, said the result demonstrated the sector´s strength despite uncertainties and obstacles in national and international markets.
"It is worth highlighting the enviable resilience of Brazilian entrepreneurs in face of dwindling increase in labour productivity, low economic growth, contraction of supply due to the scarcity of inputs and concerning exchange rate. They overcome these obstacles and continue to manage high costs and supply producers," he commented.
In relation to specific sectors, the organisation has presented the following numbers:
Poultry farming
Feed demand for broiler chickens increased by 1% to 35.8 million tonnes during 2022, in response to higher one-day chick's placement. The first 9 months of the previous year had a slow pace but the last trimester recovered, to some extent.
Laying poultry
Laying sector consumed 4% less feed in the country during 2022. The result would have been even worse, a decrease of 5%, but, as from the middle of the year, there was a change. In the end, the housing of laying hens created a demand of 6.9 million tonnes throughout the last year.
Pig farming
Pig producers brought 20.5 million tonnes of feed in Brazil during the last year, which represents an increase of 4% in comparison to 2021. This is an historic new record, surpassing the previous year.
According to the IBGE (Brazilian Institute for Geography and Statistics), hog slaughter from January to September was 4.5% higher, despite high production costs during this period.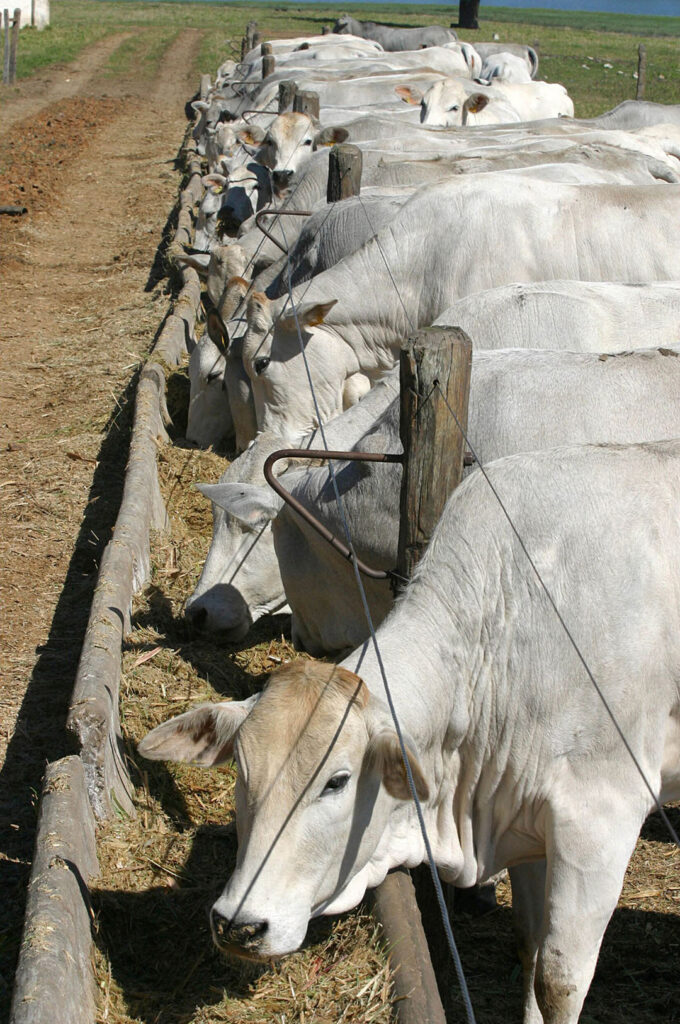 Beef cattle
During 2022, Brazilian beef production remained stable in shipments to foreign customers, while low prospects for growth in the domestic demand prevail due to the economic fragility of consumers.
The total processed feed consumption for this sector closed last year at 5.9 million tonnes, or 3% higher in relation to 2021. It is important to remember that Brazilian cattle consume, mainly, grass pasture on free-range production systems.
Due to this, some producers feed animals meal or grains in the final phase of the process, just before slaughtering.
Dairy farming
Milk production costs and weak demand for dairy products at retail led to a significant decline in activity during 2022, mainly in the first half. Thus, the sector demanded 3.5% less feed, up to 6.2 million tonnes, last year.
This scenario was reinforced due to good development of pastures during raining season, which led milk producers to reduce their demand for feed.
Aquaculture
The production of feed for fish and shrimp totalled 1.4 million tonnes in Brazil last year. An atypical colder climate also reduced Brazilian consumption for those products during the months between September and October.
Even so, a moderate recovery should take place in the last months of the year and allow feed demand to increase around 3% in the whole year.
Pets (dogs and cats)
The Instituto Pet Brasil (Brazilian Pet Institute) forecasts sales of pet food in the country to exceed €5.91 billion in 2022, and reach a year-on-year growth of around 18%.
Despite a strong increase in production costs and some passed-on costs to the retail price, the demand for feed for dogs and cats was 6.5% more. A total of 3.7 million tons.