As per the Agricultural and Fisheries Information Service (SIAP)'s Agri-Food Expectations report, in 2021, the production of dairy and poultry meat in Mexico rose by 297 million litters and 90,000 tons respectively, from a year earlier. Since farmers are readily accepting new and innovative food sources, this rise in livestock production is expected to stimulate the consumption of alternative plant-based proteins for animal nutrition.
The acceleration of exports across the meat industry is another factor influencing animal feed protein industry trends. Between July 2021 and January 2022, 5,362.9 tons of meat worth more than US$22 million were exported from Tanzania. This escalating meat trade is likely to encourage feed manufacturers to rely on alternative protein sources for animal health and safety.
Gut health – fuelling protein demand
With respect to the product, the market value from the animal protein segment is anticipated to cross US$440 million by 2032. The strong focus on boosting the immune system and gut health of animals is a prominent factor fuelling protein demand.
The shift toward sustainable feed ingredients has also risen, augmenting the use of these alternative proteins in animal feed. The animal feed alternative protein industry is segregated based on product, livestock, and region.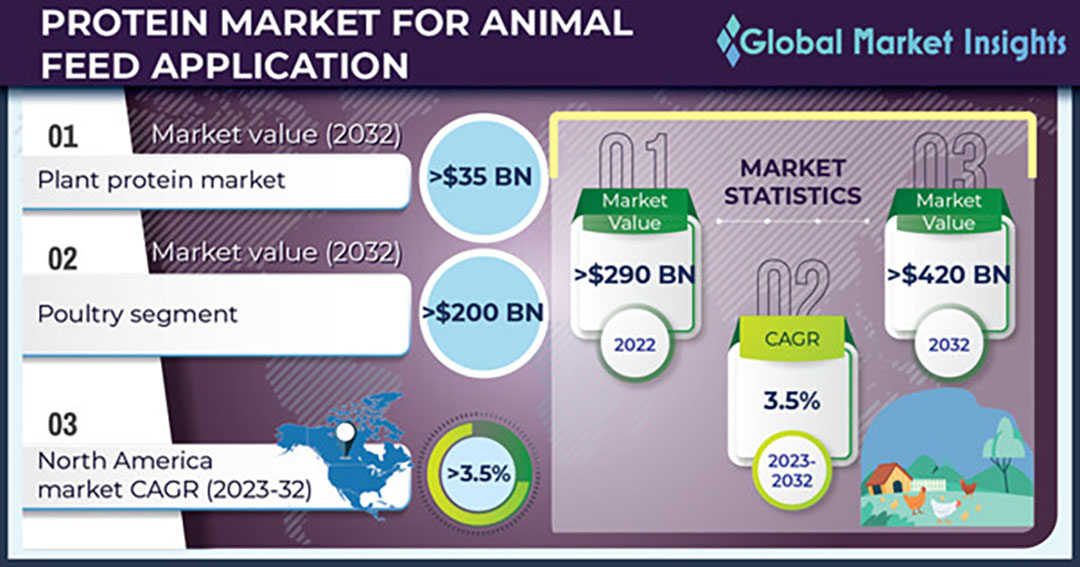 Fermented soy protein
The fermented soy protein segment also registered revenue worth over US$375 million in 2022, given the high awareness of the adverse effects of anti-nutritive factors, including reduced nutrient absorption. Soy fermentation can improve absorption and digestibility through the elimination of anti-nutritive factors, enhancing livestock growth performance.
Pet food
In terms of livestock, the industry value from the pet food segment is set to reach more than US$270 million by 2032. Manufacturers have been utilising protein ingredients ideal for wet pet foods. Additionally, the preference for ingredients resistant to heat treatment during processing is expected to augment the addition of alternative protein sources in wet pet food formulations.
Latin American animal feed protein market
From a regional perspective, the Latin American animal feed protein market was valued at over US$500 million in 2022. The growing meat intake and the subsequent growth of the livestock and poultry sector are among the growth drivers. The rate of meat exports has also surged, propelling the demand for alternative protein for use in animal feed.
Middle East & African markets
The Middle East and African animal feed protein industry size is slated to be worth more than US$415 million by 2032, as a result of the industrialisation of animal agriculture. The rising per capita meat consumption and growing demand for meat and dairy products are other reasons driving product sales in the region.