When it comes to producing poultry, feed has widespread influence and is the largest cost to operations. The bottom line? Farm productivity and animal performance rely on feed. Feed is specially formulated to maximise poultry genetic growth potential. High-quality feed helps poultry producers achieve performance and productivity targets.
Microbial load is an important indicator of feed quality. Pathogens that are harmful to the health, welfare and productivity of production animals, and to human food safety, have been shown to survive, thrive and even multiply in feed and feed ingredients.
Mitigation of pathogens within poultry production begins and ends with biosecurity. Producers invest significantly in measures that protect poultry from pathogens such as Salmonella. Comprehensive programmes typically include restricted access, vaccination, cleaning and disinfection of facilities, water sanitation, litter management, rodent and other pest control as well as feed pathogen control.
Feed presents a significant threat to biosecurity efforts because of the volumes involved and the centralised nature of feed production systems.
Pathogens have been shown to colonise in mills and equipment, catching a ride in passing feed and feed ingredients and using them as carriers, or fomites, to access trucks, silos, feeder systems and birds downstream. Feed is purposefully, systematically and repeatedly disseminated throughout production chains every day, making feed one of the most important critical control points for biosecurity programmes.
Review of Salmonella in poultry production
Salmonella is naturally occurring in the environment and can survive in feed. While Salmonella in feed often exists in a fragile state, it remains opportunistic and viable under favourable conditions. In fact, the body of works relating Salmonella to animal feeds and feed ingredients includes more than 500 publications. Mills and live production especially can create a suitable environment to allow Salmonella to proliferate. Feed milling alone is a process that generates heat and available moisture which can stimulate Salmonella residence within feed mills. Not only can Salmonella survive in feed, but it can colonise feed mill machinery, trucks and other areas associated with the feed production process which creates the perfect opportunity for further contamination or recontamination of feed. Resident Salmonella is the gift that just keeps on giving, extending Salmonella contamination to subsequent feed batches and beginning the cycle of repeated Salmonella exposure to farms and flocks via feed. Data from several different studies had demonstrated that Salmonella prevalence is highest at ingredient receiving, decreases after passing through the pellet mill, but then increases again by loadout. This same observation was recently published in the journal Preventive Veterinary Medicine, Salmonella prevalence was highest in the raw materials, less prevalent on the milling equipment, but again slightly higher in the finished feed. Most mills have maintenance and hygiene protocols aimed at preventing the introduction of Salmonella to feed production. However, many of these processes and requirements lead to repeated ingredient processing, reduced throughput and productivity, additional downtime and costs due to decontamination procedures, discounting or disposal of finished feed in addition to reputational and contractual damage.
How to make safe feed
To protect your feed investment from Salmonella contamination it is important to understand the incoming microbial load, microbial behaviour throughout the feed production stage and the outgoing microbial load. While Salmonella is what producers aim to protect against, evaluating the greater microbial profile may serve as a better indication of safe feed. After all, Salmonella can be challenging to isolate from feed and feed ingredients so it shouldn't be the only metric used to assess the challenge level, Enterobacteriaceae, Clostridia and total bacteria can be valuable indicators. Once you have evaluated the microbial challenge at several points throughout production it is important to evaluate options for microbial load reduction and Salmonella mitigation.
How do we mitigate the incoming Salmonella prevalence and microbial load?
How do we control the pathogens that make it into the feed production cycle?
How do we continue to protect the feed until the point of consumption?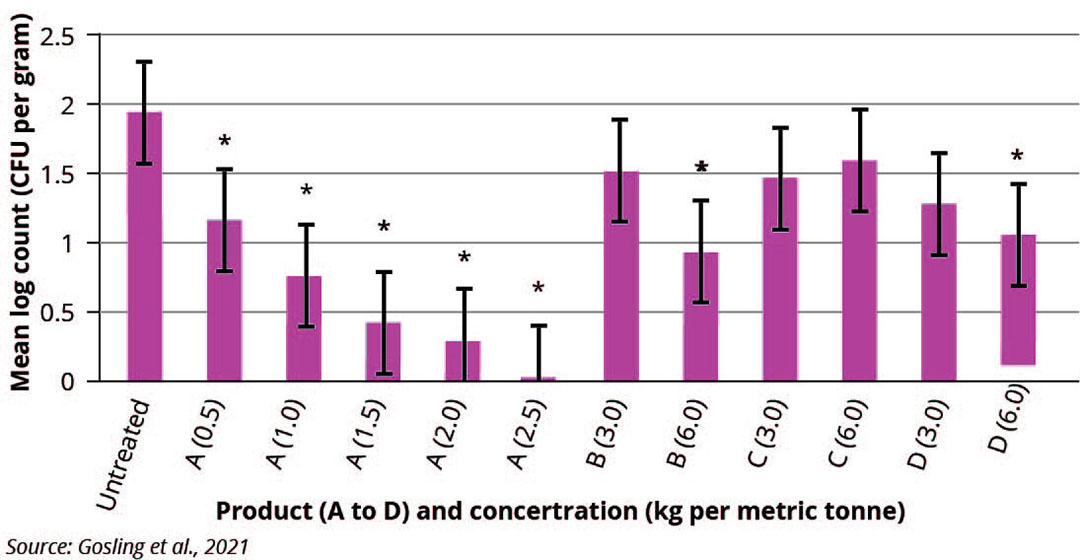 In contrast to our ability to control Salmonella within live production, there are effective options for Salmonella control in feed.
Feed sanitation involves the use of bactericidal compounds to mitigate microbial contamination and offer long-term feed pathogen control. Feed sanitisers offer long-lasting protection against feed recontamination and are applied at low inclusion rates. A study by Wales et al in 2013 found a formaldehyde-based feed sanitiser effective at reducing Salmonella contamination in feed and preventing recontamination. Feed sanitiser performance stood out again in a more recently published study by the Animal Plant and Health Agency (APHA) which determined that a formaldehyde-free feed sanitiser controlled Salmonella more effectively at 1 kg/mT than organic acid blends applied at 6 kg/mT (Figure 1). Feed sanitisers are effective and protect against recontamination, ensuring clean feed moves throughout feed production and remains pathogen-free until the point of consumption. Not only does effective feed pathogen control safeguard feed safety, but it also helps live production strengthen biosecurity, improve animal performance and protect the entire food chain.
Producers ready to implement effective Salmonella control in feed and those wanting to learn more about feed sanitation can visit www.anitox.com.
References are available on request.