Cheap, environmentally-friendly, fully analysed and customisable – what's not to like about the feed ingredients being made from food waste by Connecticut-based Bright Feeds?
The company has patented a process that converts various types of food waste, wet or dry, packaged or not packaged, into a nutritious, consistent, granular meal ingredient that it sells to feed mill customers.
The idea for this was born out of an announcement made in 2020 by the Material Innovation and Recycling Authority (MIRA) in Connecticut.
"At that point, MIRA announced it was going to be closing its incinerator in the city of Hartford by 2022, where 731,520 tonnes of waste were processed each year," explains Bright Feeds CEO Jonathan Fife. "To solve this urgent issue, a state agency called the 'Coalition for Sustainable Materials Management' put a call out for reliable, green ideas for how to deal with some of the waste."
Fife, with his entrepreneurial partner (now Bright Feeds President and COO) Tim Rassias, presented their plan. They won support for the idea, received private investments and co-founded Bright Feeds in August 2022.
New way of thinking
Fife and Rassias were aware of the efforts of others who had tried to convert food waste into animal feed ingredients.
"But to get a consistent product, these groups had taken the approach of only accepting certain types of waste," Rassias notes. "But food waste supplies are continually unpredictable, both in volume and types of waste, so unsurprisingly, this approach didn't ever prove effective."
Therefore, instead of trying to control the nutritional profile of the feed ingredient end product by controlling the waste streams coming in, Fife and Rassias put together a team of engineers to do the opposite. Their team got to work developing patented technology that could be used to take all types of food waste, dry or wet, packaged or raw, and turn it into a consistent feed ingredient.
Bright Feeds is currently permitted to process 457 tonnes of food waste per day.
Gathering raw materials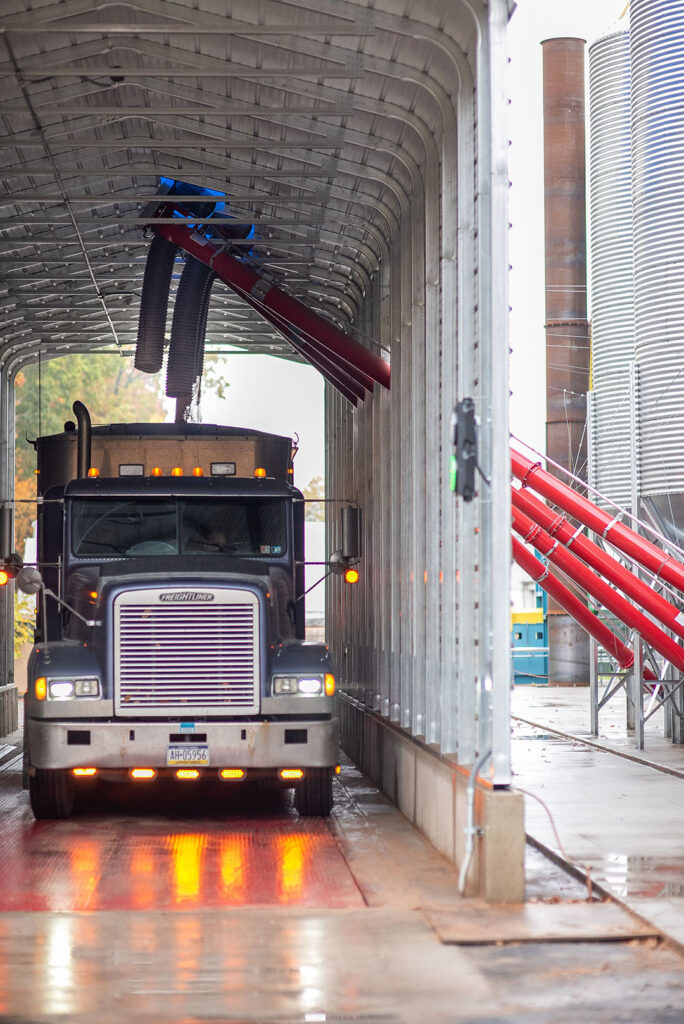 Before food waste collection begins at one of the many locations surrounding the Bright Feeds facility, Bright Feeds forms a relationship with each of its suppliers after making contact with a potential supplier by reaching out to that supplier or vice versa. The company has over 100 suppliers, including large food plants, other waste haulers, municipalities, schools and small 'mom and pop' businesses that generate food waste.
Waste sample
During an initial meeting and site visit, the Bright Feeds team discusses typical types and the volume of waste produced by the company in question, collects a sample of the waste produced, and reviews the supplier's current waste disposal setup.
Proposal – cost per tonne
Bright Feeds then puts together a proposal, including a price per tonne that is lower than the supplier's current landfill tipping fees for its food waste, along with the best way for Bright Feeds to collect the food waste. This could involve Bright Feeds supplying new containers that it will pick up when full, or presenting the supplier with a full proposal for the installation of various items to optimise temporary waste storage and pick up.
Supplying equipment
"For businesses that dispose of a significant amount of food, collection and pick up may require a dedicated chute for food and either a compactor or trailer, which we provide and install," says Rassias. "Our objective is to ensure continuous uninterrupted service."
Collection schedule
Bright Feeds also sets up an appropriate pick-up schedule and make adjustments as needed over time. The company has own truck fleet and also uses hauling partner companies so that pick-ups can occur 24 hours a day as needed. Bright Feeds also ensures guaranteed emergency collection of waste at any time, setting suppliers' minds at ease.
Tracking & monitoring
"We weigh each individual pick-up and drop-off, and provide a detailed automated monthly report so that suppliers can track and monitor the progress and have full transparency on their bills," Fife explains.
Sustainability reports
Bright Feeds also provides sustainability reporting to suppliers to show them show much less CO2 is being added to the atmosphere through diverting food waste to the company (and to feeding livestock), rather than sending that food waste to the landfill. This tracking helps companies communicate with the public and their shareholders how they are meeting their sustainability goals through this circular economy system.
Creating a marketing package to share their message
In addition, the company provides a marketing package to suppliers to help them share their story with the community, spreading the news about their reduced greenhouse gas emissions and overall carbon footprint.
"We've received great feedback from the reporting in different ways," says Fife. "The move to the future is sustainability. For the smaller companies, they appreciate the ability to show the communities how they are working to become more sustainable and doing what they can to help the environment in a way that was difficult to prove previously. For the larger national brands, they usually have sustainability teams that will require some type of reporting that they are helping to reduce emissions. Also, as we get closer to municipalities passing out carbon credits, this will be a helpful tool in proving that they are in fact providing a way to reduce carbon emissions."
Arrival at Bright Feeds
On arrival, if food waste is packaged, a state-of-the-art de-packager removes all packaging for recycling. Any other non-food waste materials are also removed and recycled.
"The food waste is then mixed while the specific contents are analysed with real-time sensors," says Rassias. "Based on this data, our algorithms direct the creation of granular meals with varying fat, carbohydrate, fibre and protein contents."
The exact workings of their food waste-to-feed conversion process is proprietary, but their process, as well as their end product feed ingredients, are compliant with the pertinent national government agencies – the FDA (Federal Drug Administration) and the EPA (Environmental Protection Agency).
The meal is then dried, filtered, screened and shipped out. The drying is probably the most important step in the process as it is the 'kill' step for microbes and allows the acceptance of a wider variety of food waste streams.
"We were sourcing customers at the same time we were building out the technology and we are working with some of the largest feed mills in the country," says Rassias. "We have little trouble finding demand for our product. Our meal is less expensive and acts as a substitute for maize and soy. We are currently expanding at exponential rates."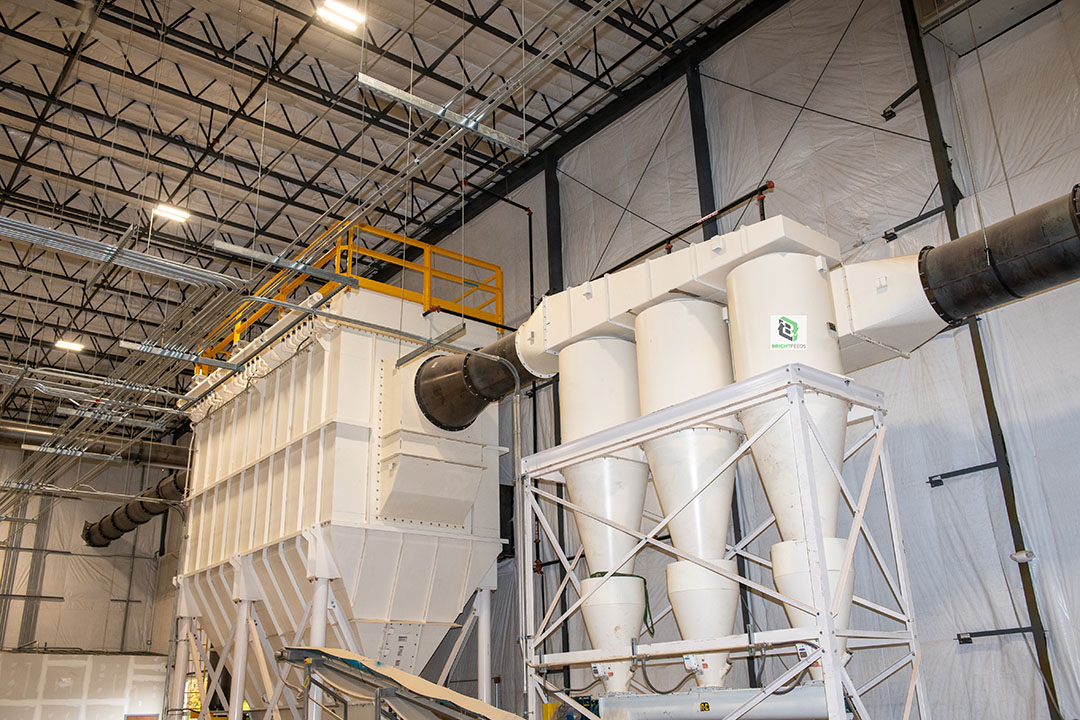 Future plans
While using food processing by-products and waste to directly feed livestock has occurred for centuries, the way Bright Feeds can take all manner of modern food waste – even that which is packaged – and turn it into a consistent feed product that fits within the existing modern livestock feed system is unique.
Building on its huge success, Bright Feeds is looking to expand as soon as possible beyond its first facility in Connecticut.
"The northeastern US is particularly attractive due to government policies that promote upcycling of food waste," says Fife, "but our eventual goal is to have at least one Bright Feeds plant in every state in the USA, and we will also explore expansion abroad. These plants obviously need to be located near sources of commercial food waste and also potential feed mill customers, but that's not a barrier. We are extremely pleased that our technology is working so well that we are making such an impact to divert food waste from landfills and reduce the carbon footprint of our customers."