In mid-August of last year, the European Union authorised insect proteins for use in poultry and pig feed with stipulations to safeguard public health, a move welcomed by the International Platform of Insects for Food and Feed (IPIFF), as well as the InsectFeed consortium. Currently, livestock feed production competes with food production for humans. The current global food crisis shows that, especially now, alternative sources for animal feed are needed. Insects have been proposed as a sustainable source of protein, as they convert residual streams into valuable protein for animal feed. Years before the ban was lifted, industry experts had already come together to form the InsectFeed consortium. The consortium's aim is to investigate insect production and conduct economic analyses of the value chain as it develops.
The InsectFeed programme
In 2019, the InsectFeed programme received €4 million in funding, to be spread over 4 years, and research began in 2020. Barring further financial assistance, the programme will reach completion in January 2024. Financial support for the project came mostly from the Dutch Research Agenda of the Dutch Organisation for Scientific Research (NWO); the programme was funded in part (10%) by stakeholders.
The aim of the InsectFeed programme is to evaluate and shape the value chain around the use of insects as poultry feed. To do this, the consortium is investigating insect production, paying special attention to insect health and welfare. It is also investigating the health and welfare of poultry that are fed insect protein. Finally, the consortium is conducting an economic analysis of the of the development of the entire value chain.
"With this full consortium, we made a conceptualisation of the value chain to see who's all involved, what interests do different stakeholders have, what kind of responsibilities do they have, and how are stakeholders within the value chain also dependent on each other," Dicke explained.
The consortium brought together all members of the value chain.
Safe use of insects in animal feed
In June of this year, the consortium published a paper outlining the opportunities and risks that come with the development of sustainable business models for insect-fed poultry production. The paper was authored by all those involved in the consortium. The most obvious opportunity is the development of high quality insect protein through the use of low-value substrates. The risks associated include contamination of substrates and therefore, it is important to work with legislators to determine which substrates can be allowed for safe use as insect feed.
"When we started the project, insects for feed were not yet allowed in the EU – only for aquaculture, but not for pork or poultry production," said Dicke. Now that their use is approved, provided producers comply with food safety regulations, there's continuous pressure on governments to allow more, he said. "At the same time, opportunities at the start of the value chain also might provide risks lower down," Dicke said. "If a producer of insects would use a contaminated substrate that could lead to consequences for feed producers, for poultry producers, and ultimately, for consumers." It is for this reason that the consortium brought together all members of the value chain.
Risks & opportunities
Insect producers, for instance, face both risks and opportunities. One possible opportunity is the use of 'frass', the mixture of excrement and shed skins from farmed insects, as fertiliser, which provides an additional income stream for insect farmers. Members of the consortium evaluated possible risks to insect producers, as well, including illness and disease. Researchers investigate the immune systems of insects.
"Black soldier flies are not known to be carriers of diseases – houseflies maybe, but that depends very much on the conditions in which they're reared in," Dicke said.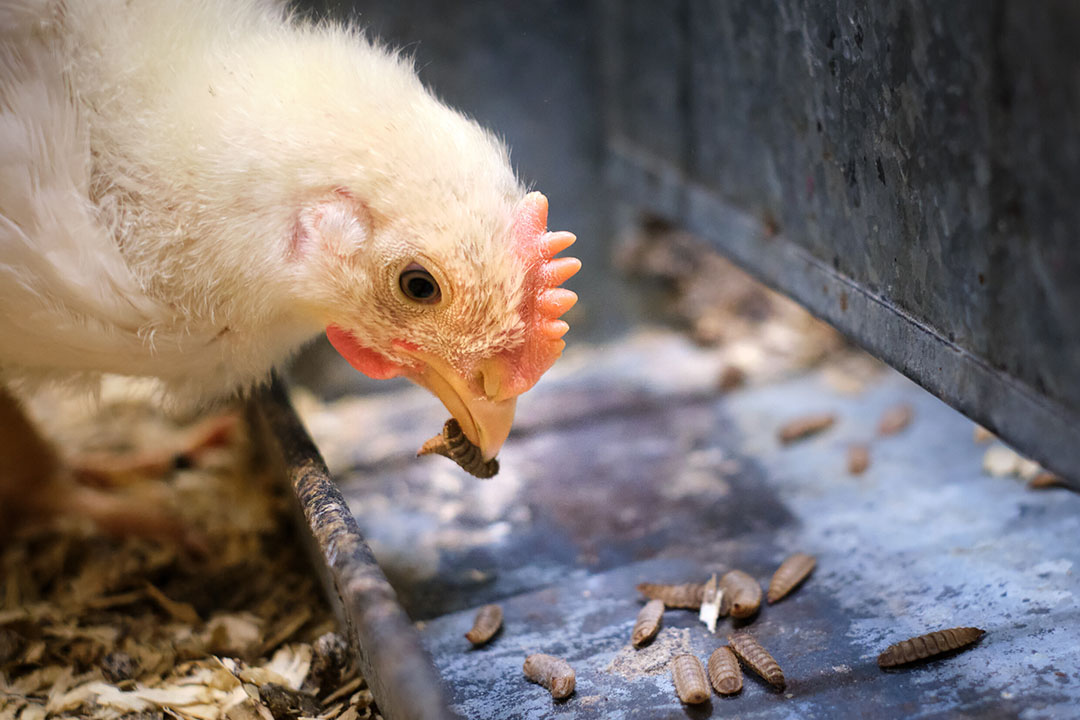 Improved poultry health and welfare
One of the most important opportunities the consortium discovered is that insect protein has the ability to improve poultry health and welfare. Experiments looked at everything from feed conversion ratio to growth and production, but also behaviour and health.
"The first thing that we see is that even the very young chicks are really interested in eating the larvae," said Dicke. "It is really amazing. My interpretation is that they look happy."
In the Netherlands, the adoption of insect protein could lower the overall carbon footprint of recently-adopted slower-growing broilers, which require more resources to reach maturation, including soymeal that is typically shipped from South America.
We want to be proactive, and so we're investigating what makes a fly happy.
Need for more substrates
In order for insect production to really take off, though, more substrates need to be available for use as insect feed. Currently, vegetable-based substrates such as potato peels and spent grain from beer production are allowed. Other substrates, such as supermarket waste, are available, but not allowed at this moment. Dicke said there's a need for investigations into the safety of these additional substrates.
Researchers are investigating whether fly larvae can degrade mycotoxins without affecting their growth, and how fly larvae deal with mycotoxins, whether transformation products are excreted or accumulated. Finally, they're also investigating whether these transformation products affect body composition and health of fly larvae and adults.
"I think it's also important that we make these developments based on scientific knowledge," he said. "Because if you're going too fast, if you're making steps that are not yet fully reliable, it will not be good for a new sector that's emerging."
Insect welfare: What makes a fly happy?
One of the possible risks of moving too quickly is not considering potential challenges that could arise as insect production for use as poultry feed increases. One of those potential challenges is animal welfare – not just of the broilers or layers, but of the insects themselves.
"We explicitly included this in the programme," said Dicke. "We don't want to be reactive but proactive in this, and so we're investigating what makes a fly happy and how you can produce these insects in the best possible way to pay attention to their health and welfare."
Within the programme, this research involves the evaluation of insect health, as well larvae and fly behaviour. One of the concerns they had was population density in insect production. But what they found is that flies prefer to aggregate in large concentrations and feed socially. They also found that houseflies, for instance, require one-time feeding only, as food organisation and distribution is the responsibility of the community as a whole. Feeding them more than once is disruptive to their normal pattern of life. The programme has even included ethicists who are responsible for the theoretical thinking behind fly welfare.
"Is the public interested in that? How can we safeguard insect welfare?" asked Dicke. "I think that at least insect producers should be aware of this and should make sure that they have all measures in place to have the best possible way of rearing these insects in order to safeguard their welfare."
Economic viability of the insect industry
Finally, the consortium is working to bring all investigative streams together to conduct an economic analysis. Any value chain, but especially a novel one, is exposed to a variety of risks that could impact its short- and long-term and is dependent on political and societal conditions. For this reason, the consortium's researchers are investigating set-ups for poultry meat and egg value chains by applying stochastic simulation modelling. They are also exploring insights that enable stakeholders to develop, implement and manage the value chain. Finally, they are also looking into the basis for maximising the economic robustness and viability of this newly developed value chain.
Insects for sustainable feed
"I see that there's a future for insects as a feed component, certainly because it's much more sustainable," Dicke said in conclusion. "And we will be able to find ways of increasing sustainability by including lower quality substrates."
While this project was set up to determine feasibility in developed nations such as the Netherlands, further studies are looking at the use of insect protein on smallholder farms in Kenya and Colombia.
"There's some very interesting developments going on there as well," he said.